Congratulations everyone! We have made it to the 100th Apophysis Challenge. You are all to be commended for your support and creativity over the past (almost) two years!!!

Interestingly enough, our 100th challenge lands us right in the middle of Project Educate week for fractals. Please be sure to check out
marthig
's articles and her work for Project Educate:
news.deviantart.com/article/16…
,
news.deviantart.com/article/16…
and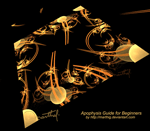 for the 100th challenge.
If you wish to donate any prizes to the 100th Challenge winner, please send me a note.
Our runner up for challenge #98 was
Prelkia
Winner & Feature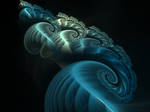 Congratulations on the win
fractzxirus
!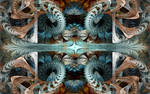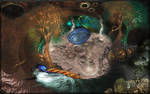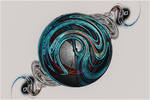 Challenge #99: Foci
Voting
Voting is simple, and everyone is asked to give your say.
After you have reviewed the entries: choose one that you think held true and exemplified the particular challenge best. Send me a note with that artists name and a link to their fractal. One vote per person, per challenge. Voting ends with the next challenge deadline.
Rules
1.) Follow the challenge guidelines.
2.) Entries must be posted here in this journal, before deadline.
3.) Only one entry per artist.
4.) Keep postwork to a minimum (small adjustments/tweaks, watermarks)
5.) Parameters must be made available upon request.
6.) Parameters need to be posted in your entries comments, or in a comment underneath, not on the journal page.
7.) Entries must be new works for the specific challenge and not previously designed or uploaded.
8.) Have fun!!!
Challenge #100
Fill In the Blank
As I was pondering what to do for our 100th challenge, I felt it was important to do something different than what we have done in the past. Then I realized that we really don't want to stray far from what has been working so well. So without further delay, I present to you this week's challenge: Fill in the Blank.
This challenge will take place like our normal "limiting" challenges. The difference is there will be areas that are blank, with a _____ . In those spots you need to fill in with what follows in the parenthesis. Part of this week's requirements is that you post the challenge rules along with your answers to the blank spaces.
As always, we want to strive to create a fractal that is pleasing to the eye.
Maximum Transforms: 6
Minimum Transforms: _____ ( Number: less than 6 )
Variations Allowed: Linear, ________ , _________ (Choose two)
Rotating of Transforms: __________ (Allowed or Disallowed)
Final Transform: Not allowed.
I can't wait to see what results from this batch of entries. We certainly should have a nice variety of fractals!
As always, have fun, and stay thirsty my friends!
Deadline: Sunday, October 16th 11:59pm (EST)