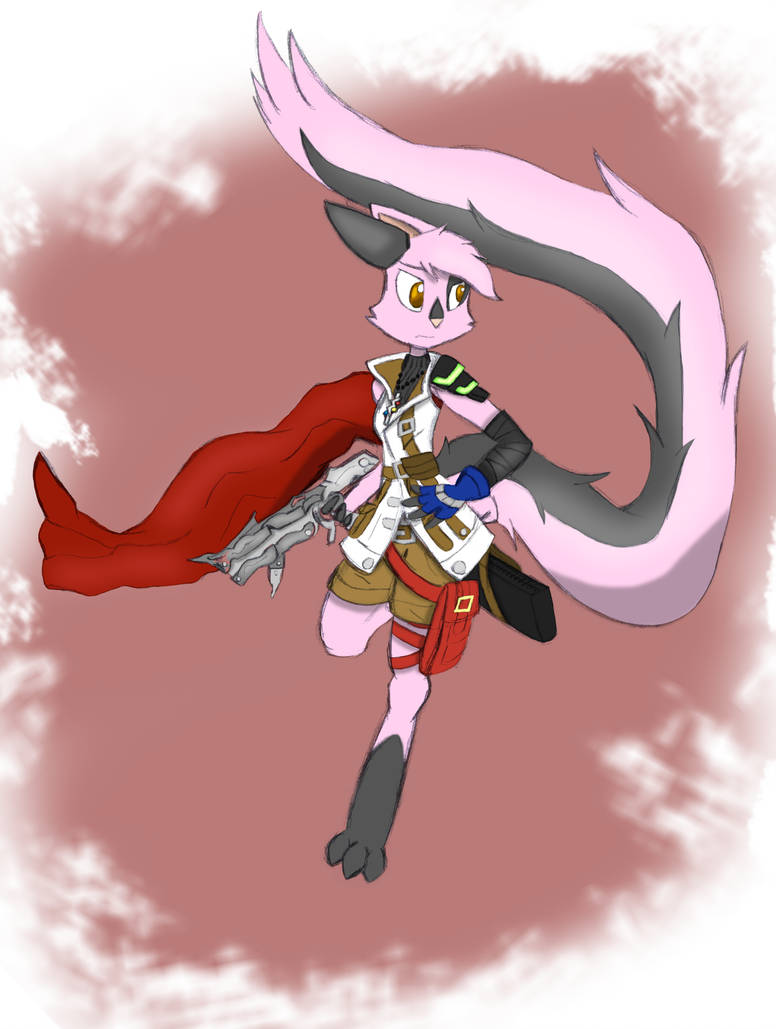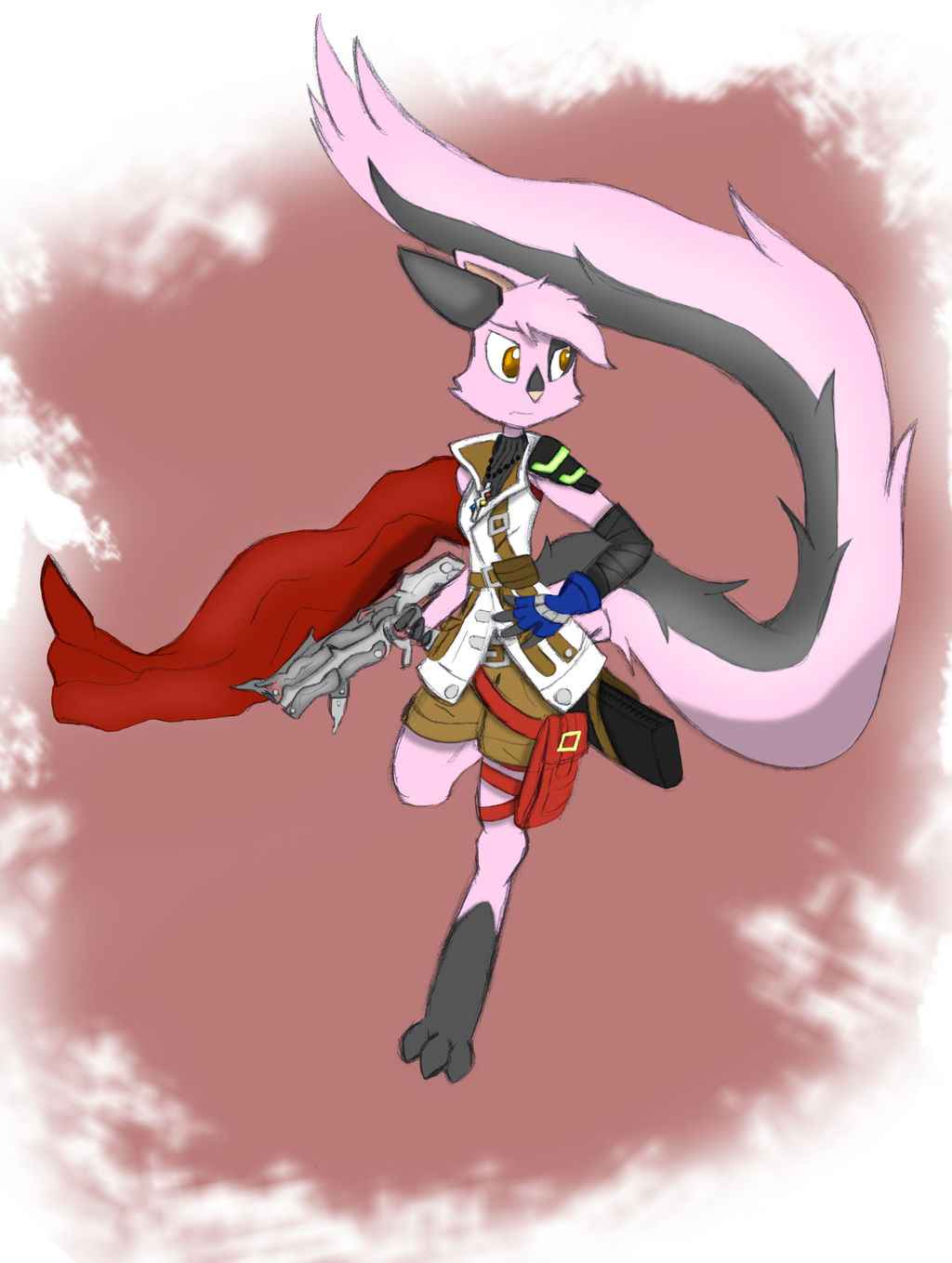 Watch
She's Lightning suckers! It feels swell when you manage to pull off an intricate costume decently. Also hooray for unintentionally Christmas-y background! Seriously though Tetsuya Nomura does have strong character design and with David Lillie's style was based a lot around Dragon Ball Z so it meshed pretty well.
For my cool friend

,the lineart I gave him looked sharp! Aside from that the lovely Vi belongs to

and Lightning belongs to Square Enix.

Drawing any Final Fantasy outfit is an ambitious venture, as anime outfits and especially Final Fantasy are unforgivably intricate. That being, said, you did a wonderful job with your version of it!
You asked me a little while back for some helpful criticism and I've been working on a list for you if you're up for it
Remember, I say these things as a friend that wants to help you iron out

:
- Her leg looks just a little knobby in the knee area. The DK legs are hard to do, so I often mess them up as well! Her bent leg was handled well and adds to the dynamic nature of the pose!
- If she's in a leap, then this is mostly irrelevant. The spacing on the toes looks great, it's broad enough to be making contact with something, but the way the ends of the toes are doesn't look like she's making contact. The toes would have to be shifted one way or the other to show the pressure of being on a surface.
- I really REALLY like her tail, it would have been even more fun if you'd had more canvas space to sweep it out in a clean arch. That being said, the initial arch coming out from her back is just PERFECT.
- Last note, the cape. The direction of it is really good and the placement balances out the tail. The folds could have been more "deep" to show a true fold in the fabric flapping.
The head and outfits are great, the black case on her hip was done perfectly! And I love the brightness you gave her green shoulder pad, it stands out as a bright beacon to the entirety of her outfit.The gun was also impressively done. Overall, great work! This is a great snapshot of your progress this last year!
Reply

Thank you so much!! The FF outfits certainly became insanely intricate following the PS2 generational leap, Cloud just had a jumpsuit in his initial outing in comparison and they made many strides graphically in a relatively short period of time. I don't suppose you have any favorite FF costumes? I really like the royal raiment Noctis is decked out at during the endgame of FF15 even if it's a more recent outing in the series. I really enjoyed it!
I really appreciate the candid, yet constructive feedback! Pointing attention to the leg was really smart, they're not as troublesome as hands for me,but they're not my strong suit. Although certainly becoming better with them would go a long ways towards strengthening some of the poses I bet. I also hear you with the tail, while I am envious of the digital canvases that many artists enjoy I could do a lot more in the cases I plan ahead and maybe don't make the characters as enlarged on the paper as I can.
And thank you again for your compliments! I love anthro heads and try to make them look nice as they are a focal point that catch attention if done well. A delightful set of compliments and helpful tips,you honor me.

Reply

I'd say Yuffie and oh what's her name from the X-2 with the little braids. I love the classy islander look. Other than that, I haven't really studied a whole lot of the characters as I have a hard time keeping up with them! I still haven't gotten full into the Final Fantasy series so I'm more like a sidelines enjoyer of the series. Love the art, just don't know all the story. I watched a friend play FF15 so I at least recognize when you say Noctis!

I'm glad the feedback lands well. If I'm going to point anything out that doesn't look quite on pointe, I want to do so kindly and explain what could be done in the future to remedy it. Legs are hard; I still struggle often with knee placement in a stance. And that becomes doubly so when dealing with the double bends of DK characters.

Honestly on the tail note, a large sketchpad you can still accomplish a lot with. I typically don't use a digital canvas myself starting out with, as it feels strangely hard to plot what I'm doing. One of the best pieces of advice I've gotten is to make a thumbnail of what you're going to be doing before you make the full sketch so you can see vaguely how it's going to flow. Then you lay the shapes out and see if you'll have enough room for everything.

I'm glad you enjoyed it all, and you deserve the compliments. It shows that you put a lot of work into this!
Reply

Yuna or Rikku then, X-2 was interesting having Yuna and Rikku step into the spotlight more and grow them enough to have them carry a whole story alongside Payne. The audio drama on the HD collection was sad listening to, Yuna finds someone who's not Tidus (I think Tidus was brought back) ,Waka goes back to the church after the whole adventure reveals Yevon as a sham, and on and on. They're long games (and hard) so more time for art in your case, but the series has had consistently strong art and epic stories to carry it through. Really the only time it's stumbled super hard is that shady FF15 "A New Empire" game, even the other mobile games are not as egregiously greedy and pretty fun for what they are compared to that one!

Not to mention how well Dave does it, with his background in animation and everything. Namah's range of movements is especially fantastic with the way she scurries up walls!

That's a very good idea for certain, thanks! I've dabbled with them before years ago and perhaps now would be a good time to start doing that again. After all architects benefit from planning as well!

It's much appreciated, I enjoy seeing your works too!
Reply

Rikku I believe. I remember Yuna. She's had a couple good outfits too. Eventually, I'll get full on into the series.. Its very fun to see your take on it though!

Namah is just awesome to look at, no matter what medium she's in. Such a range of motion.
Reply

Barring that one shady "A New Empire" game besmirching it's name you can't go wrong with many of the Final Fantasy games! (Like,seriously all the other mobile games bearing it's name are fairly enjoyable and not nearly as egregiously greedy.) 15's really good for a new player (Relatively easier,but still challenging and lasting 30 hours counting a fair bit of side content) with 10 and 7 being enduring classics if you can plunk down 50 hours-ish. A lot of it might come down to if you like science fiction or fantasy motifs more honestly and even then they mix them up so much.
Namah's evolution from Prelude to GNS is really fun to chart. Her personality's all over the place!
Reply

I already dump a lot of time into games, heh. Currently on Earthbound. I always stagger my J games with another type. Once I finish this one, I'll probably tackle the "Tales of" series again, then move on to FF
Reply

So that's why she wants to become a fashion designer
Reply

Man, ain't it funny when stuff like that happens around the holidays? XD
In all seriousness though, no words can describe how thankful I am for this!! She looks so badass! I totally owe you one!!




I definitely feel special for holding onto that original lineart you gave me back during thanksgiving. Still holds up! And will post it once I get the chance

Reply

The subconscious can make unexpectedly awesome things happen!

I'm just super happy it all panned out,it was a slightly harder costume,but I like being ambitious every now and then. 8 ) It's pretty awesome collecting corporeal lineart isn't it?
Reply

Reply