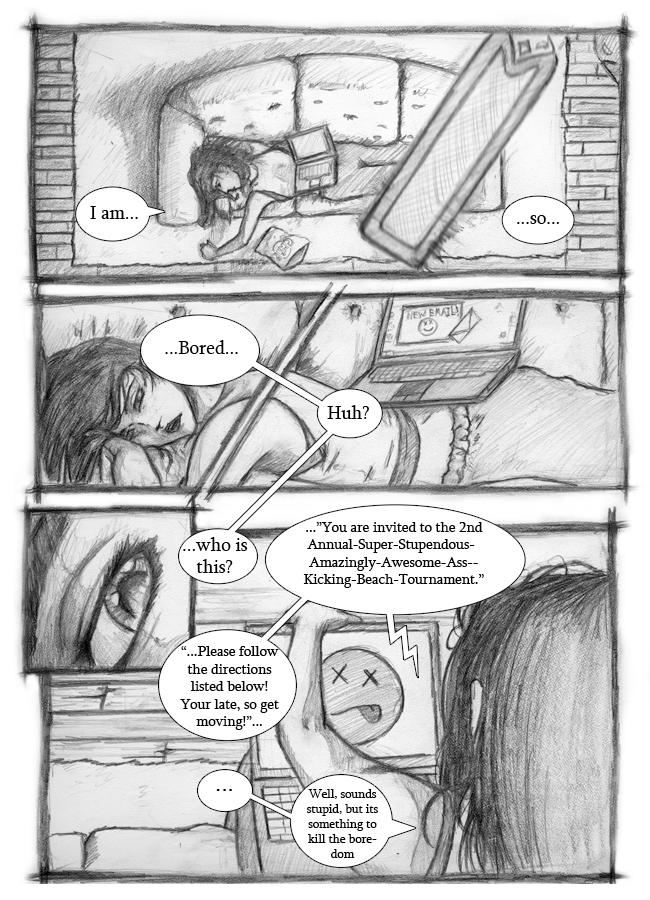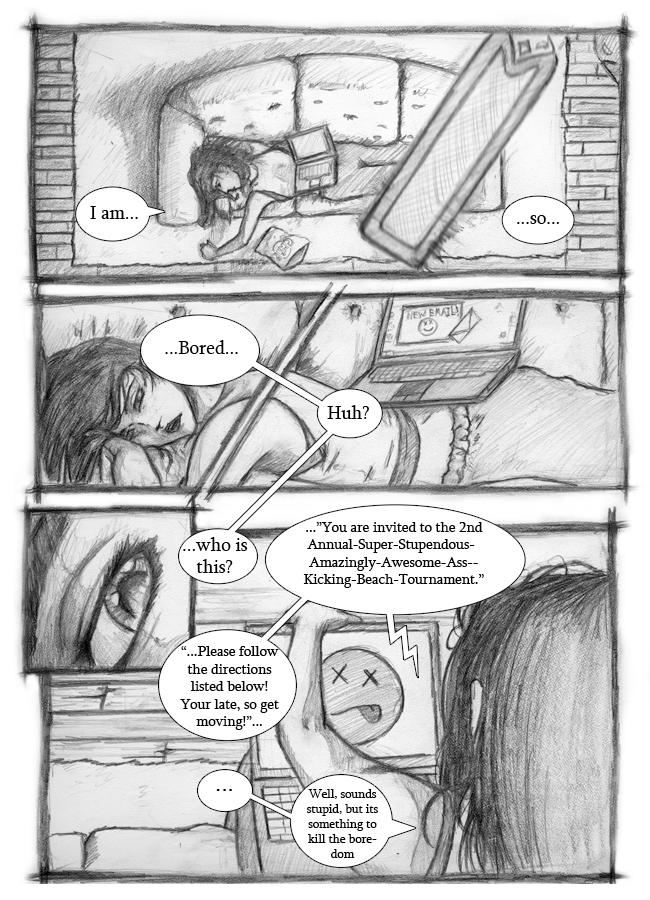 This is page one for the beach tournament thingy on megatokyo. I'm cranking these out so the dialogue is horrendous cause I didnt have enough time to do what I wanted.

For some reason the premise for this comic so far makes me think of that "Dead or Alive: Beach Volleyball" game.
Reply

haha yea, its not very descriptive, but its supposed to be like some fight thing. I entered really late so I didnt have time to do a couple more pages of intro to make it make more sense...
Reply

So, it's just going to be fighting in bathing suits?
Or is that just what the protagonist is going to do?
Reply

I dun really kno. Honestly I'm fighting this tool bag. He's a canadian ninja and hes trying way to hard to be funny and its not working...
Reply

Hmmm...
Canadian ninja...




Drat, now I can only see a picture of Naruto dressed up in a hockey jersey, using that summoning jutsu thing to summon a giant beaver.
Reply

hahaha yea we're on the same page
Reply

Of course, a giant beaver would be a whole lot more versatile than a giant frog, now wouldn't it?
Reply

Hmmm... The frog has that tounge, and the beaver has those teeth. I can think of a few points for each (If you have played chrono trigger you would see the potential of a frog knight, lol).

As for summoning a Gigantic Demonic beaver, It might have the tendancy to go after wooden objects instead of attacking your adversary.
Reply
(1 Reply)

It seems like we all are, lol.
The character is kind of a parody of all that.
Reply

I heard that! Anyways, im trying to think of several things that might possibly be funny in a two day period cut me some slack -.-

If you dont think the humour would work I could go for something more serious.

Unless you were reffering to the canadian ninja being a toolbag, I tend to take things literally.
Reply