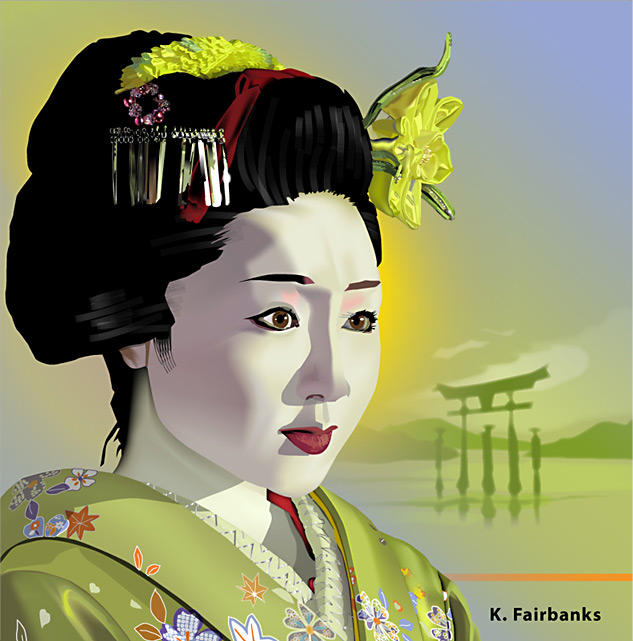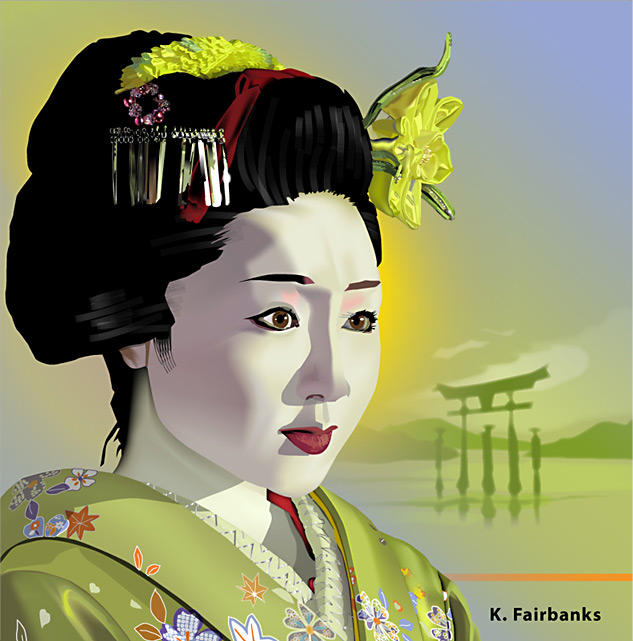 Watch
Media
= Adobe Illustrator

Some of my other Geisha themed artwork:
Geisha in Green drawing information:
Features used in Illustrator: pen tool; gradient mesh; standard gradient; pathfinder (divide); transparency panel (including opacity mask - on a flower or two on the gown).
I always start these drawings assuming that the most time consuming aspect will be the face, but that is usually not the case, and that's true with this portrait.
The most time consuming portions of this drawing were the detail areas, such as the the ornaments in the geisha's hair, and some of the flower patterns on her robe.
The entire drawing was created in Illustrator, but I did take the final vector image into Photoshop to make it smaller and save it.


Live Trace and Live Paint were
not
used on any portion of this image.

Okay, I give up looking for the reference photo I used. I was going to link to it. I did another web search for it, using the word "geisha," and I didn't see it.
I did, however, come across all sorts of photos having nothing to do with geisha, such as photos of people's pet dogs, a photo of Bob Dylan, and an image of actor Gerard Butler. I've no idea why all these weird pictures would turn up while doing a search of "geisha."
(Edit. I think the background image was based in part on a photo by gnohz, but I originally found the image by doing a web search on a major search engine, and I don't recall it being credited at that time.)

Please do not use this drawing without my permission.