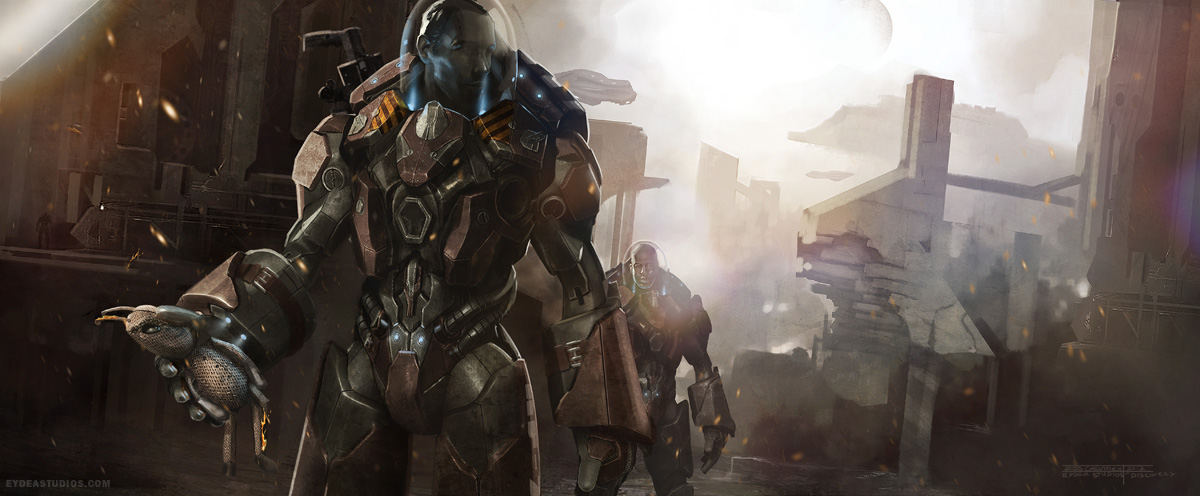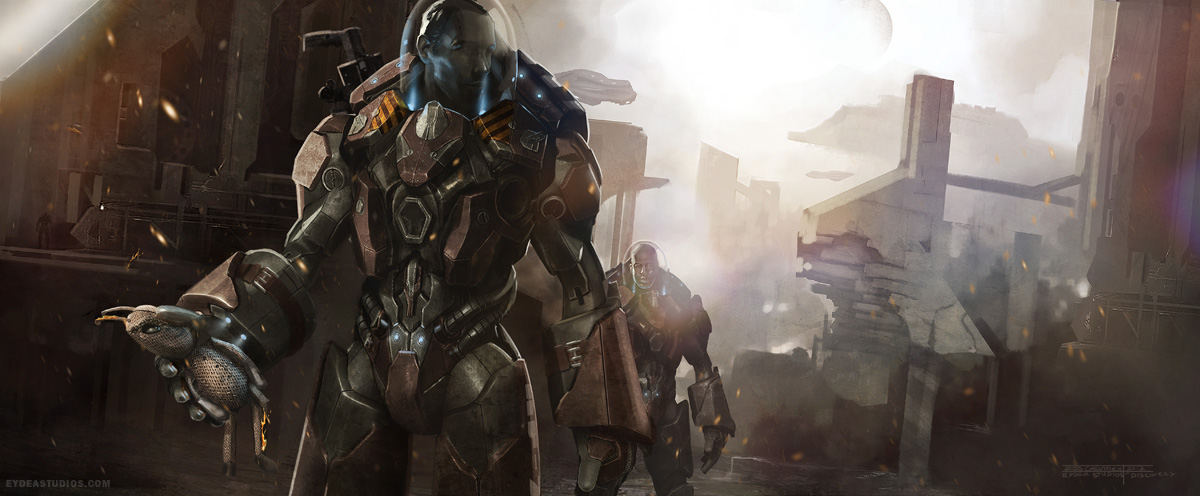 FADE IN:

EXT. FOREIGN PLANET - DAY
A troop transport lifts off causing powerful surface winds. A squad of troops hunkers down until the winds subside. The wind reveals something beneath the dust - an alien doll. One of the troops scoops up the doll.

Winds subside. The squad rises. Fade out sound.
This work is fantastic. Really what I have to say about it is just little picky things but here goes anyway...
The face on your main char. It's really dark. I see it's picking up a bit of light from the left there but is that really all you would see of it? His entire right (our left) arm is quite bright from that same source yet the biggest light source for his head is the little blue lights. Just kinda throws me off a bit.
The right (our left) side of his body. Is there no light source touching the edge there? With the source you have on the left again I figure something would be hitting it. With it being so dark there...every time I look at it...it seems to pull away from the image and look like it doesn't belong.
To me the little doll almost feels like an afterthought. I'm certain it's not considering you have his whole arm positioned outward as if he just picked it up and is still wanting to examine it after he looks around to see if he can find who this might belong to. However it just doesn't seem like he's grasping it very well. Can't quite place my finger on the issue I'm having with it I guess. :-\
His thumb that's holding the doll looks...well...broken. I think the only reason it looks like that to me is the two tiny particles of light that are flying in front of where his joint is in his thumb. At first glance it looks like a highlight. And with it being a warm color and the blue/gray highlight of the rest of his thumb being a cool color...it appears to be bending in a very uncomfortable manor.
That's pretty well it! Again everything I've had to say here is quite insignificant. The painting really is quite fantastic! I do particularly love the falling particles of light. I assume they're falling bits of fire from a nearby explosion maybe? or perhaps just dust I suppose. Either way very nice touch. Helps to illustrate the wind quite nicely. As well as give more depth and help lead the views eye.
Very well done.

The Artist thought this was FAIR
5 out of 5 deviants thought this was fair.