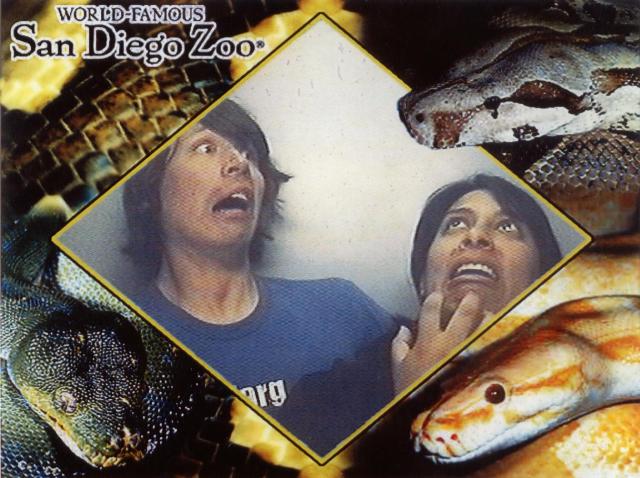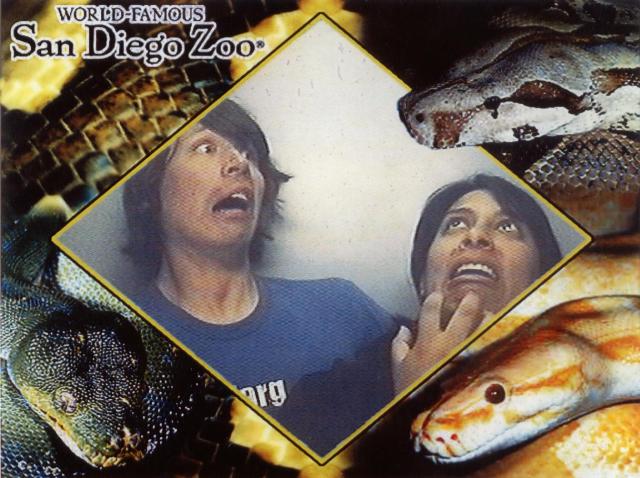 Me and my girlfriend Inez in a picture booth at the San Diego Zoo. Turns out, one of the borders they have is "Horrible death chamber of angry snakes." Good to know!

Reply

Oh God, I would totally do the same thing.....at least, I wish I could T_T...
Reply

Hahahahahaha!

Reply

How old are you?

Reply

Reply

I'm digging the Red versus Blue shirt.
Reply

that is probably one of the best pictures of you and inez being attacked by snakes ever!
can i get a wallet sized copy?
Reply

Snakes...In your boarder?
Yep! Originality strikes this comment like a pimp hand.
Bonus points for anyone who finishes off this lame joke

All in all, totally fun picture >w<
Reply

HAHA you guys are great. What a wonderful commemorative picture.
Reply

Imagine all the other "horrible death" photo frames.
Horrible Death Pounding by Gorilla fists!
Horrible Death Stampede by Elephant feet!
Horrible Death of Suffocation! .. what?
Reply

That is hilariously awesome.
Reply

Aaw, those snakes are cute though! The top one looks like my baby

Reply

"Snake, snake, ooh it's a snaaaake"

I've heard that damn Badger song waaay too many times.
Reply