I can draw anything you want into an anime style :3 But make sure you read my terms and conditions below


I do draw:
♥fanart
♥original character
♥male/female
♥animal
♥NSFW ( girl only, will be priced higher than normal commissions )
♥R18 ( girl only )
♥Mecha
♥Furry ( girl only
, will be priced higher than normal commissions
)
I don't draw:
☹Yaoi
Conditions:
♡ Please have a reference picture to send to me (
IT'S A MUST!
) If you don't have any images, you can write a detailed description and add photos that are similar to what you have in mind
♡ Please fill this format to make easier execution

- Character name:
- Expression:
- References:
- Pose:
- Extra Detail:
♡ I can refuse any commission that i don't like (
sorry..
)
♡
Personal use only
,
the price will be different for commercial ones.
Please send me a note/email for this one

♡ Working time could be 4-6 days long or maybe longer (doesn't include time for revisions), so please don't rush me, but you can always contact me to ask my working progress from my facebook account here >>>
[link]
♡ Though the working time is around 4-6 days long like I said above, please do mind I have waiting lists. So please tell me your deadline. If you willing to wait and your deadline match my schedule, I will add your name to my waiting list.
♡ You have to
pay full
after I show you the sketch and I'll finish your commission as soon as possible after I received the payment.
♡ Please do think carefully about your concept before sending me the format because only
minor
problems can be fixed
(max. 3times)
, but I will not change an entire picture.
♡ I'll send you high-resolution non-watermarks .png/.jpg version via email.
♡ Extra charge for the original PSD file.
♡ I'll give you 3500x2474 px. If you want to have higher resolution, please put your desire resolution on "extra detail"
Copyright:
I still have the right to publish your commission into other websites as portfolios unless it's a private commission.
Payment via Paypal ONLY!!
【PRICE】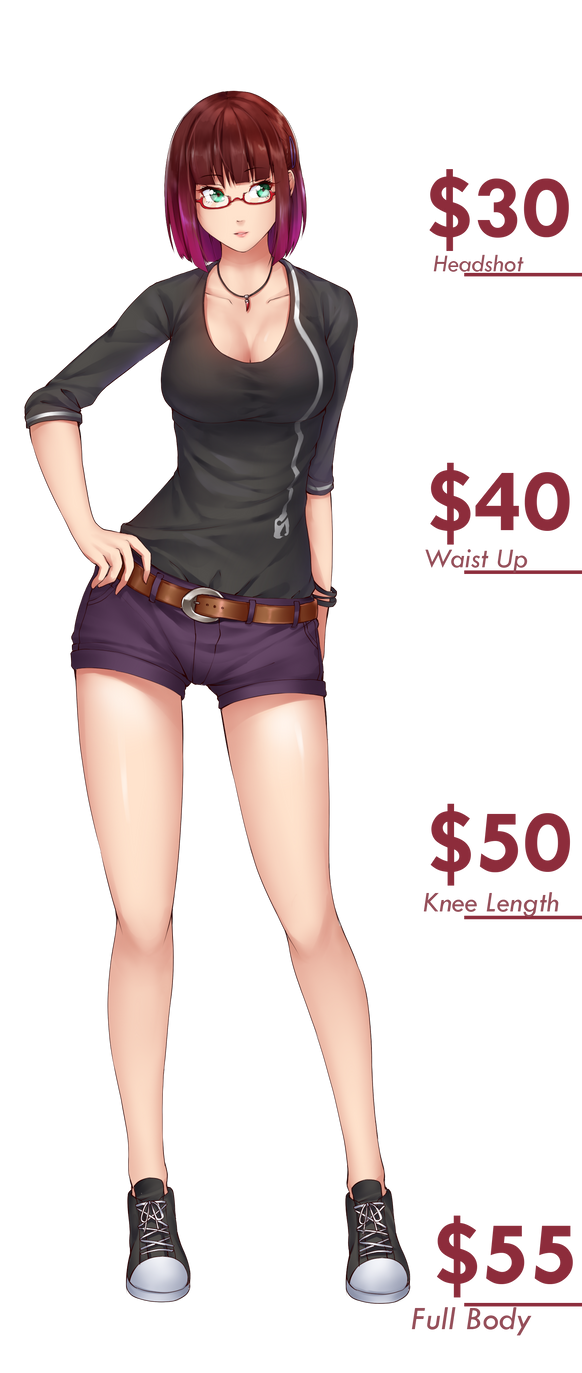 Many people asking me for try to open a cell shade anime style so, here I am!

Note:
The prices above are for simple character with one colored background(or you can ask transparent one), if your character will have lots of details (such as lace, pattern, ornaments, wings, complicated costume, etc), there will be an additional costs (again, price may vary depending on how detail is your character will be).
But if you still no sure about the price or you have any inquiries for this commission, you can discuss it with me via email at artxvein@gmail.com or just send me a note!!