To celebrate 3000 members, i thought that i'd get us a new icon!
I traded in a cartoony sky and clouds for a REAL sky and clouds,

What do you think?
Kudos to

for providing this gorgeous picture: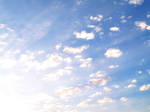 Love it? Hate it? Comment below!
P.S: I think I might leave this one up until the contest is over.