My GW2 main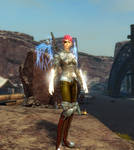 Love to read. Sort of magpie like in personality; constantly distracted by the clouds, trees, pictures, books, weird articles... weird people. I've never been bored; but have never had enough time for everything I wanted to do.
I sleep very little (never have been able to stay down for very long) and can be something of night owl; however, in truth, I creep around at all hours of the day and night.



:thumb217306684:









My ShareCG webpage
-- Backgrounds, clear-cuts, textures, and a 3D object. Sadly, I haven't added anything here in a while.
My alter-ego, Ars Maleficarum, on Renderosity.
-- I've abandoned Renderosity; mostly because of its narrow scope artistically. I am interested in more than 3D art. Most of the 3D images that are there I've migrated over here to Deviantart (hence the AM initial you see on a few images in my gallery). I also abandoned Renderosity as Evoluzione long ago, but that was due to some mental housekeeping that needed to take place.










Twitter: evoluzione @evoluzione33
Non compos mentis.
Favourite Visual Artist
Jacek Yerka, Mignola, Hughes, Campbell, Bill Sienkiewicz, Ralph Steadman
Favourite Movies
Time Bandits, The Quiet Man, Lord oF the Rings trilogy, Pacific Rim, Hellboy, Princess Bride, Dune.
Favourite TV Shows
The Strain, Walking Dead, Turn Coat, Halt and Catch Fire, Witches of East End (but, pacing is sooooo slow)
Favourite Bands / Musical Artists
STS9, Hyper, Junkie XL, Klingande, too many to list.
Favourite Books
Dresden series, all of them.
Favourite Writers
Jim Butcher, Raymond Feist, Lovecraft, E. R. Burroughs, R. E. Howard, Heinlein, Tolkien, C. J. Cherryh, too many really
Favourite Games
Titan (computer version is fun too.), Talisman, Guild Wars 2, Civ,
Favourite Gaming Platform
table top (I know, I know)
Tools of the Trade
Sketchbook, pencil, Pitt pens.
Other Interests
stuff, things, but mostly colorful things