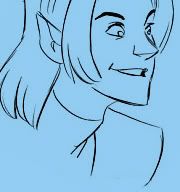 And the hits just keep on coming!
First up, it's

with our
Fourth Entry
! If you're looking for some beautifully detailed work of Rogue and Jean rocking period dresses, look no further than this. I haven't yet been able to place exactly what Rogue's expression is, but it makes me think perhaps she should be the one with the collar (to keep her from biting)! Never fear Rogue. You may not have the crown, but you're looking better than awesome in that green. Check it!
arger.deviantart.com/art/I-lov…
Next, Awesome McAwesomey

works her way into my heart with a whole summer worth of loving in this
Fifth Entry
. Musicals AND period dress? Those things go together ramma lamma lamma ka dinga da dinga dong! If you don't click to check this one out as fast as greased lighting, you'll be mooning over the lost oppertunity. Honestly, there are worce things you could do than check it... though I do admit to wondering who Freddy's love would be in a universe like this. Check it!
fav.me/d5zul5i