A gift for my friend
gh0st-of-Ronin
, who has been instrumental in helping me learn how commissioning works, and who lets me gush about Disney characters like I'm five again. For that, I will attempt the Dreaded Task of Drawing Men.
This was inspired by the Dress Like a Daedra contest, because I absolutely LOVED that theme. Kinda went a little biblical with Boethiah's snake avatar in a tree with a negative halo, but no one minds a bit of melodrama with their art.

Decided to go with a grey background because white or cream seemed too bright for the theme.
Others in this Dress Like a Daedra series: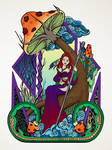 ,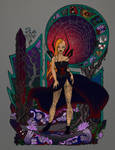 , and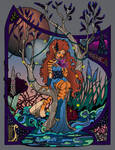 .
EDIT: So, like a dunderhead, I completely forgot to put my reference up.

Shadow - Light (Swords) 04
by
Null-Entity
I'm normally pretty good about this, sorry. It took me a long while to find the pose I wanted, too. Go check out his gallery, he has a lot of fun ones (just don't forget to credit like I did).
Image size
2550x3300px 5.07 MB
IMAGE DETAILS
Software
Adobe Photoshop CC 2018 (Windows)


Oh my gosh, I am so sorry! I was excited about how my friend would react and completely forgot! I'll fix it right away, thank you for reminding me!
EDIT: Updated! And I am sorry about that.


Echo did amazing!

LOL, he's not brooding all the time! I mean, the guy hangs out with a Disney Queen so there's some bright spots in his persona!

Utterly scrumptious. ...These would make an awesome Tarot deck, you realize that?

That sounds like much more work than I am willing or able to do right now. X'D

oh, take as long as you want. They're worth waiting that long for. Seriously, this is gorgeous.

I don't know what to say other than what has already been said already. Seriously. It looks amazing. Obviously, out of ALL the ones you have done, this I adore so much.
So much
! Thank you SO MUCH!



Love you 3K for this!