26 Favourites
77 Comments
21K Views
06/18/2020
Hi everyone! A few important announcements for you today.
People's Choice Winners have been announced! Go check out all of the amazing winners!

With the event drawing to a close, it's time to finally give a few very well deserved Thank Yous! If you;re curious about all the amazing people that contributed to this event, you can read about them here and add your own thank yous if you'd like! They are all amazing, so amazing that even Meelanik would give them a high five for their hard work.
A note on final scores - Final scores are still in the works! We will begin posting these as they are judged over the next few weeks. Please be patient with us as we read, intensely stare at, and enjoy all your wonderful stories and award you points to spend on shiny stuff in the prize shop.
Event opinion polls are also coming soon too! We're looking forward to all your feedback on this event to help us plan better for future events.
~ Paws
---
06/03/2020
Hi everyone! It's time to vote for people's choice!
Admins went through all your wonderful nominations and chose the top 5 nominees based on both number of votes and quality of nominations. If there were less than 5 nominees in a category, all nominees were included. You can find the polls broken down into two categories here:
Polls will close on June 17th.
You may only vote ONCE per category.
Please note - If you have issue following any of the links, please try again later - dA was having some issues earlier today.
Please also note that while you may see a few of the same names popping up in multiple categories, no player is eligible to actually win more than one category. Some stories covered more than one category really well and got lots of lovely nominations, so we thought it would be fair to include them. In the event that a single person wins the vote in more than one category, they will only win the category in which they have the most overall votes.
Happy voting!
~ Paws
---
Hey guys!
A couple reminders for you today, and a special announcement about
Aippaq
!
People's Choice nominations will be closing on May 31st! Be sure to nominate your favorite stories by this date. The entries that receive the most compelling nominations will be put to a final vote.
If you did not submit by the deadline, you are still totally welcome to continue playing through the event. We will be accepting tracker submissions until a final final end date is announced. Admins will still also be replying to your choices during this time, albeit a little bit more slowly now that the PC deadline has passed.
And finally... you may have noticed that a certain Tokota God has had a little makeover! Say hello to the new Aippaq!

~ Paws
---
05/14/2020
Good news everyone!
After some consideration we have decided to extend the submission deadline until May 17th, so everyone has one last weekend to wrap up their stories. With this change comes another important announcement:
We are allowing everyone, including those who have already submitted their trackers, to make updates to their trackers up until the deadline of May 17th, 2020 at 11:59 PM PST. If you want to use this time to spruce up your entries or add a few more side quests, please do.
Don't forget: we will be accepting submissions after the deadline date, however, you will lose the opportunity to qualify for PC awards and your effort scores will receive a (fairly minor) late penalty depending on how overdue your submission is.
The admins will not be sleeping this weekend, luckily we have both a North American and a European headquarters, and a LOT of soul pool water, which is a lot like caffeine if you drink enough
You're almost there, you can do it! We can't wait to read all your awesome stories.
~ Papa Paws & The Event Team
---
Hi guys!
Important reminder that the event is CLOSING SOON! There is now a countdown timer on our front page (
Events-Of-Tokotna
) for extra clarity on the timing.
Final Tracker Submissions are found here
The event will close on May 15th, 2020 at 11:59 PST if you want to qualify for People's Choice Awards and receive top scores on your tracker.
We will be accepting submissions after this date, however, you will lose the opportunity to qualify for PC awards and your effort scores will receive a late penalty depending on how overdue your submission is.
We have highly motivated admins standing by for your replies in these final days and we're making every effort to get as many people finished up as possible.
~ Paws
---
Hi everyone!
If you gave us your email when you registered for LoRE you should receive an email today with a code to grab your free sticker! If you don't see the email please check your spam folder, and then send us a note if you still can't find it.
Stay awesome,
~ Paws
---
04/03/20
Hey everyone! Over the past few months you've all worked together, unlocked a bunch of cool new stuff for the group, and have shown off your awesome talent for depicting the spirits.
The
Spirit Rally
has now been tallied up, with the spirits ranking as follows:
Sivoganik - 1st
Borga - 2nd
Nagruk - 3rd
Aippaq - 4th
Aga - 5th
Sikrinerk - 6th
Meelanik - 7th
Thank you all for participating. Prizes will be distributed soon, now go out and make the rest of LoRE an event to remember!
~ The Event Team
---
03/31/2020
Hey guys - friendly reminder that
Spirit Rally
will be officially closing tonight! Any entries received after midnight tonight (PST) will not qualify. Don't forget that you need to participate at least once if you want to receive a prize.
Get in those last minute entries to give your team their best shot!
~ Paws
---
03/16/2020
Hi everyone! We have a major update for you today, so you'll definitely want to read this entire news post carefully!
This means that you now have a 2 month window to get your journey wrapped up if you want to qualify for People's Choice Awards and receive top scores on your tracker.
We will be accepting submissions after this date, however, you will lose the opportunity to qualify for PC awards and your effort scores will receive a late penalty depending on how overdue your submission is.
We highly recommend that you aim to finish before the deadline. Our event team will make every possible effort to keep wait times low during this period so you all can progress to the end.
Stay healthy everyone and try not to get eaten by Meelanik before you can finish your story

~ Paws
---
03/11/2020
Congratulations to
Jumperlady
and
Aquene-lupetta
! These silky babies have decided to go home with you!
~ Paws
---
03/04/2020
Congratulations to
Dracoyena-arpg
and
2006fuzz
! You guys have tamed our lion tail wilds.
A few more important notes for everyone today...
Lion tails are now available in the import template folders and can now be added to your tokotas like any other trait. This will also be announced on the main Tokotas group shortly.
The Epilogue is on it's way and will be coming (hopefully) very soon. We had a couple of unforeseen delays due to mischievous spirits. This is a heads up - once the epilogue comes, official tracker submissions will open. When that time comes you'll have a 2 month window to get your journey wrapped up if you want to qualify for people's choice awards and some extra goodies. So make sure you keep pushing forwards on your responses if you want to complete everything on time.
And just one last reminder that the spirit rally will run until the end of March.
Good luck out there,
~ Paws
---
02/21/2020

You guys did it!! We unlocked a new mane: Silky! There are two new wilds for you to tame sporting the new mane:
A few important notices:
This concludes the unlocks for the spirit rally. The rally will run until the end of March to give you a chance to earn points for your team. After this, this winners will be crowned and prizes will be distributed. So make sure you make your March entries count if you want your team to do well!
More mane information for Silkies including the mane's lore and how to breed for it will be coming soon.
---
We're almost at the end of the
Spirit Rally
, but it looks like you guys need some more motivation to get the job done.
So in honor of the end of the rally, Aippaq has revealed to you:
the end of a tokota.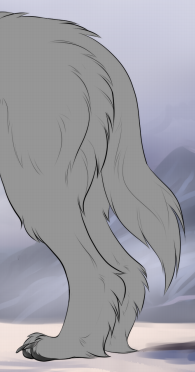 touch the butt
I wonder what this could be???
Get those
Spirit Rally
entries in to find out!
Also - don't forget to enter for those cute lion tail wilds
here!
~ Paws
---
02/08/2020
Great work guys! You've unlocked something really special in
Spirit Rally.
You've unlocked a new physical trait,
Lion Tail!
Two new raffle wilds with this trait are available:
Please note that lion tails will not be available for download/use on your tokota imports until the raffle is over on the 29th.
~ Northpaws
---
01/18/2020
You guys have kept up the good fight into the new year in the
Spirit Rally
! You've unlocked some really cool tack that you can now win inside a PvP prize box near you:
A few updates on LoRE itself:
Registration is now closed, but the event is still going if you already signed up. Chapter 3 is a big one so we encourage everyone to get there as soon as you can - it may take you longer than the first 2 chapters.
When the event ends, you'll all be given 2 months notice to wrap up your adventures before official event tracker submissions end. This will be announced when it happens. So don't panic - you still have lots of time. But on the other hand, keep up with making timely replies if you do want to finish in time.
What happens if you don't finish? You'll still be able to complete your adventure, but you'll miss out on certain perks, including the chance to be nominated for people's choice. More information on this will be available in the coming weeks.
Keep adventuring!
~ Paws
---
12/05/2019
Wowza! You guys killed it in the
Spirit Rally
! Borga is now the reigning champion, amd as promised, we've been rewarded with some new PvP companions! Check em out:
Our first round of wilds has also found homes!
Oracle WF167
has found a home with
EleventhElemental
Watcher WM168
has found a home with
SnowWyvern
!
Congratulations everyone!
~ Paws
---
11/23/2019
Great job guys! You've unlocked something shiny in the
Spirit Rally
- Borga's Stone. A few things to note:
1st place in the spirit rally will have the choice of either a Sikrinrek's Stone or a Borga's Stone as part of their prize package.
This stone only works for akotas! You may not ride unless you are at least akota tall.
There is only one shiny background (in 3 color varieties) at the moment, but we are planning to add more in the future
These stones will be available for purchase in our Merch store within the next few days! We'll let you know once they're up.
~ Paws
PS - Don't forget to enter to win our
Raffle wilds!
---
11/19/2019
Hey everyone, we have some big developments for you today!
Chapter 3 is now open! If you have completed Chapter 2, you can sign up to get started on Chapter 3 here.
Registration will be closing on December 31st! If you haven't signed up and begun the prologue yet, please do so before the end of the year. Please note, this date is in regards to new sign-ups only. The event will continue into 2020 and we are predicting that everything else will close some time in late January or early February (though this depends on how quickly the majority of you are able to get through Chapter 3, we'll keep you updated!)
And a few Spirit Rally updates!

The next unlock has arrived - wilds! This first pair of wilds is themed for the event and have the exclusive 'dark spirit' and 'light spirit' (new!) backgrounds. There may be a few more wilds on the way if we can get them unlocked
At Aippaq's advice, scoring has changed slightly - Aippaq has decided to help maintain the balance by contributing half of their team's spirit count to the dark spirit count, and half to the light. Please note that this does not change the scores of any of the 7 teams, it only affects the overall group totals we have for unlocking things.
That's all folks, enjoy the rest of you day

~ Paws
---
10/31/2019
Happy Tokoween! It's been a long, busy month, but now that we've finally made it to Tokoween, we have some exciting developments to keep your momentum going in November.
Congratulations! You reached the next unlock in the Spirit Rally! Hope you guys like our new Sikrinerk Stone background - Maiksuk Meadow!
The full prize list for the Spirit Rally has also been revealed.
And last but not least, it appears that Aippaq, Meelanik, and Sikrinerk have taken a keen interest in what you all have been doing in the event. They've offered some exceptionally valuable gifts in exchange for a special kind of spirit many of you have already found in Chapter 2. You can read more about it in the Interlude.
I wonder what these spirits are up to? Even Aippaq is being tight-lipped with the oracles about the meaning of all this. I guess we'll find out soon enough.
Happy Tokoween again and stay safe if you're trick or treating tonight - don't let Sivoganik spook you! ;D
~ Paws
---
10/09/2019
Are you ready?
Chapter 2
is now open for those of you who have completed Chapter 1! A few notes:
You will need to have your Chapter 1 Main Prompt completed to begin Chapter 2. You do not have to complete any side quests yet - you can go back and do those any time - but the main one is required.
The oracles are working hard to keep everyone moving in their stories, so keep making those choices so you can find out what happens next.
This chapter will be a bit more difficult, and set in a very spooky location - Iluq Forest. With tokoween approaching, there is bound to be a lot of dark spirit activity. It's dangerous to go alone, so don't forget your lanterns!
~ Paws
---
10/07/2019
Happy October! A few announcements for you today.
It's a new month! so you have another 10 entries available to you per spirit in the Spirit Rally.
Speaking of the spirit rally, we've unlocked a cool new group feature! Tribe Lore Figures!

You can find complete information and rules on creating a lore figure for your tribe here here: Tribes
If you need a healthy does of inspiration I suggest you check out the old Lore Design Contest for fantastic examples of member-created spirits. I wouldn't be surprised to see a few of those entries re-purposed as a tribe figure. Can't wait to see what you guys come up with!

Chapter 2 is not yet released, but is due to be launched in the next few days. Reminder that you need to complete your Chapter 1 main chapter prompt to begin Chapter 2, so if you're eager to move forward you should do your best to choose those arrows and get yourself to the main prompt.
Peace, love, and spirity goodness to you all

~ Northpaws
---
09/28/2019
Todays weather report: A massive cold front has moved in on the
Spirit Rally
and blanketed all of Tokotna in snow. As a reward, Borga has given us a new sprite. This completes out sprite collection! Just look at all these cuties:
The sprites have been added to the prize list for the rally, but they won't be the only prizes of course (more details coming soon).
The spirits still have a lot of fun things for us to unlock, so keep fighting for your teams and find those common spirits!
~ Paws
---
09/24/2019
This just in - in an unexpected turn of events, Aippaq's team has risen into first place in the
Spirit Rally
! Aga was also able to prevail over Borga this round, and revealed to us something new.
It seems like there is only one spirit left without a sprite of his own. Can Borga keep his hold over Sikrinerk this round, or will that last sprite have to wait in favor of the sunchaser's gift to us? The choice is up to you!
~ Paws
---
09/21/2019
Wow! In an unprecedented move, Nagruk has antlered his way into first place in the
Spirit Rally
. With this victory, we have had not one, but TWO new things revealed to us.
You can now apply your talisman as a FREE deco item to your tokota, details can be found in Talisman Applications
Meelanik, who's team devoured their way into second, leaping right over Aga and Sivoganik, has revealed to us a new sprite.
Thanks for the amazing rally so far and keep up the great work everyone <3
~ Paws
---
09/16/2019
Congratulations to Nagruk's Herd! You didn't quite overthrow the many-eyed and fabulous Sivoganik, but you came clsoe enough that Nagruk has rewarded you with the next
Spirit Rally
reveal.
~ Paws
---
09/11/2019
Everyone's enthusiasm for this event is so inspiring! Thanks to your hard work we've already unlocked the first
Spirit Rally
reveal! Go check out our very cool new thing.
A few other small announcements:
The Roleplay and Prompt Information guide has been updated with a section on Event Inventories. If you recieved any items that were not added to either your Event Inventory or your bank please drop us a note so we can get you fixed up.
The Event FAQ has also been updated with some new answers to common questions.
Keep asking those great questions, guys! This is the first time we've done an event quite like this and we really appreciate your effort and patience with helping us find and squish the bugs along the way. Even if the bugs are a lot of my bad typos

~ Paws
---
09/09/2019
Hi everyone! We have a bunch of exciting news for you today.
Chapter 1 is now open! You can sign up to start it if you have completed the prologue. If you haven't completed the prologue yet, you can start here. Don't forget to register before you start!
The Spirit Rally has launched! If you want to support your spirit guide and unlock some really cool new things for yourself and for the group, check it out!
And last but not least, more information on the People's Choice awards has been revealed. There are a lot of categories to compete in this year, so you can start planning out your stories in accordance with what fits your plot line/characters best.
Have fun everyone and remember, it's dangerous to go alone! Take this:

~ Paws
---
09/02/2019
Hey guys - I'm not going to do daily updates for the whole event, I swear. But I have a few little points for everyone.
Don't forget to Register for the event before starting the prologue!
Once our stickers have arrived we'll start distributing the email codes for them, so keep an eye out for that if you signed up with your email.
I've added a misc content folder for those of you who are doing extra art and literature that doesn't fit under the category of side quests and main event entries. I'm loving the cute expression art I've seen floating around, so now extra tidbits like this have a home where you can show them off.
Hey - where's Chapter 1? We don't have a concrete release schedule for the event because we want to keep some flexibility with how things develop, but we're anticipating a release in mid-September, depending on how fast we're able to get you all through the prologue. So stay tuned.
Be careful out there, the spirits are getting pretty active.
~ Paws
---
09/01/2019
Hey everyone! Hope you're enjoying the event so far. Just a few points of clarification for you, to address some common questions we've been getting.
The event works similar to random events. You get a comment, then have to make a choice.
There are no prompts to complete until you receive one from an admin on your journal. They will be clearly marked (it'll say SIDE QUEST! In bold!) when you get them, you can't miss it ;D
The Event Tracker Template has been updated with a few extra lines to include links to your Prologue/Epilogue comments. You aren't required to update to this new format in the main body of your tracker, but you are welcome to if you want.
Which stone should you touch? That is something you have to decide for yourself! You might want to inspect them a bit closer before you make your decision, if you're not immediately sure which to pick.
~ Paws
---
08/31/2019
If you guessed the answer to sneaky Aippaq's riddle - "
When all else closes, something new will open.
" this news won't come as a surprise to you.
Tokotas
is closing down for the month today, and something new is opening...
Legend of Rebirth 2019 is now open for registration!

For now, just the prologue and basic event information is available, but we recommend you watch
Events-Of-Tokotna
because there will be many exciting updates in the coming weeks.
Here's what we recommend you do to get started:
If you have any questions please don't hesitate to ask them here or on the
FAQ!
Hope you're all ready to have a blast

~ Northpaws
---
08/26/2019
Hey guys! Just a heads up for everyone - you might see a lot of empty journals popping up here over the next few days. Please pardon the dust while I get everything ready. You're welcome to unfollow
Events-Of-Tokotna
if you find this too alarming - there will be an announcement over at the
Tokotas
main group when you need to pay attention, so you won't miss anything.
Before you ask -
Aippaq
made me pinky promise not to tell you whats going on. You'll just have to wait and see what he's up to.
~ Northpaws
---