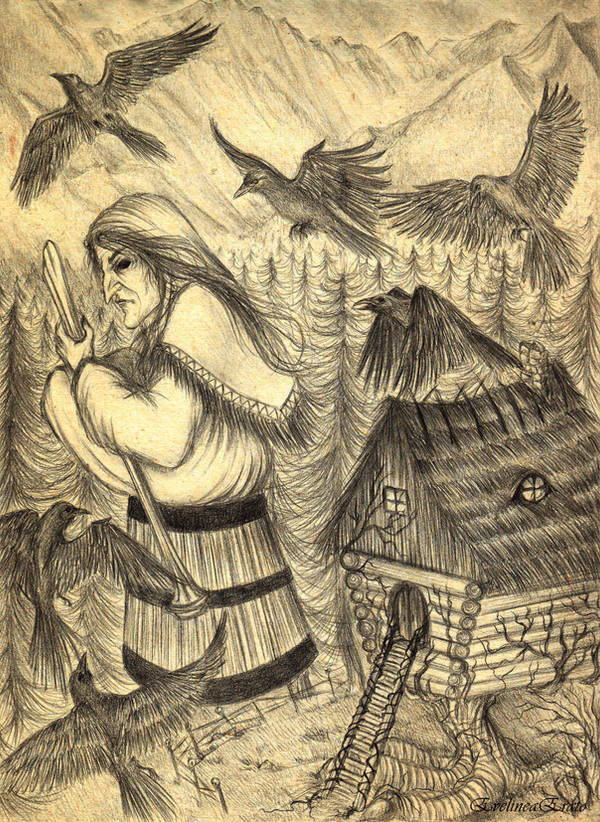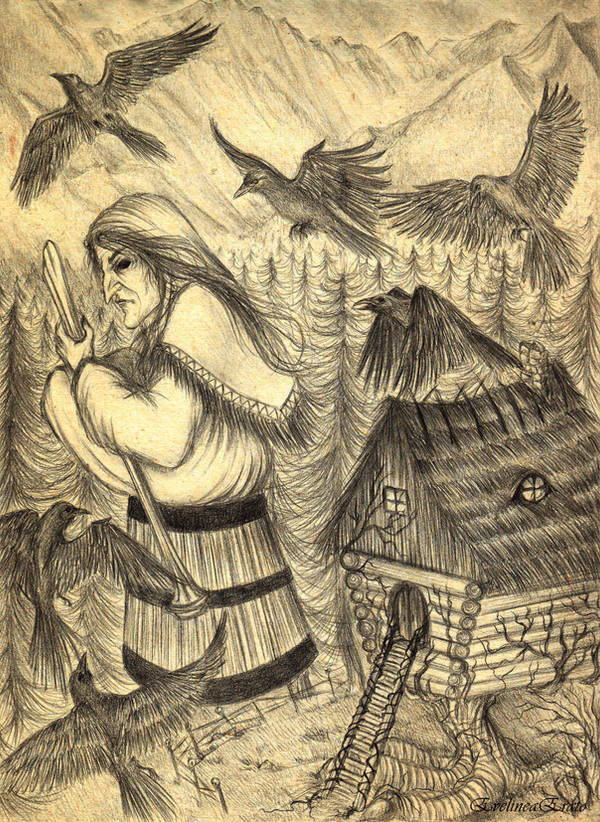 Watch
Baba Jaga
Postać Baby Jagi, pierwotnie prawdopodobnie ważna w słowiańskiej mitologii, przetrwała jedynie w zdegradowanej formie jako element folkloru.Występuje tam jako stara, odrażająca wiedźma (obwisłe piersi, jedna kościana noga, ślepa l
ub niedowidząca), mieszkająca w chatce na kurzej stopce w głębi lasu. Babie Jadze często towarzyszyły czarny kot, kruk, sowa lub wąż. Porywała błąkających się po lesie ludzi (zwłaszcza dzieci), a następnie ich mordowała i zjadała. Przypisywano jej też zsyłanie chorób i innych dolegliwości. Na końcu opowieści zazwyczaj staczała walkę z bohaterem pozytywnym i ginęła. Sporadycznie występuje w folklorze motyw łaskawej Baby Jagi, pomagającej ludziom.Badacze próbują rekonstruować pierwotną funkcję Baby Jagi jako władczyni zwierząt leśnych i postać związaną ze światem zmarłych, być może zdegradowane bóstwo żeńskie lub demona.

In Slavic folklore, Baba Yaga is a supernatural being (or one of a trio of sisters of the same name) who appears as a deformed and/or ferocious-looking woman. Baba Yaga flies around in a mortar, wields a pestle, and dwells deep in the forest in a hut usually described as standing on chicken legs. Baba Yaga may help or hinder those that encounter or seek her out. She sometimes plays a maternal role, and also has associations with forest wildlife. According to Vladimir Propp's folktale morphology, Baba Yaga commonly appears as either a donor or villain, or may be altogether ambiguous.

you have a nice style - please let me show you an old work form my mother - hänsel und gretel, painted 1945, when she was sixteen! as children we adored this picture, and i still do...

feldrand.deviantart.com/art/ha…

Reply

Thank you

And I adore your mother's illustration

Reply

you are welcome...

yes, she was good, and much later, when she became a teacher, she drew her own illustrations for vocabulary work in her english lessons - i´m sure if i had had a teacher like her at school, i would have been a good pupil. haha...



Reply

yeah, well done...

Reply

your stile looks like it would fit along side of an original brothers grim stories

I love it
Reply

Reply

sice childhood she is one of my most favourite characters in Folklore. Great Job

Reply

Świetny rysunek i ten klimat

Reply

I've heard of her but don't know the actual stories. Good portrayal.
Reply

I'm glad that you like it

The most popular story with Baba Jaga is the story about Beautiful Wasylisa

Reply