*Update: New Year, New Cover, A remastered version of the original cover. The logo was created by

*
*Update: Adding smaller versions of Eeveelutions (Based on previous cover)*
*Update: I decided to change the cover. All the floating objects are just evolution symbols of the Eeveelutions.*
First cover: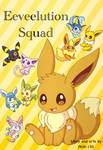 Second cover: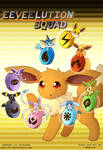 -----
This is the web comic series I've been working on. I guess it can be called "ES" for short.
This comic is about Eeveelutions as you can see. Some parts of this story will be the complete versions of
Comic tests
I've made before. I might use a lot of references in here so yeah... I don't know how this is gonna turn out but I give it a shot anyway. I still want to practice more on making comics even though I already made some already.
Anyway, I hope you look forward to it!

-----
Pokemon (c) Nintendo
Story and arts (c) me

Image details
Image size
1200x1743px 1.94 MB