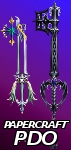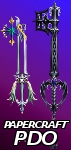 Watch
EDIT:
Increased the scale a smidge (Oblivion now 45.4 inches and Oathkeeper now 37.7 inches tip to pommel----which is what they would be irl if Riku was 5ft6'......I think.), made progress on Oblivion, and most importantly
added two PDFs of the finished Oathkeeper template.

PS: I only get to use a computer about twice a week now, so if you're waiting for a request from me, sorry they're all taking so long.

---
Oathkeeper is completely done......
I've sorted Oblivion's parts, but haven't tried to put them together at all yet. I've already made an Oblivion template before, as part of my
Deep Dive Riku Pack
. So, download that too if you want it before I update this.
You can thank
Blood Stain Child
for getting me hyper enough to finish this much by today instead of NEXT Friday. In fact, I think I gained a level in Papercrafting. Pepakura Designer has this infuriating glitch that I've finally figured out how to work around, which means I should get more templates done quicker. Such as my armors.

ABOUT THIS MODEL: I found a Roxas model in KH2 that had both Oblivion and Oathkeeper attached to it. Theoretically, that should mean that these keyblades are proportionate to each other as they appeared in the game------Oathkeeper really IS that much smaller. The reason for this is because of
the 400-year-old sword style
that Roxas uses, in which a short katana is wielded in the left hand while a normal long katana is wielded in the right. (Regardless of weather or not the swordsman is lefthanded.)
I've been nagging
my sensei
for years to teach me more of that style. I freaking love it!