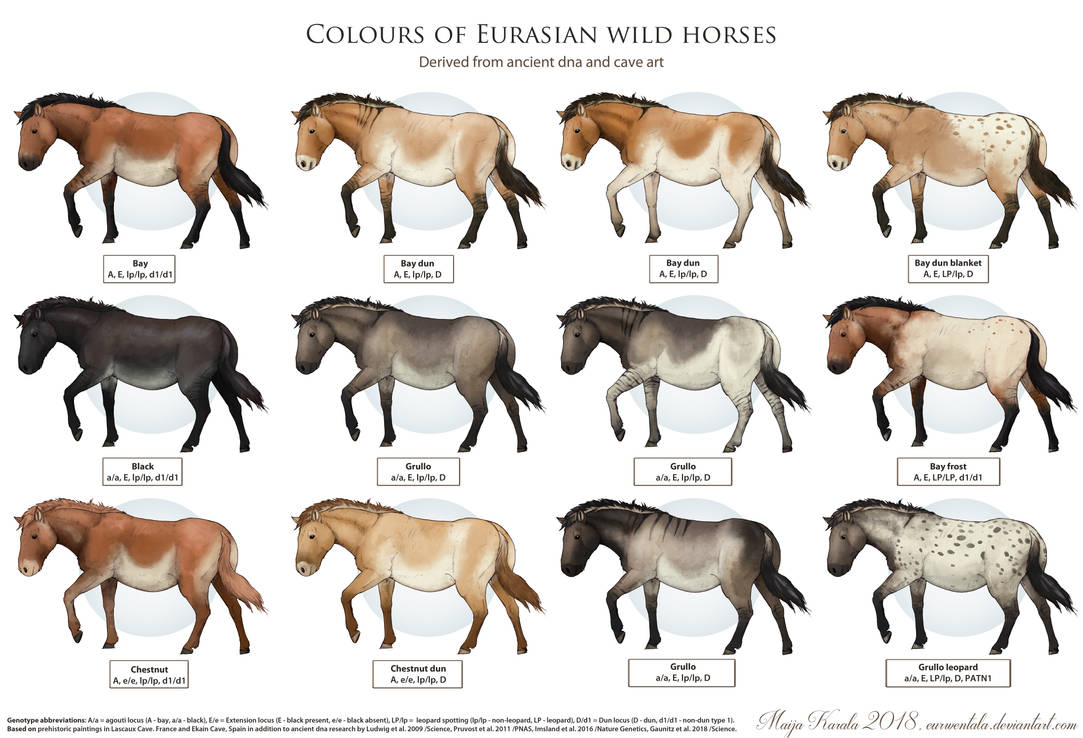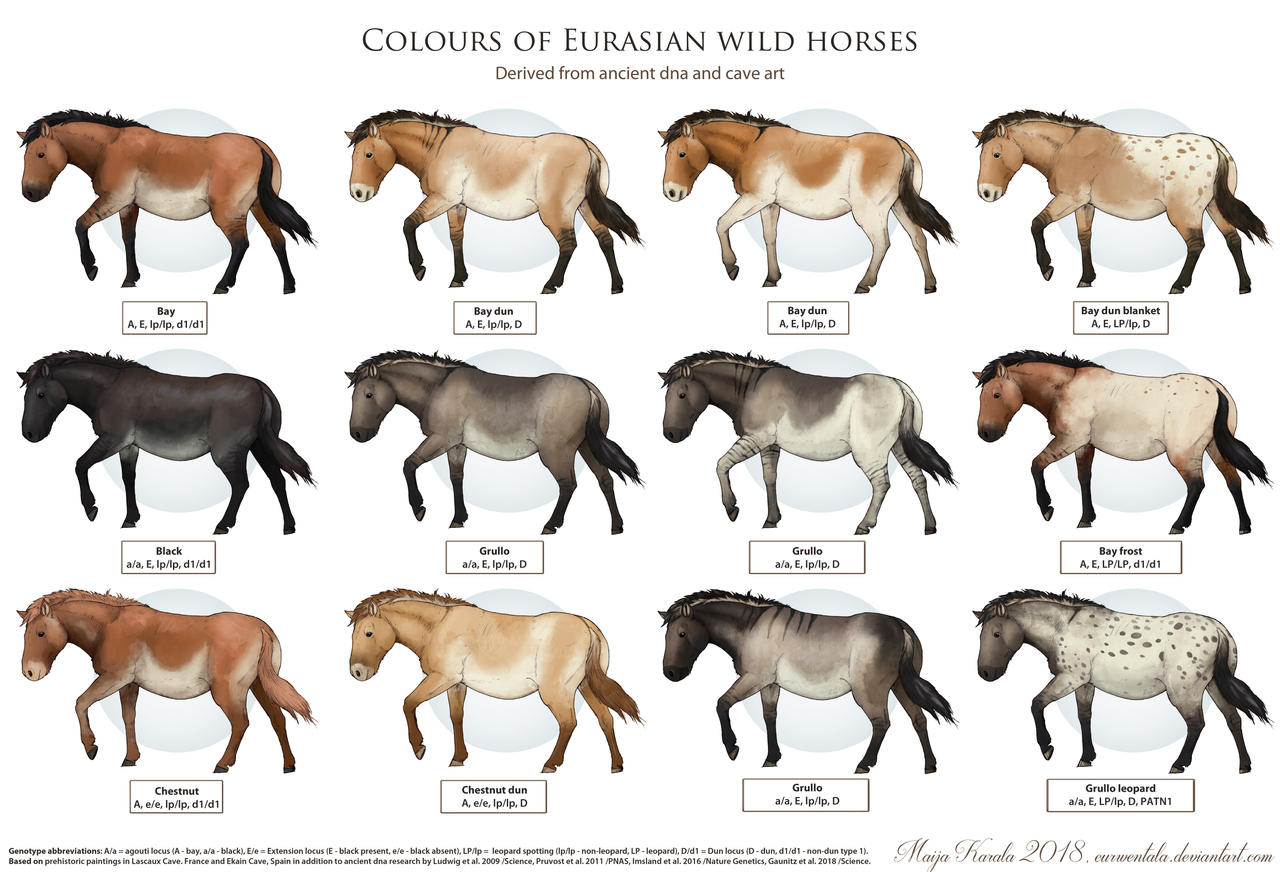 This is a chart on colours of Eurasian wild horses or tarpans (Equus ferus) of Late Pleistocene and Holocene - a surprisingly varied population, as shown by ancient dna and cave art. This is the stock from which our domestic horses were bred from. They only went extinct around year 1900.

After publishing the first two versions of this one, I kept reading about colouration in wild and domestic equids, had some interesting discussions here on dA, and felt the need to make an updated version.

Depicted is a selection of possible combinations of the alleles known to have been present in wild tarpans. According to the data set of Pruvost et al. (2011), the most common colours were bay dun, grullo, and spotted bay dun. All these seem to be also depicted in European cave art. According to Imsland et al. (2016) the dun allele was also polymorphic in wild horse population, causing some individuals to be darker than others.

Different combinations would have necessarily occurred from time to time, when horses of different colours mated. The LP allele, producing leopard spotting, is affected by a large number of modifiers. I depicted a few possible outcomes of it, but for the time being, we have little hints on which patterns where really present. The spotted horse paintings of Pech Merle cave, France, look like they have a leopard or blanket spotting with dark head and neck.

Additions to the earlier versions include subtler details not revealed by ancient dna testing so far. All horses now have pangaré colouration, that is, countershading on the body typical to wild equids and breeds considered "primitive". The level of pangaré varies, as shown by wonderful cave paintings in Ekain Cave, Spain. Some horses only had whitish bellies, while in others, the white reached up their sides and down their legs. This might have been variety between summer and winter coats, and/or adaptations to environments with different amounts of tree cover. These horses had a variable amount of striping on their legs and necks, from nonexistent to quite strong, which was also documented in detail by someone in Ekain Cave 13 000 years ago. Another detail often shown in cave paintings is that the neck and head are darker than the rest of the body.

Ancient dna studies are the other important source of information. The letters underneath each horse refer to their alleles. These four were polymorphic in the tarpan population:

Agouti locus
A - dominant allele causing brown coat
a/a - recessive allele causing black coat

Extension locus
E - dominant allele enabling black in coat and mane
e/e - recessive allele preventing black coat and mane (result being a chestnut horse)

Dun locus
D - dun, a diluting factor present in wild horses and asses. Causes lighter coat colour and primitive markings (two-coloured mane, stripes etc.)
d1/d1 - recessive allele causing non-dun colour (black, bay, or chestnut, depending on the base colour). Leaves some primitive markings visible.
(d2 is the non-dun allele dominant in domestic horses, but unknown in wild ones)

Leopard / varnish roan locus
lp/lp - no leopard complex, no spots
LP/lp - leopard complex, spotted
LP/LP - leopard complex, mostly white. There is a night vision defect associated with homozygous animals, probably making them vulnerable to predators.

I had to assume this one, since genetic test for it was only developed in 2016 and it hasn't yet been widely tested on ancient horses:

PATN1 - patterning factor, causes leopard spots with LP

References:
www.pnas.org/content/108/46/18…
www.nature.com/articles/ng.347…
science.sciencemag.org/content…
onlinelibrary.wiley.com/doi/fu…
Cave paintings: