DO NOT COMMENT HERE! Send me a note!



Fill in this form when commissioning:




1. Type: (check the types below)
2. Portrait or scene?: (check below what they are)
3. Your paypal address:
4. Chractar reference(s):
5. Commission idea:

These are my commission prices!

Check this journal for slots/status:

Commissions CLOSED27th of September
Hello! I'm opening 3 commission slots. This time only portrait commissions are open. So no complex ideas/scenes or backgrounds. Only 1 character and a pose you would like them in. You can also determine the clothing and expression, of course.
The prices are my regular prices found on my info. Commissions will be full color. If you want a sketch commission, check the prices on my info.
Bust: 30€ (extra char + 15€)
Waist-up: 35€ (exta char + 20€)
Knee-up: 40€ (extra char + 25€)
Fullbody: 50€ (exta char + 30€)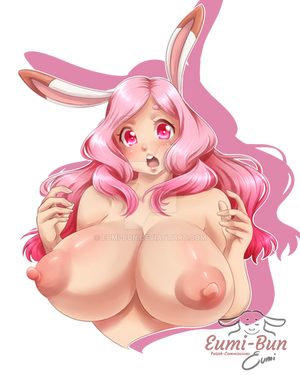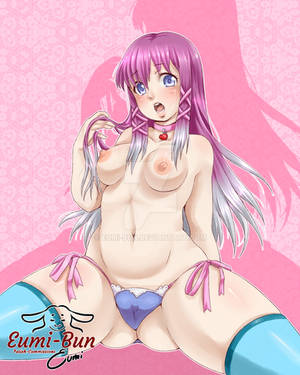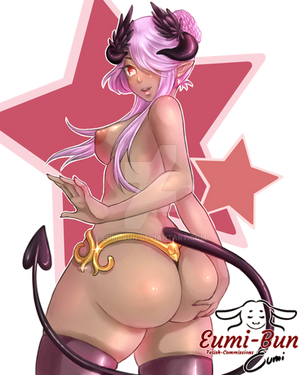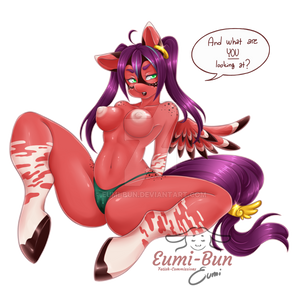 Fill in this form and send me a note:
1. Type of commission: Portrait or scene? Fullbody etc full colored etc
2. Your paypal address
3. Commission idea
4. Public or anonymous
5. Character reference(s)
6. Additional info?
Please check my I

My gallery folder
HERE

NOTE me with "
Commission
" on your title!

I'll send you an invoice!

Two options: Portrait or Scene
Portrait: (no extra cost)
You give me a character and I draw them in a pose I decide or you tell your idea (simple) example "Cute pose with a peace sign. They have a cute bikini on" I have artistic freedom.
You can't change the whole idea of the picture after you see the sketch. Minor changes are ok.
Scene: (extra cost 35€)
You have an exact idea you want drawn. Example: "My Oc is sitting with their legs crossed on a blanket that has hearts on it. They are eating strawberry cake that has pink frosting, having a delighted expression, hearts in their eyes." Not much artistic freedom for me.
You need to give me all the details you want drawn. You can't change the whole idea after I've done sketching. Minor changes are ok! You can't do something like this: "I want my character laying on their back naked on a starshaped carpet", and when the sketch is ready; "I have some changes. I wan't my oc on their stomach and squeezing their boobs"
If you don't have a picture of your character but a written description, it is a custom character.
For customs I need to charge an extra 20€.

Full colored:
Bust: 30€ (extra char + 15€)
Waist-up: 35€ (exta char + 20€)

Knee-up: 40€ (extra char + 25€)
Fullbody: 50€ (exta char + 35€)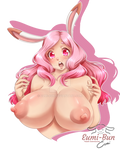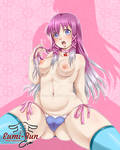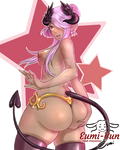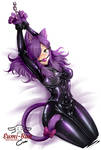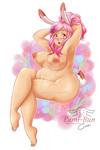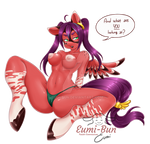 Sketches:
Bust: 10€ (extra char 5€)
Waist-up: 15€ (exta char + 7€)

Knee-up: 20€ (extra char + 10€)
Fullbody: 25€ (exta char + 15€)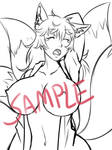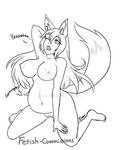 Colored sketches:
Bust: 15€ (extra char + 10€)
Waist-up: 20€ (exta char + 15€)

Knee-up: 25€ (exta char + 20€)
Fullbody: 30€ (exta char + 25€)

BETTER EXAMPLES COMING SOON!



SKETCHPAGE 40€-60€ (3-5 drawings)*:
*Couple sketchpage is douple price.
*Two characters (ie. 2 & 2) is 20€ extra.
With loose description of a wanted pose, I'll be drawing your character.
If you have specific clothing you want your characer to wear, please send me a reference picture.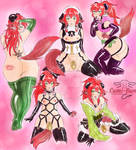 REF SHEETS 60€ :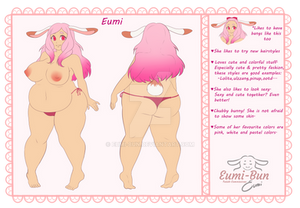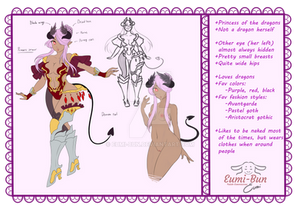 DAKIMAKURA: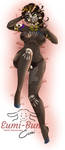 (basic)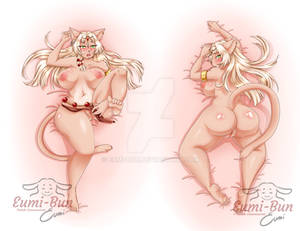 (double)
BASIC 45€
The basic dakimakura commission will have one character in a pose fitting for a dakimakura (laying down) in one picture (meaning it's one sided). It will always have the wrinkles for sheets as background, no extra charge for that.
DOUBLE 70€
The double dakimakura commission will have one character, but with two different poses (meaning it's two sided). The two can have different outfits.
+ add-ons +10€
If you want to have different outfits on your commission, mention it in your commission description. Add-ons are different outfits and accessories. You will get different versions of the original picture, with your commissioned add-ons.

Dakimakura drawings will always have my watermark on it. It can be faded, or smaller.

I will not provide any pillows or printing, only the drawing!
----
Backgrounds:

Simple (low detailed room, landscapes etc) 35€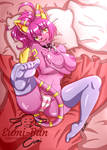 Semi-detailed (rooms and landscapes with some detail) 50€
Detailed (forests and detailed landscapes and rooms, buildings, cities) 80€


CLOSED

Comics:
Sketch: Starting from 75€
Full color: Starting from 100€.

Examples: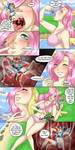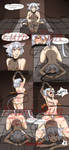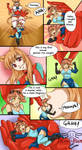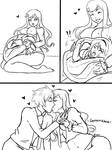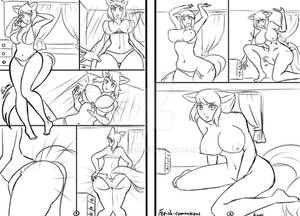 RULES:
You may not resell or upload your commission anywhere without my permission!


I want the full payment upfront! I will not run away with your money, please trust me. After the payment you'll receive a sketch where you can ask for changes and after that the full commission.


When commissioning a drawing or a comic, please give me as accurate description of the situation as possible (unless it's a portrait commission). Preferably panel by panel when it's a comic.


You can always ask to be anonymous when commissioning ("anonymous" written in the description of the drawing). Or you can ask for a private commission just for you. I will then send you the commission via e-mail and not upload it on dA or anywhere else. You still do not have permission to re-upload your commission.


PLEASE, after you get the final price, respond to my note if you ARE still interested or NOT. And if you happen to change your mind: SEND ME A NOTE.

I won't get mad. I'd appreciate it if I knew how many commissions I actually have.
Dos:

Fetishes (just ask!)


NSFW


Shota, loli (body types)


Human, Anthro, MLP...


Hetero, yaoi, yuri


OCs, anime/game/etc characters

Don'ts:


Pedophilia


Realistic animal porn


Offensive/racist art


Other people's OCs without their approval (unless it's a gift)


Mecha


Refunds!
(you'll have a chance to change the sketch as many times as you want before I start making lineart when it's a SCENE commission. But keep in mind that you can't change the whole theme of the picture. With PORTRAIT you have given me artistic freedom, so there shouldn't be so much to change about the theme. Character design flaws I have made are always to be fixed!)



Please don't rush me! I'm working as fast as I can.