So, we got way more entries than we would have guessed! <3 We absolutely love them all

Originally we had three winners, but we decided to give small prizes to best Eumi and best Iriv entries too!
We wanted to do this, because the top three ended up including both characters. These entries were so close making it to the top 3 that we felt we needed to acknowledge them somehow!
We based our judging on the overall feeling of the drawings, not skill level. We would say the most important traits were how well the personalities of the characters were captured, did the drawing look like some effort was put into it and did it impact us somehow. Like for example if the drawing was drawn so well, but it felt somewhat "soulless". We would prefer the one that made us feel something.
We will feature all the entries in our favourite folders on our front page!
THANK YOU EVERYONE WHO ENTERED!

We will contact the winners personally.
Soooo, here are the results!
1st place: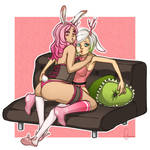 by

50USD or 5000

+ full color fullbody drawing from both of us.

WOW! I just simply love this one!! This was one of the earliest entries that we got & I still can't stop admiring it! The personalities of the characters are spot on, even the poses really give out the Eumis cute & vulnerable aura. Iriv on the other hand is laidback, not caring too much of her outlook and still seems to be in charge of the situation. The bodytypes look lovely, Iriv looks skinny in just the right way & Eumi looks chubby and more round. The colours look great & I really like the detail of Eumis bunny socks! The whole situation looks like it's a lovely glimpse of their daily normal life: )

I just adore the atmosphere here. The characters' personalities come across so well and I love their poses. Also their weight difference is drawn well in their own style, colors on the characters are just right and the overall execution on characters is spot on. Eumi's lingerie is super cute and I want to draw her wearing that! <3
Congratulations on the first place!
2nd place: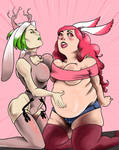 by

25USD or 2500

+ fullcolor bust drawing from both of us.

This one! Ah, I really enjoy the way that the anatomy is drawn, I love the expressions & just the basic facial features, Eumi has a cute precious face with blushed cheeks & small nose (Even the teeth are there!). Iriv has a bold powerful features, MAJESTIC nose and the horns.. THE horns, aaah, I really can't probably even draw her this well myself hahhaha. & The bodytypes could not be any better & I really like the fact that Eumi looks big, like for real, is not just a lil bump:') This drawing really stands out from the others!

The style in this drawing is great! The facial features make the characters' personalities come alive. I absolutely love how Eumi has a tiny pug nose, buck teeth and large eyes with cute and a little goofy expression. Meanwhile Iriv has hawk nose and very sharp expression. Weight on Eumi is drawn well <3
3rd place: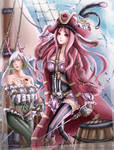 by

25USD or 2500

+ colored sketch( Eumi-Bun ) and sketch(

Filthybites

) bust drawing from both of us.



I want to be a member of this crew! Eumi makes the cutest clumsy captain, whose heart is longing for the adentures!! ..And Iriv is there to look over her and enjoying the ride. This drawing really warms up my heart and makes me smile. The costumes look COOL and fit the characters amazingly, makes me want to draw them like this hahhah. & I love the tattoo that Iriv has, it's their terrifying bunny skeleton flag:') & I actually have a tattoo right there myself hahah. The bg is one of the most detailed entries that we got. The only thing I really have to point out is that Eumi looks pretty skinny : o

The designs! Ah I love the clothes so much <3 They represent the characters so well. I will absolutely draw Eumi wearing this! Idea is very cute and well executed. Their pirate logo is so cute. Eumi is a bit on the thin side, but the consept is really cute and the characters are looking super cute and beautiful.
BEST IRIV: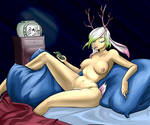 by

10USD or 1000


I love this scene! This is just the kind of thing I can see her doing, too lazy to really get up, not even going to out smoking. Her room would be that glamorous, just a room to sleep in and watch tv. Maybe plan out some stuff in her own peace. & the anatomy is great! I love that belly! This picture just really yells IRIV! to me hahhah.
BEST EUMI:

by

AND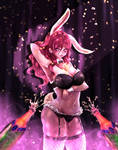 by

10USD or 1000

for both of them!
I couldn't decide between these two... They are just so lovely!
The comic captures Eumi's fashion perfectly <3 And she looks so cute in this style. Also I love how excited she is! And it is clear that a lot of effort was put in to this.
In this second drawing, Eumi looks so cute and uncomfortable on stage and it is exactly how she would be, if she was in such a situation. The coloring is stunning! And those champagne bottles are a nice touch ;3
THANK YOU AGAIN FOR EVERYONE WHO ENTERED!!