I have been in the sketch card business since 2008, and it has given me the opportunity to draw the characters I have loved my whole childhood and actually get paid to do it. It has opened doors for me in other industries and has put my work in the hands of so many. but I feel it's time to move on. So for now after this card set I'm working on, I will say farewell to the Sketch Card industry.
This is to free up time to focus more on the next step in my art career. Although fun, doing sketch cards can be a grueling task not leaving much room for other fun projects. I had a blast with every set I was on and i'm truly grateful for what I was able to do. A truly special thanks to Mark Irwin for giving me my first job I love ya man! haha, Thanks to all the wonderful people at Upperdeck, Rittenhouse, Cryptozoic Entertainment, topps and 5finity for believing in my ability to create.
I will still be doing personal commissioned sketch cards here and there, and I have a good amount of Artist Proof cards to work on. But other then that I'm hanging it up.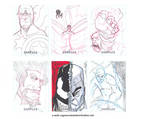 The Beginning The end... For now.