Journal Entry:
Tue Nov 11, 2008, 1:08 PM
"We are the voice of the universe, the soul of creation, the fire that will light the way to a better future, we are one. " (from G'kar's Declaration of Principals)
A Word from Z'ha'dum
Hi there, I'm still alive don't worry.
I'm not drawing much and facebook is stealing a lot of my time so it's a while I don't post here.

I'm so excited today!
A month ago my boyfriend
morden
and I entered a Photographic contest organized by Fnac (fnac is a chain of stores that sells dvds, games, books, tv, cameras, etc )
In our town 800 photos entered the contest and only 30 of them have been chosen and put on the site of the store.
Well, today I found out that this pic of my boyfriend was chosen!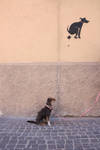 So, if you want, go here
www.fnac.it/images/miniSites/m…
and vote the pic. You just have to click on the phrase "Vota questa foto!"
Thank you!

Codes
Wii code: 7177-5885-9937-7878
Animal Crossing: 3350-9542-2742
Picross DS: Coming soon
FF3: Coming Soon
Pokemon Diamond: 0774 1573 0490
Chocobo Tales: Coming Soon
Ps3: eugeal

If you add me, let me know your code

Links & Credits
My Stock account

Eudial the Vampire Slayer:

My boyfriend's account:

My dad:

I'm a Vampire:
s2.bitefight.org/c.php?uid=348…
Journal css and images:
www.deviantart.com/deviation/5…
by
Astarsia
Map & Counters
Create your own visitor map!

Watch

Reply

This is the story of the last of the Babylon stations. The year is 2258, the name of the place is Babylon 5.

*dun duuun dun dun dudun dun dun duuun dun dun dudun dun dun etc.*

*krhm* Sorry, I get that a lot when I even glimpse at something remotely Babylon 5. Great to know you're alive!
Reply