152 Favourites
43 Comments
7K Views
Nearly half a century in age. On this day in 1966, the first episode of The Original Series premiered.
Time to wish STAR TREK a Happy 47th Birthday.
Star Trek has been a cult phenomenon for decades. It is noted for its influence on the world outside of science fiction. It has been cited as an inspiration for several technological inventions such as the cell phone, the Touchpad or universal translators. It also has countless scientists, astronauts and engineers inspired to become what they are today. Moreover, the show is noted for its progressive civil rights stances. The original series included one of television's first multiracial casts, and the first televised interracial kiss. Roddenberry had hoped to keep Star Trek free of racism and sexism.
Rendered in 3d Max 10
No Post Work
DS9 by Jörg Gerlach
Galaxy by Scifi-Art
Defiant by Ed Giddings
NX by Paul Trenkler
Constitution by Gene Kim
Intrepid by Dan Crout
Background Nebula is a modified version of this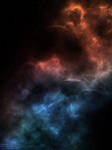 by

Like my Star Trek Artworks? Take a look at this: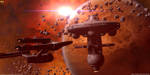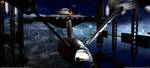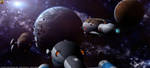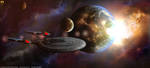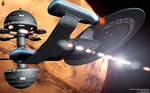 IMAGE DETAILS
Image size
2200x1350px 381.8 KB