251 Favourites
14 Comments
6K Views
A Siracusa class Artillery cruiser guarded by two Alamo Frigates unleashed hell on a enemy.
The Siracusa class is a cruiser sized artillery starship of the Systems Alliance. They are slow, but none can match its destructive power. They are great suppression ships, with a sustained damage that can make even a mighty Dreadnought struggle to stay alive.
But t
hey

are

reliant on

other

ships

such as

cruisers

and

frigates

to

distract the

enemy, because as strong they are on long range, as weak they are on close range.
If used properly
,
the
Siracusa
can
achieve victory
even against
superior
enemies
.
Her
commanders
are
most
well-trained
tactician
s.

Rendered in 3d Max 10
Background painted in Paint Shop Pro 7
Post Work in Adobe After Effects CS6
Siracusa & Alamo class by Thomas Raube (me)
Mass Effect is (c) by Bioware & EA

Like it? Watch my other Mass Effect Starships: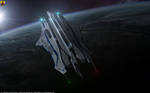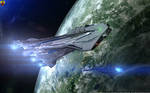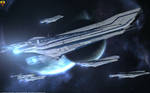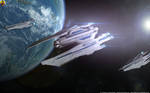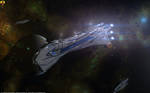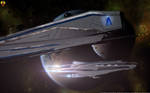 IMAGE DETAILS
Image size
4400x2750px 1.14 MB