The Antares type variant of the Miranda class.
The ship is part of the Frankenstein fleet from the later DS9 Seasons which are all made from AMT model kits to create cheap background ships for the mass fleet scenes.
The USS Antares NCC-9844, together with three sisterships of the same type were seen for a couple of seconds during the fleet gathering at Starbase 375 shortly before the retake of Deep Space Nine. (DS9: "Favor the Bold")
The Antares filming model kitbash was made by Visual Effects Supervisor Adam Buckner who also created the Centaur class. Buckner explained that it was a standard Reliant model kit with an AWACS pod made from the display stand of an AMT Excelsior kit, and the nacelle coverings from the same kit used as torpedo launch tubes.
Rendered in 3d Max 10
No Post Work
Kitbash by Thomas Raube (me)
Miranda class model parts by David Metlesits

Like it? Watch my other Star Trek Artworks: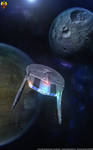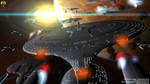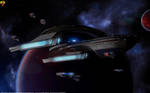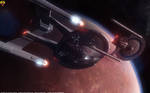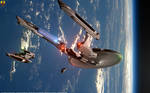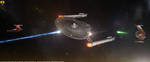 Image size
4400x2750px 940.83 KB