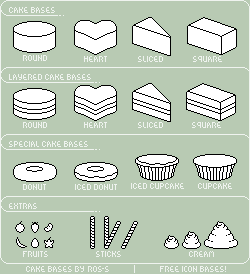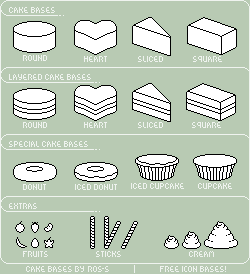 Watch
Cake month @ #
Free-dAvatars
!
For everyone who would like to make their own custom cake avatar

You can download the entire image and cut out the pieces you want to use.



For use on dA only!

Please credit me for the base if you submit your newly made avatar to your gallery.
Like what I do? Donate points!
Thanks to *
Kiki-Myaki
and ^
BurgerBunny
for the DD

Daily Deviation
Given 2010-09-17
Cakes - Free Icon Bases
by *
Ros-s
may seem simple, but it's just such a wonderfully cute idea to help budding pixel food artists build up their icon skills - a really novel and unique idea from this deviant. (
Suggested by Kiki-Myaki and Featured by BurgerBunny
)