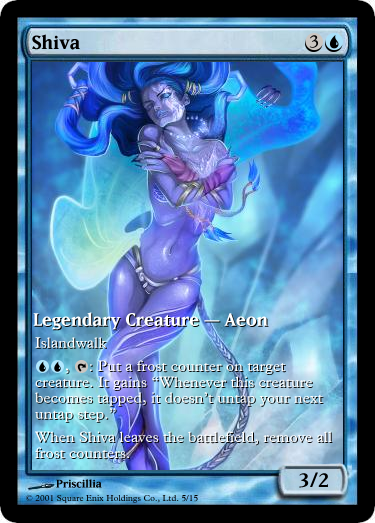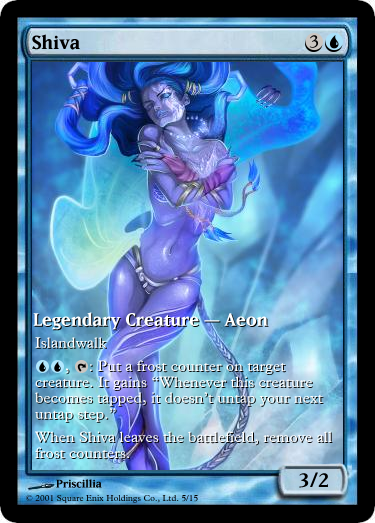 Watch
First and foremost, enormous thanks to Priscillia
[link]
for allowing me the use of her work for the card's picture. I decided to use the special promo frame for the special picture. Here's the original in all its glory.
[link]
It was a pretty simple process from game to card. Or at least, I knew what I wanted the card to do immediately going into it. Heavenly Strike delays an enemy's turn. In Magic, there're a few ways to delay a creature, done differently across various colors. White "pacifies" its enemies, making them unable to attack and/or block; whereas blue prefers to keep an enemy frozen, keeping them tapped down. In game, Shiva has high evasion and the fact that she's one of the better physical attacking Aeons made islandwalk and a third point of power seem appropiate, which also bumped her to 3U casting cost from 1UU.
Here's the card text, for those having trouble reading the white text over the light blues of the art.
Shiva — 3U
Legendary Creature — Aeon
Islandwalk
UU, T: Put a frost counter on target creature. It gains "Whenever this creature becomes tapped, it doesn't untap your next untap step."
When Shiva leaves the battlefield, remove all frost counters.
3/2
Artwork is entirely copyright and property of Priscillia, who I, once again, humbly thank for permitting me the use of her artwork. All intrinsic Magic the Gathering game concepts are copyright Wizards of the Coast. Characters and names are copyright SquareEnix.

Have you thought about doing this with the ffxiii eidolons?
Reply

I have not on account of having not played the game. Maybe someday.
Reply

Reply

Lol, I like how when you get to the half naked lady you mysteriously decide to use the whole card for the picture

Reply

I bow to you. I would own this card in my deck and make it the prime card. Is amazing how your taking the Aeons and characters from FFX and turning them into magic cards. I truely think you are a very gifted person. And thank you for sharing.l
Reply

Thanks for your super kind comments! Honestly, I don't know how good these cards are, I haven't played or tested any of them. I just do what I can and what sounds good. Sorry it's taken so long to reply...I'm not the most diligent deviant.
Reply

uhm wish i had her in my frost deck. good job
Reply

Hey, thanks. Frost deck? Like with the Rimewind stuff?
Reply

"Remove all frost counters from all permanents on the battlefield." is the proper wording, other then that, good flavor, decent card. Almost think it should be an upkeep trigger though, simply because, since when does Shiva have to sacrifice attacking to make ice?
Reply

Huh, I can't seem to remember why and upon checking my MSE file, it has it there. Huh, I guess I never exported that version.
Reply

Well, since we're being picky, it'd be "Remove all frost counters from all permanents." Permanents implies it's on the battlefield, making "on the battlefield" redundant. I left it off purposely for some reason....
Reply