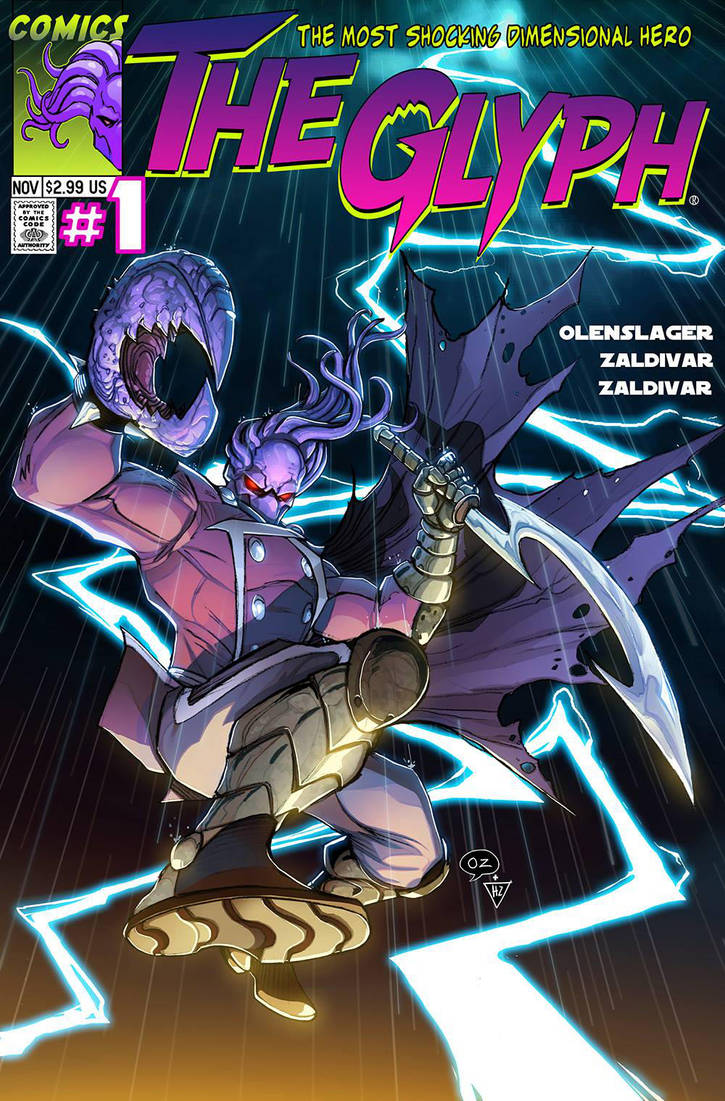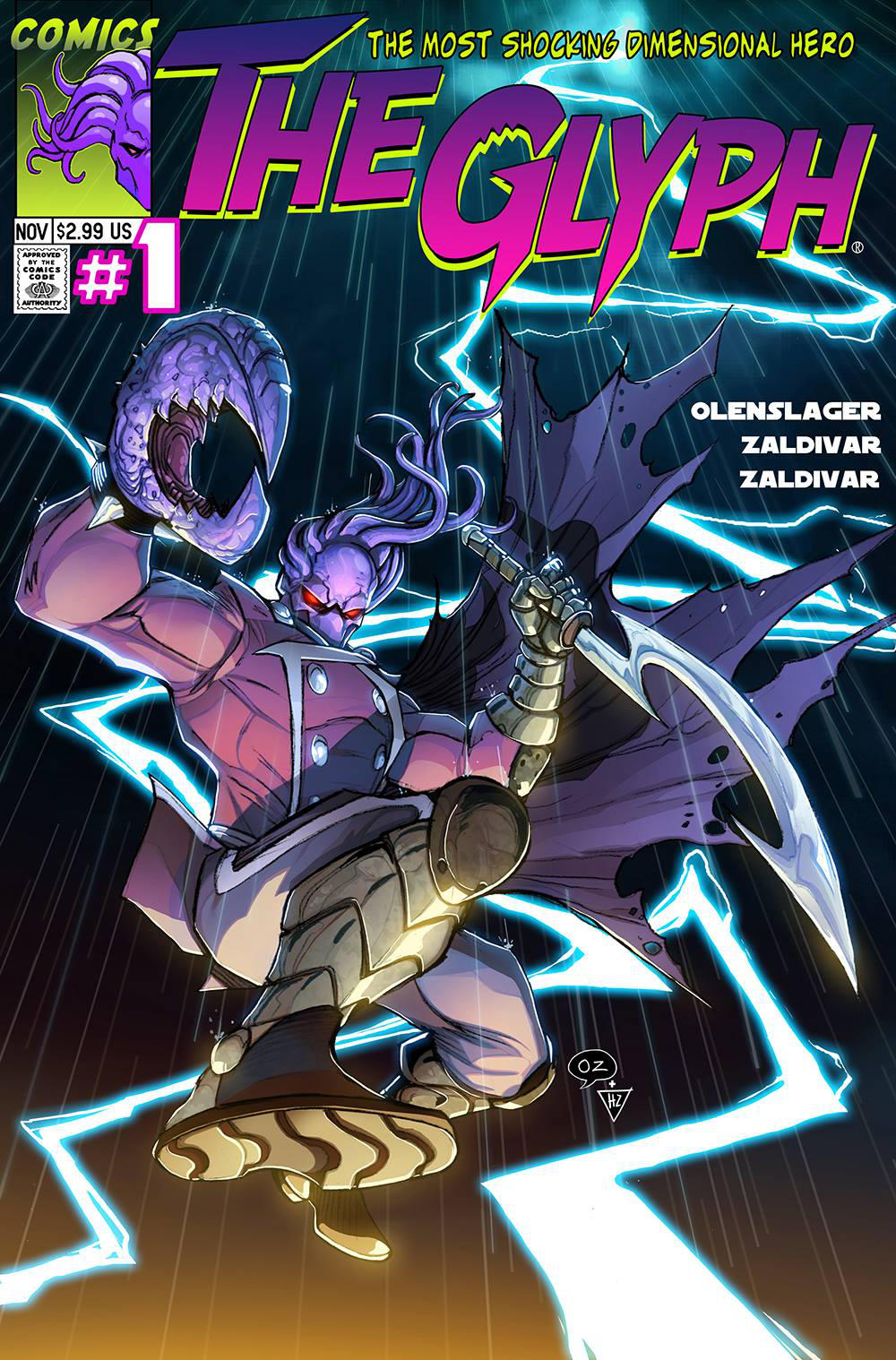 The extremely talented dynamic duo of

Omar Zaldivar [pencils and cover design] and

Hedwin Zaldivar [colours] did an amazing job on this cover fanart of my character The Glyph! An epic and unexpected gift, that I really appreciate so much! Thank you, guys; you really rock! Be sure to check out Omar's other killer artwork here
ozartwork.deviantart.com/galle…
& here
www.facebook.com/pages/Omar-Za…
AND Hedwin's other wicked cool artwork here
hedwinz89.deviantart.com/galle…
& here
www.facebook.com/pages/Hedwin-…
!
And what we know about The Glyph thus far...
The Glyph was once fully human, but he was genetically altered into an Ankhgorian/human hybrid. After being genetically altered, he eventually lost his left claw/tentacle arm in an epic battle. He decided to get a cybernetic replacement that resembled a human arm, to honor his past, but he added an extendable metal coil tentacle to it, so it would semi-function like the lost Ankhgorian appendage he had become so accustomed to. And The Ankhgorians are an ancient alien race that have some similarities in both looks and abilities to The Glyph.
As far as The Glyph's abilities and powers go, besides the usage of his crab-like claw, and tentacles (1 octopus-like one, which comes out of the center of his open claw & is fully retractable, and 1 extendable metal coil one) estonius.deviantart.com/art/Th… , The Glyph can shoot his cybernetic hand off like a missile and control it remotely estonius.deviantart.com/art/qu… , shoot plasma from his cybernetic hand (from a glowing eye of Horus on his palm) estonius.deviantart.com/art/Th… , teleport (short distances, at most a block) estonius.deviantart.com/art/qu… , and jump very high. He is also trained in martial arts (his weapon of choice is a khopesh, an ancient Egyptian sword, as seen above), and acrobatics.
He uses telepathy to communicate, and cannot speak otherwise. His telepathy is limited to simple communication within close proximity of the other person (just like if 2 people were talking to each other). When someone speaks, he picks up what they are saying from being able to read the portion of their mind from where that speech originates. When he sends out his thoughts for communication purposes, he can choose who "hears" him (one or many).
The Glyph fights in a skilled, efficient, and calm manner; and when not fighting, seems to see things with a childlike wonder through alien eyes. He also has a pretty good sense of humor.
The Glyph has a black winged scarab hieroglyph on his upper back estonius.deviantart.com/art/Th… , which is usually covered up by his cape, and has a spiked sleeve cuff on his claw arm estonius.deviantart.com/art/Th… . And an ankh on his belt.

Hmm, I'm sensing an ancient Egyptian theme here...

As far as his design goes, The Glyph started out as a random quick doodle in school many moons ago (a.k.a., the mid-90's) estonius.deviantart.com/art/A-… . I then tried a few different colour schemes, narrowed it down to green or purple, and, finally, decided purple looked best.
I further refined his design by adding elements from Inspector Gadget (Go-Go-Gadget Arm! = www.distantcreations.com/blog/… ), Jimbo the Mighty Lobster (claw = savagedragonwiki.wikispaces.co… ), Purple Tentacle (tentacle = en.wikipedia.org/wiki/File:Day… ) [I thought it was a cool variation on The Glyph's metallic extendo-arm that I had already included, to add a weird symmetry/asymmetry combo, and, also, tied into the tentacles on his head, that started out as just spikey hair], Great Mazinger (Rocket Punch! = www.toyark.com/news/attach/2/6… ), Iron Man (repulsor beam = images3.wikia.nocookie.net/__c… ), Nightcrawler (teleportation = img1.prosperent.com/images/250… ), steampunk fashion (military uniform), ancient Egypt (hieroglyphs and khopesh sword), and punk fashion (spiked wrist cuff).
Since he doesn't have a mouth or ears, I decided the only way he would be able to communicate would be some sort of telepathy. He doesn't have a nose either, which is neither here nor there.

Well, there you go.



Artwork © Omar Zaldivar and Hedwin Zaldivar

The Glyph™ of aṣ-Ṣaḥrāʾ al-Kubrā™, Ozymandias™ The Ankhgorian™, The Ankhgorian™, Cyjester™, Abydos™ the Ankhgorian™, Imhotep™ the Ankhgorian™, Sankhkare™ of the Sun™, Mano de Muerte™, Dengeki Ryouji™, Aneksi™ the Ankhgorian™, Ankhgorians™, Ankhgore™, Team Glyph™, and The Glyphverse™ © Eric Olenslager, a.k.a., Me [ www.instagram.com/estonius1138… ] - All Rights Reserved.