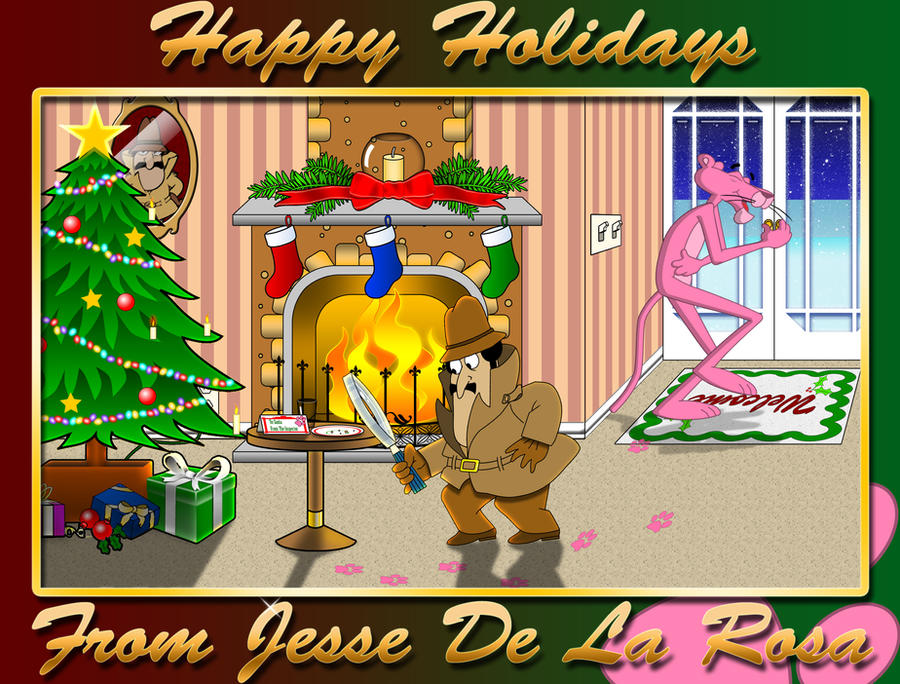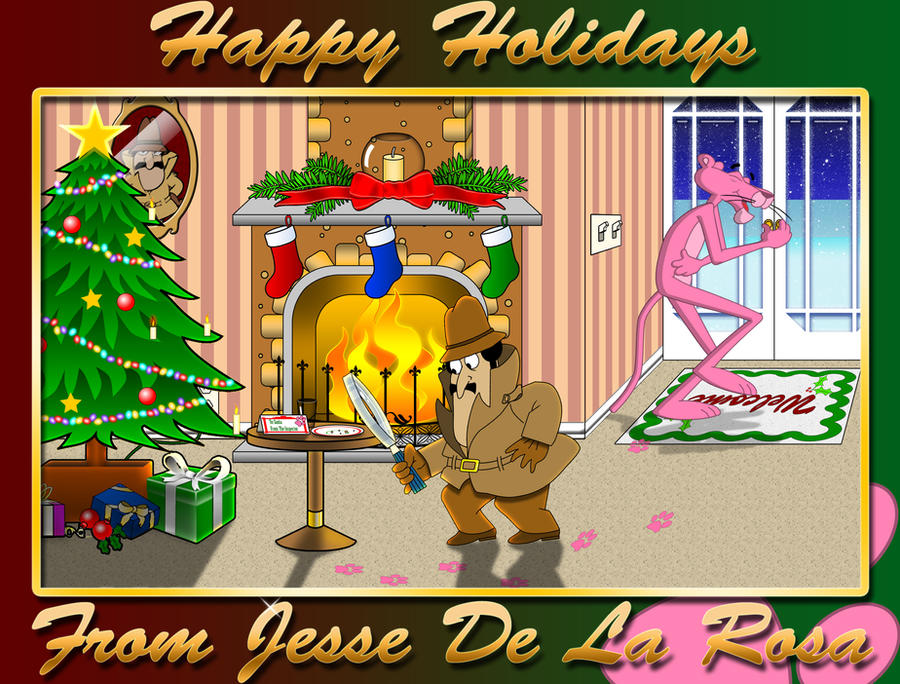 Watch
Twas the night before Christmas
and all through the house
not a creature was stirring
except a pink louse.
The stockings were hung by the chimeny with care,
in hopes that St. Nicholas soon would be there.
Though a roaring fireplace might make him perspire,
that absent minded Inspector forgot to turn off the fire...
Suddenly from the living room, there arose such a clatter!
And the inspector rushed in to see what was the matter.
Away to the table he flew like a breeze,
only to find an empty plate, void of cookies.
A tasty treat intended for Santa Claus.
Now only crumbs, and a trail of pink paws.
Not a clue left behind of who stole those riches.
Yet around the corner, a cat stood in stitches.
He cackled and laughed, it was surely a sight!
I'm sure if he wanted, he could do it all night.
Yes this pink feline may be shifty in his ways,
but he wishes you a Merry Christmas... And Happy Holidays!
lol, like my little rhyme? Don't judge me, I just made it up real fast! haha
I'd like to wish everyone out there Season's Greetings, Merry Christmas, Happy Holidays, Feliz Navidad, Happy Kwanzaa, a Happy Hanukkah, a Solemn Ramadan, A pleasant Cencas Torrah, and a Festive Festivus!
Deck the halls with boughs of Holly!

I'm going to make this a tradition for me. Last year I submitted my Snoopy and Woodstock Christmas Card
[link]
and it turned out so great, that I wanted to do something even nicer this year.
I tried to think of what cartoon characters I wanted to do, and I really wanted a pair/duo. And a friend of mine actually suggested I do the Pink Panther. And I just jumped all over the idea. Love the movies, loved the cartoon. Think Pink!
Oh and P.S. Be sure to click on DOWNLOAD IMAGE to get the full sized humungo version