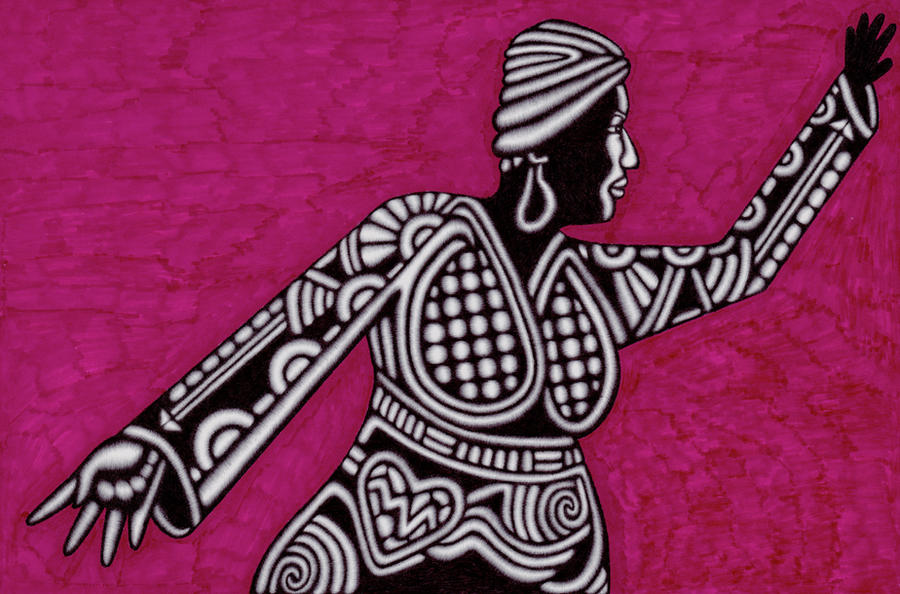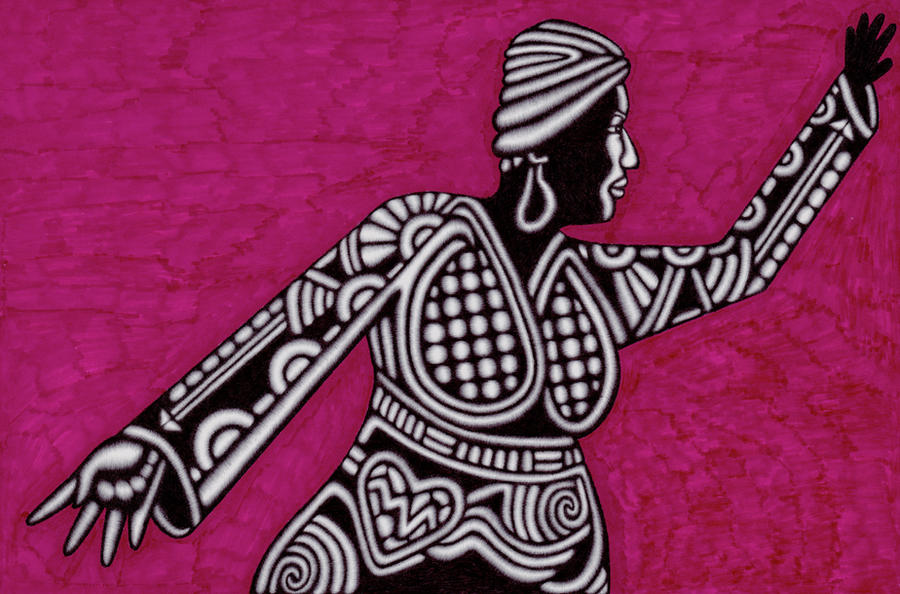 Watch
Black bic biro ballpoint w/sharpie background on bristol vellum.
An imagined portrait of the true Queen of Soul ,Aretha Franklin, as she was looking around 1972. Had been listening to her "Amazing Grace" album, (probably the greatest gospel album ever,ever ), and feeling inspired.This is when she was at the peak of her powers


this is stunning. A brilliant album too- I must ask as I havce been going through your gallery how do you make this art?
Reply

Thank you so much for your kind words

! I draw with bic ,black,ballpoint pen and then just use a sharpie to color in the background ( and usually they are about 8 inches by 10 inches)....I do sketch out a plan beforehand though ,because with ballpoint, if you make a mistake,you can't erase,and of course have to start over ( this has happened to me loads of times).And I sometimes use photos as a reference but only to see how a nose or a hand looks

, the scenes and poses are just things I imagine.
And so basically,it's just millions of feathery little pen strokes ! And they can take a while to finish ( a few weeks per drawing sometimes),but I love it . See, you got me started talking and now this has turned into a whole paragraph

!
Reply

i love all your music drawings esp. the portrait of george harrison
SURPRISE! this is merpa! under a new name! hi, nice to meet you, i'm ruthie! i saw your work in a group and i kept meaning to find you and watch you and tell you i was here! i miss our talks. how are you? i was gone for six months! i'm back now, tho.

Reply

Welcome back !! Wondered how you were doing and glad you are back in the world ! Since you've been gone, I've been experimenting with color,in a very,very tentative way obviously

Let me get all subscribed to you again and we can continue the endlessly unspooling dialogue on our artistic insecurities

!!
Reply

hahah! brilliant! i saw the color, i lovelovelove it! you should def continue to explore that! are you using colored ball points?

it's great to be back. it was a lloooooooong daaaaaark time, but i feel like i'm waking up a bit. i never stopped making art, everything in ruthie's (i'm the woman of a thousand names!)gallery is most of what i did while i was gone. yes, we must talk more! hugs!
Reply

Very psyched to see that you were doing your work through the tough times ( you know that you HAVE to make art right ? You can't ever stop ! )

!
As far as my own stuff, been doing the color w/sharpies,which honestly, I have a long way to go with before I master...I'm hoping at some point I actually manage an entire sharpie piece : I will get there eventually dammit !
Just saw your bird acrylic,which I really like, and coincidentally, I'm working on a bird myself

,who is also in kind of a winging position ...it's based on a Kate Bush song because I'm corny and weird like that

Reply

thanks! i couldn't stop, i dunno what i would have done without it! i drew and painting every single day. that part was great, i never lost the desire to create art, what a blessing that was!
hahha! you will get to love sharpies, i'm sure of it! i like them better than my copics or my prismas!
oooo! birds are fun!

now that's not corny or weird! she's cool and almost all your art is based on music, so go for it!
hugs!
Reply

never heard of her but it sounds cool so far

Reply

That works for me

Reply

It is pretty spiritual,yes

! The only other Flyleaf I know is much harder than this,but I like this better ...
Reply

i guess the other flyleaf is much heavy; you mean other albums?

well i loved their this ep "remember to live" such a beauty, i have written quite a bit from inspiration

Reply

Yeah, first album of theirs is a bit heavier than the ep , and I was not crazy about it back when it first came out...but have to say I like this ep way better,listening now

!!
Reply

yeah i todally agree with you, i didnt like the first album except so i thought to that extent but the ep is such a nice thing to hear

Reply

Very wonderful, Hope, a lovingly crafted portrait of the Queen! You always manage to do something different with your process with every new drawing, and here it's in Aretha's face -- instead of infilling her with all of your amazing "embroidery" you've used it to emphasize the light reflected on her beautiful face, and off of her earring. Her dress is a joyous expression of the era, and is quite something that I imagine she'd have been wearing exactly in 1972 (OK, yours is much more celebratory!). I like the winged Heart, and I "read" it with a joyful Heartbeat, and I certainly hope that I'm not missing out on any other hidden messages (our Hope likes to weave so much information into her drawings!). Beautiful, Hope!
Reply

You are a keen observer and haven't missed anything ! I had just finished reading one of those little 33 1/3 books, a newer one, about that "Amazing Grace" album ( which I already loved) and really felt the urge to draw her ,circa that year.And so I was tooling around and I saw a pic of Aretha on the cover of Ebony magazine from 1972 and that just sparked me off ! Of course if you check out that cover online, her actual dress and mine are completely different, but you'll see the small germ of inspiration.Of course I had little "issues" during the drawing, but sometimes I think they are things that only I would notice. Can I tell you,I don't expect too many people to be into this one, as I think there's a huge generation of people that don't know of Lady Soul to the degree that we do...but it's fun to do drawings for yourself once in a while ( okay, guess I always do that, but you know what I mean ) !
I sent you a note about my current piece, I might need some encouragement, having an existential crisis

Reply

As you said, Hope, it's always Most Delicious to do drawings for ourselves, and never a thought about whether anyone would ever "understand" it. Though, the whole "put it out there" dA-thing really starts to play mind games with the artist, as we start to assume that there will be an internet-load of total strangers grooving to exactly what we thought was so cool... and that's not always the reality. Me, I'm totally glad you did this for yourself, and there shall be no need to "wrestle" with wanting to do that again. Secondary, I've only read one of those 33 1/3 Books, and I'm sure you know which one... Bowie & "Low" (Laughing!). Again, beautiful work, Hope, and I'm off to read your note...
Reply

Reply

Yes!!! You've done an excellent job capturing Aretha Franklin's beauty, strength, and pure awesomeness! Great drawing!
Reply