Commission for

Originally we discussed this about 2 years ago, then stuff happened and it was delayed, but now it's here. On the plus side, it's going to look a hell of a lot better. Old art = shudder
Cop busts a prostitute and throws her in jail. Then spends the next however many pages walking the rest of his beat with no issues whatsoever.
What do you mean that's not what happens?
Oh well, I guess we'll see.
Enjoy.
The skirt's still shiny black, it's just unimportant for this page and so uncolored.
Previous:

Next: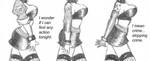 All "Busted" Pages