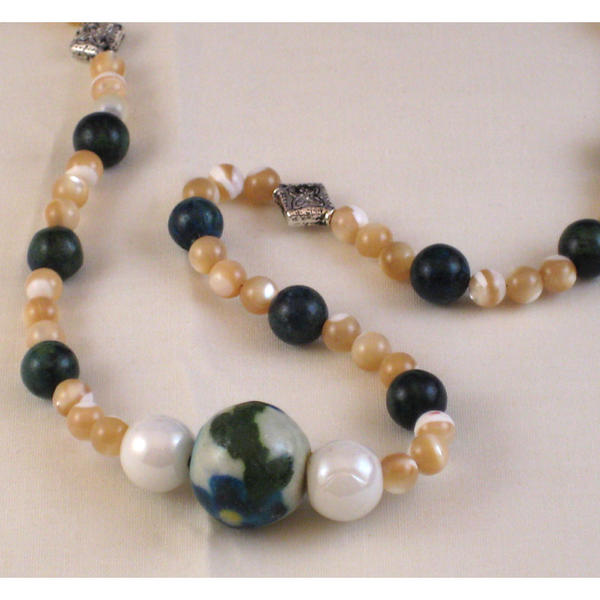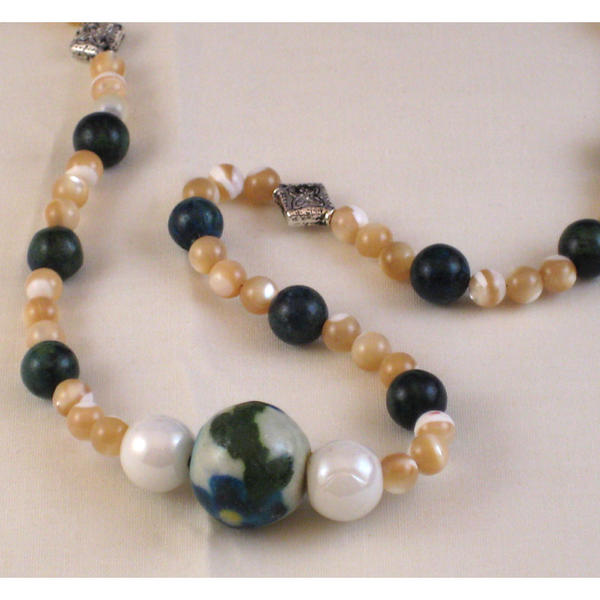 Watch
This necklace and earring set in natural shades highlights several particularly beautiful types of beads.
The focal bead of the necklace is a handmade Jaipuri pottery bead. We have a very limited supply of these that one of my two business partners picked up while living in India a number of years ago. At the time, these traditional beads were being produced by the last remaining such shop in Jaipur. Because the glaze colors change dramatically upon firing, the artist must possess a great sense for what the finished product will look like before starting. These are a true treasure.
The natural-tone mother of pearl beads are interspersed with green-dyed "yellow turquoise" beads, another semiprecious stone that complements the Jaipuri pottery at the center. And finally, antiqued pewter, a handful of lustrous glass beads and an antiqued brass toggle clasp top off the necklace.
Available at
Etsy [link]
with matching earrings included.

Reply

Reply

very nice

Reply

This is gorgeous! It is very mellow, but at the same time elegant and beautiful.

Reply

Thank you! The Jaipuri beads are so special, I wanted to wait to do something with them until I felt I could do them justice.
My favorite piece I've made with them so far is something I did for my mother. After she's seen it I'll post the photo.

Reply

Very cute , with this little

!

Reply

It is beautiful Heather...

Reply

Thank you so much! I wanted to wait to work with those beads until I felt I could do them justice.

Reply

i like the contrast of the light and dark beads, very pretty
Reply