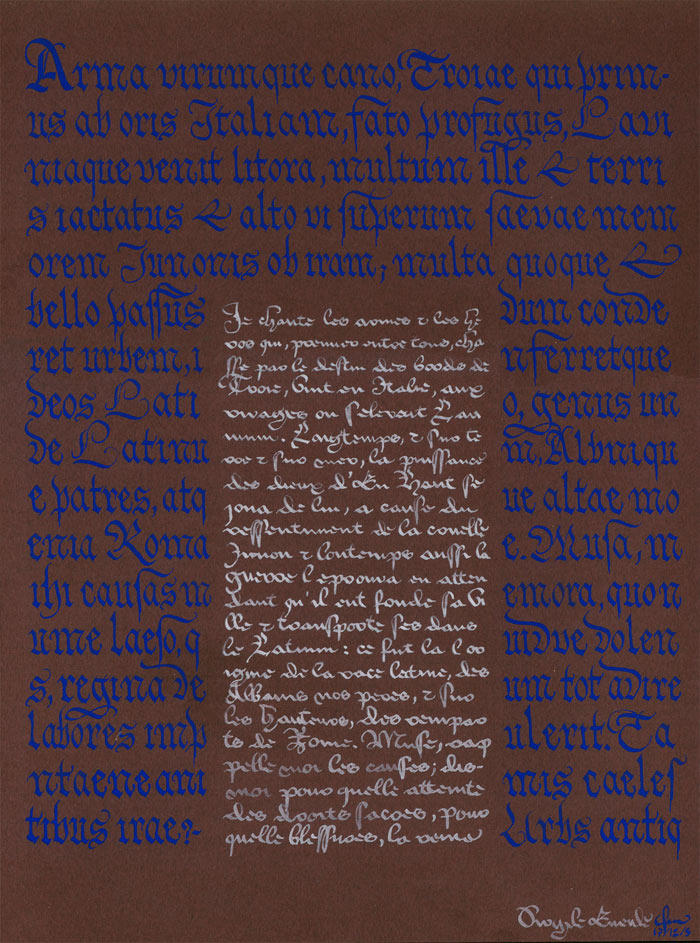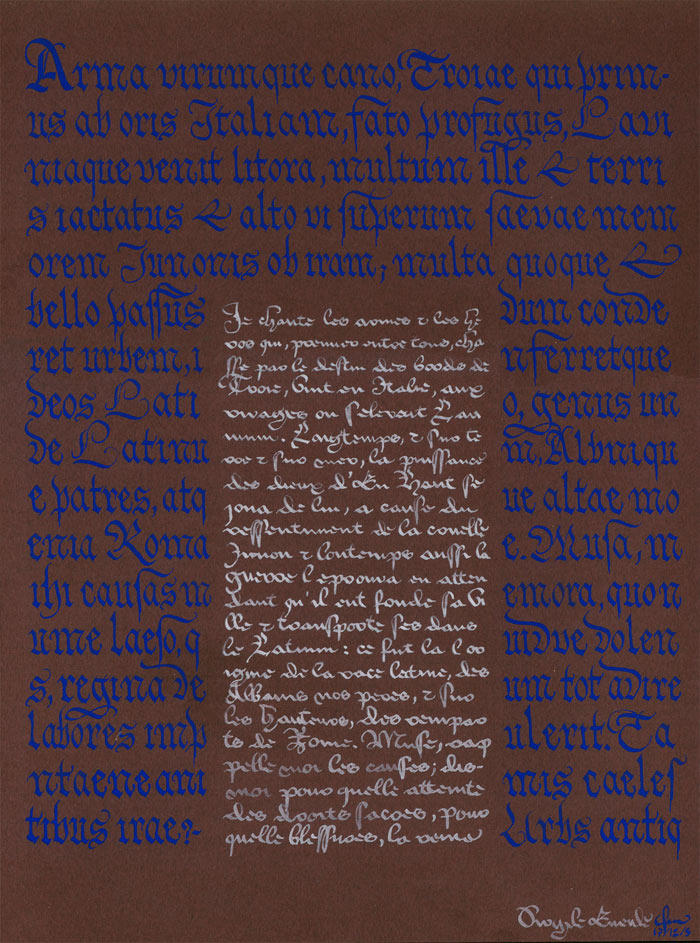 Watch
Latin & french version of the begining of the first book. (24x32cm)
Colours are so dull on my screen


Reply

wow, i really like this one! i have always been fond of how deep blue and brown/grey work together so well. how did you get the blue to appear so vibrant in this dark firmament? ink? acrylic? or did you digitally enhance it a bit?
Reply

It's just gouache, a deep ultramarine, but a good quality. The scan just can't reproduce the real color, this blue is so luminous, it's ten times more beautiful in real.

Reply

Amazing work! I love calligraphy...and I am trying at it...eh. I am not as good as you, but I am hoping to eventually turn out something like that.

Any tips? Good sites to learn more styles?

Love Always,

Kristin
Reply


I saw that you find the community ~
Scriptorium
I need to find time to put advice and other calligraphy stuff there, just wait.

Reply

moi je suis une fan du bleu outremer, je le trouve tellement lumineux, je comprends la passion de Klein pour ce bleu
Reply

J'avoue que là, il est vraiment très très lumineux, c'est assez incroyable comme couleur en fait. Je comprend qu'on puisse être fan.
Reply

C'est dommage car on perd en qualité avec soit ton scanner soit ton appareil photo. Il n'empêche que j'aime beaucoup.

Juste une question : quelle est le style de calligraphie au centre ?
Reply

Oui, le bleu est vraiment brillant à la lumière, ça rend beaucoup mieux.
L'écriture du centre est une gothique cursive.

Reply

Ça fait super mal aux yeux oui .............
Reply

J'avoue que j'ai du mal à accrocher à la gouache bleue, mais cette fraktur, quelle fraktur! Pfff... faut-il vraiment faire 15000 pages d'écriture pour la maîtriser ainsi? Grrr... allez, je commande quelques kilos de courage pour Noël, et je m'y mets!
Reply

Moi aussi je ne suis pas un grand fan de bleu, mais en fait, le papier marron est légèrement brillant, & le bleu ressort d'une façon extraordinaire à la lumière, c'est assez impressionnant en vrai. Je ne pourrai pas te montrer, je risque de donner cette page sous peu.
8 000 pages ça peut suffire sinon.

C'est l'écriture que j'ai le plus travaillé en fait & de loin, content que tu trouves que je la maitrise.

Courage pour norcir les pages alors.
Reply