Your feet are tired, your shoes are worn through the soles, you can feel your ribs against your skin, you can feel mud, water and grime seeping in through your clothes. Through your pores even. You can taste dirt, roots and grass in your mouth and between your teeth. It's been days since you've last seen civilization. Had a conversation with a sentient being.

You are weary. And all you can see is pine, wet grass and darkness. But wait! What's that? The smell of roast? Rays of hope in the distance? The faint sounds of camaraderie?

You dash for it.

You find an old-fashioned but inviting inn in the middle of the darkened misty glen. You see warm lights and jolly shadows in the windows. You hear the music of merriment and bagpipes from it.
You see a a faded signboard painted in green and gold hanging by the door. It reads: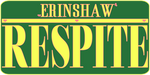 The door looks old, battered but welcoming, like an old friend willing to let you rest your head on his lap.
You enter.
Welcome! This is the official group of the chatroom.
Erinshaw Respite
Most activities take place inside the chat. We dabble in nearly everything, from general chatting lounge to venting space to RP requests to art sharing.
Sometimes we may even hold out of chat activities like collabs and secret Jack O Lanterns.
To join the group, you should at least have visited the chatroom once.
About the Respite
{
INTRO
|
RULES
|
CLASSES
|
STAFF
|
ACTIVITIES
|
FAQ
}
Resources:
Music Chamber