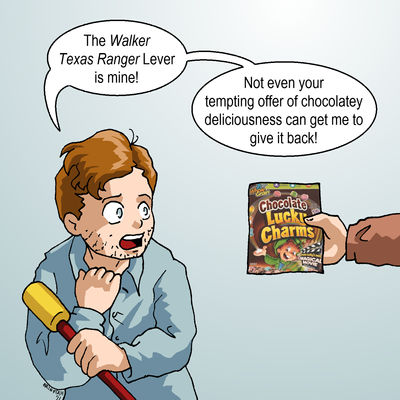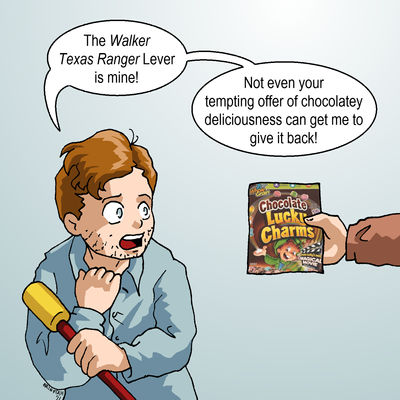 A frantic Conan attempting to steal the
Walker Texas Ranger Lever
from NBC, while some gentle soul attempts to talk him down with
chocolate Lucky Charms
.
Is it sad that, when I first saw those clips,
this
was the first thing I thought of?
Prize for

in the latest

contest.

Oh I love it!
Poor Conan looks like he might relapse into his Chocolate Lucky Charms addiction.

...
As for the Walker Texas Ranger Lever/God Machine bit... I don't think it's THAT strange to at least have them in the same room together... I can just imagine IF Stephen used the God Machine at the same time Conan used the Walker Texas Ranger Lever, that Chuck Norris would appear in a flash of light/fire/lightning with awesome wings and god-like powers (or... you know... Chuck Norris normal abilities...

)
Reply

Glad you like!

For some reason I feel like the God Machine has spun through a picture of Chuck Norris before...although maybe that's just wishful thinking, as I don't know when he actually went memetic.
Reply

Reply