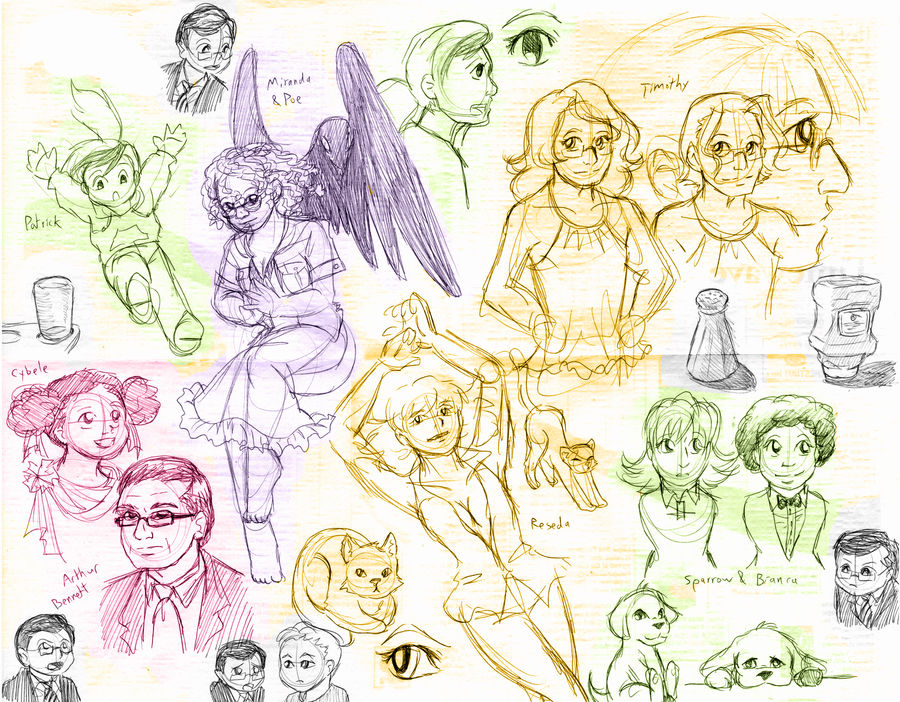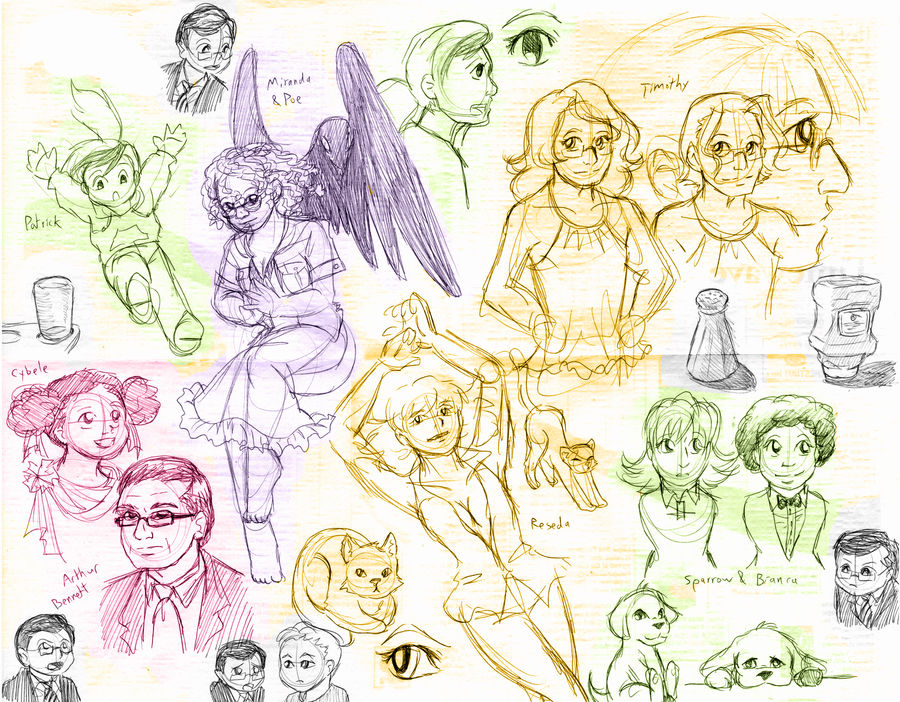 The
But I'm A Cat Person
edition of my compulsive placemat-drawing. (With guest appearances, in grey, by Stephen, Jon, and Various Items Found On The Table.)
About half of these characters have already appeared, although it's going to take some time to flesh them out. In particular, Miranda and her raven haven't gotten to do anything yet except Lurk Mysteriously.
This was my first try drawing Arthur Bennett, so his design isn't final. He's a dark-haired, bespectacled, suit-wearing adult male, and I have to nail down a way to draw him that doesn't look like a stylized Colbert.
Timothy gets to wear drag in this 'verse to his heart's content


I keep imagining the raven from Discworld when I think of Poe. I like Reseda's outfit there. Feel free to use me as a basis for Arthur if you want to have him avoid looking like Colbert. No, wait, that wouldn't help you much... (I'm joking!)

So if Reseda and Timothy are being repurposed, which other of your OC's will we see again? Baalberith? Lisa? Marian would be hilarious.
Reply

Arthur's supposed to be in his forties, so that wouldn't help me much anyway XD

Baalberith and Marian are probably too context-dependent to be repurposed. Lisa might show up. We'll see.
Reply

It seems like she'd fit in with what you've described the series as so far since you've hinted it won't follow common tropes. Given Marian's "type" as the quintessential sparkly eyed genre-aware girl who thinks she's the main character and everyone else is supporting cast, I'd think she'd be well-suited to deconstructing a story.

You could pretty much attach every cliche you're not going to otherwise use on her. Then mock it through her belief that she pulls them off better than she actually does, from Cool Big Sister, to Power of Love, and even Bifauxnen. I would find it very hilarious for Marian to attempt to be the "Haruka" of the series, especially if she appointed Sparrow the "Michiru."

"What do you mean you're not attracted to me? I'm the cool handsome lead girl! You're supposed to hint at how much you love me using vague innuendos while stringing me along with your grace and understated elegance until we finally release our passions in a climatic encounter that'll make the background filled with sparkles, bubbles, and lilies!"

I'm liking the development of the story so far. It's nice not knowing how it ends.
Reply

1) Go leave some comments on the strips themselves! Not about potential future strips, but about the ones that are there already. I'd like to get people more comfortable commenting there.
2) Put some of these ideas into a space pirate script

Reply

...Marian in the space pirate script! Brilliant! (And I have written some. They're just very rough. But I have a starting point.)
Reply

Miranda must be Born To Lurk. Wait, her raven's name is Poe? Hee.
So Timothy's going to show up at some point? I love him.

With or without wearing drag.

Reply

She's certainly very good at it XD And yes, the raven goes by Poe. Obvious allusion is obvious.

Glad to hear Timothy has fans! He's fun to write.
Reply