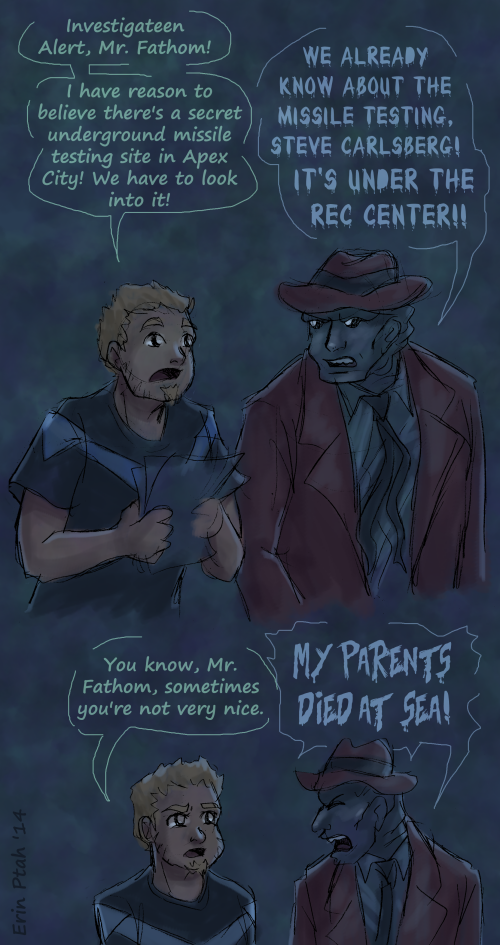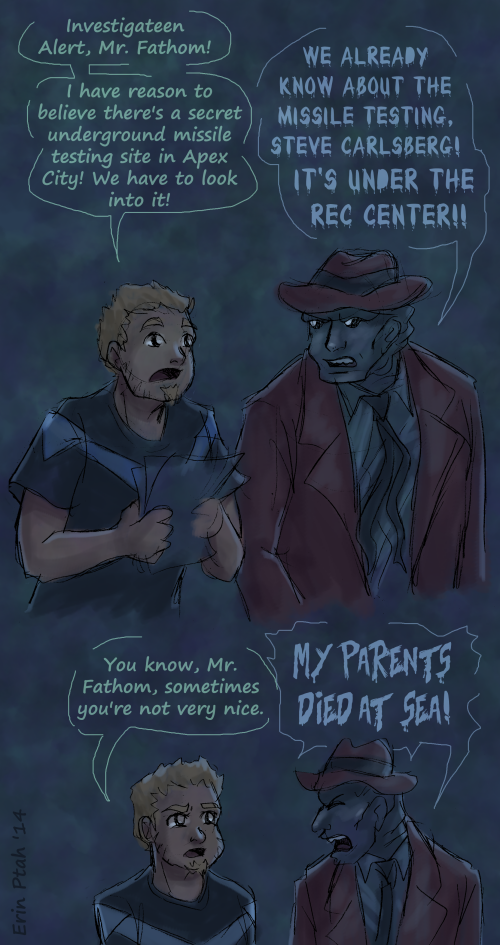 What a spoilsport that Phillip Fathom is.
But seriously, guys, think about it. Teenage Steve Carlsberg in the
Adventures of Captain Laserbeam
universe. Teenage Steve being the most misguided-but-enthusiastic youthful truth-seeker in all of Apex City. An entire episode that's nothing but Hal Lublin yelling at Hal Lublin for twenty minutes.
=====
Tumblr: Reblog from here, don't repost!
=====
Drawn to go with more responses for the
30 Days of TAH Extravaganza
.
Day One: How you got into TAH:
A year or so ago I left a comment on a
fail-fandomanon
post that boiled down to "I'm really enjoying this Night Vale thing. Anyone else got recs for audio series that hit that vibe?" And one of the replies began, "Nonnie, you need the Thrilling Adventure Hour. EVERYONE needs the Thrilling Adventure Hour."
Some of the recs I liked, others not so much, but TAH I was hooked on pretty quick, and have followed ever since.
Day Three: [things you like with] WorkJuice Players in other roles:
...pretty much just Night Vale. Although I got into TAH
before
there were WtNV crossover prospects, not
because
of the crossover prospects, which I believe still confers partial hipster cred.
Day Four: Your Life in Apex City:
When I was in high school in the
Laserbeam
universe, I spent several summers at a sleepaway camp for heroically gifted youth. (In the Oracle track, not the Batman or Wonder Woman tracks.) Didn't follow it up as a career path, though. I decided I wanted to
do comics
instead.
Transcript
Steve:
Investigateen Alert, Mr. Fathom! I have reason to believe there's a secret underground missile testing site in Apex City! We have to look into it!
Phillip Fathom:
We already know about the missile testing, Steve Carlsberg! It's under the rec center!!
Steve:
You know, Mr. Fathom, sometimes you're not very nice.
Phillip Fathom:
MY PARENTS DIED AT SEA!