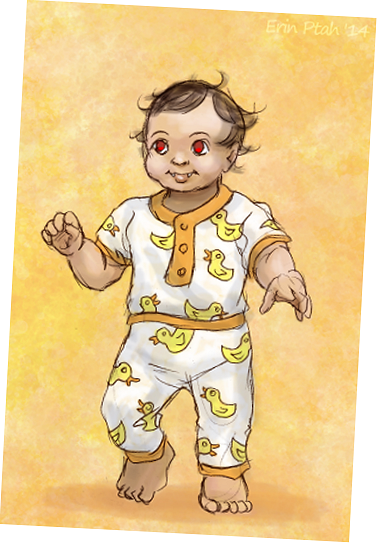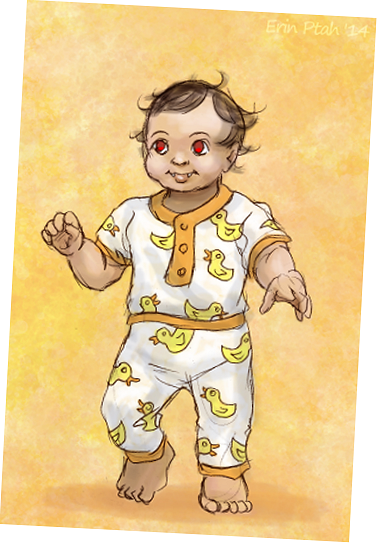 Michelle Henderson
, the daughter of werewolf Dave and vampire Donna Henderson, takes her first steps.
Of DOOM
.
30 Days of TAH
has been making me give Beyond Belief a re-listen. Still wonderful.
***
Tumblr: Reblog from here, don't repost!
***
Day 7: The Stuff:
Robot fists sound cool, and wish-granting genie bottles would be handy (although the ironic twist might come back to bite you), but can I just have Frank and Sadie's money? Or a comfortable subset of it? I don't need so much that I can spend my days lounging around drinking in a penthouse at the Plaza with regular vacations to places like Egypt. Just enough that I can lounge around drawing in an economic apartment in the suburbs of Boston with regular vacations to my grandparents in Ohio.
Day 22: Your Monday ritual:
Download the new episode, put it on my MP3 player, listen to it during my Tuesday morning commute. Nothing exciting. But it's relaxing, honestly -- unlike with certain other podcasts, my Tumblr feed isn't saturated with spoilers beginning ten minutes after the episode gets posted, so I get to relax and listen when it's convenient without having to tiptoe around half the Internet in the meantime.
Day 23: Beyond Belief quotes:
The entire sequence from
that time
the set of demon-hunting Catholics tried to recruit Frank to destroy the prophesied bringer of the apocalypse....
"I thought this was a demon. An Antichrist!"
"It is!"
"But a
demon-y
demon. That's a baby!"
"That child is the product of an unholy union. It is the great destructor!"
"With the
cutest little toes!
Look at your toes! I just want to gobble them up! Umnumnum."
"DO NOT GOBBLE THE TOES OF THE DAUGHTER OF THE BEAST! Who is herself THE BEAST!"
"Concede the toes are adorable!"
"I will concede they are not cloven!"
And the lines that this drawing came from:
"Destroy her, please."
"She's wearing
ducky pajamas!
"
Special mentions must also go to any time Frank is astonished at mundane things ("We have a
stove?
"), and everything Bast ever said. ("Ooh, pet me. I like that. Now I'm over it. But keep doing it. Purr.")