Commissions are open!
Prices updated for 2019. Fanart and original characters equally welcome.
No explicit sex or nudity, but feel free to ask for SFW kinky visuals. I'm also happy to draw "problematic" ships, and blood/injury scenes are fine.
Backgrounds and props may cost extra if they're complicated to draw -- ask for an estimate. If you can't afford a full figure, order a bust/headshot for a discount. There are also discounts for anyone who orders multiple figures at once!

Anything you want that isn't mentioned here, send a PM or shoot me an email (sailorptah, on yahoo) and we'll work out a deal.
Payments accepted via PayPal and
Ko-Fi
. You can also get art (as well as fic and other bonuses) by
supporting me on Patreon
.
Chibi figures:
$10 each
Sketch portraits/figures:
$15 each
Cel-shaded figures:
$30+ each
Full-shaded figures:
$40+ each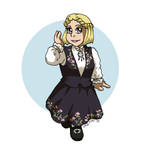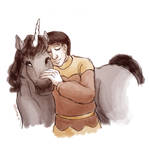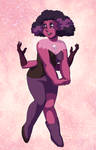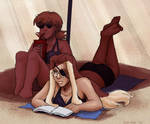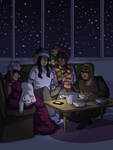 Image size
540x1620px 806.99 KB

i'm a bit interested in commissioning you, are these still open? and this is american dollars right? oh, and is there any extra charge for providing a simple background reference?

These are open, yes! And prices are in US dollars.

A simple background could be as cheap as $5. (An abstract pattern like "clouds" or "stars" would be free.) You can tell me what you want to see and I'll give you a price, or you can tell me how much you want to spend and I'll draw a background that fits it.

I have an idea involving a human and a sentient animal character working on a big robot head. Can you do that?

Absolutely!
The robot head will probably just cost as much as a third figure, unless you want something especially detailed. Send me a note with the characters' information, and the level of shading you want in the art


Hello, Miss Ptah!

I'm interested in commissioning you. I tend to let the artist choose which character they want to draw. I don't know how you feel about weird looking otaku senshi (I do have some non-senshi/SM) but I can send you a list if you want. 8D

I have tentacles, non-conforming/no-genders, and even some LEZBEANZ. If you want any info on someone, just say so.
aeraellyth.deviantart.com/jour… (It's definitely an incomplete list, for sure. Gotta update with new art today.)

If there are any you particularly want art for that you don't have yet, I'd be happy to do the first drawing of one of those!
Of the drawn ones, I'm really into Sailor Garuda's design.
Shoot me an email, sailorptah at yahoo dot com, and we can talk details/poses/pricing


I just have to finish their refs and post them(and some designs still only exist in my head). It'll be kind of hard for ya to draw those. 8D Thank you though.

Woooo, Garuda! People seem to like her.

Will e-mail in a minute. <3