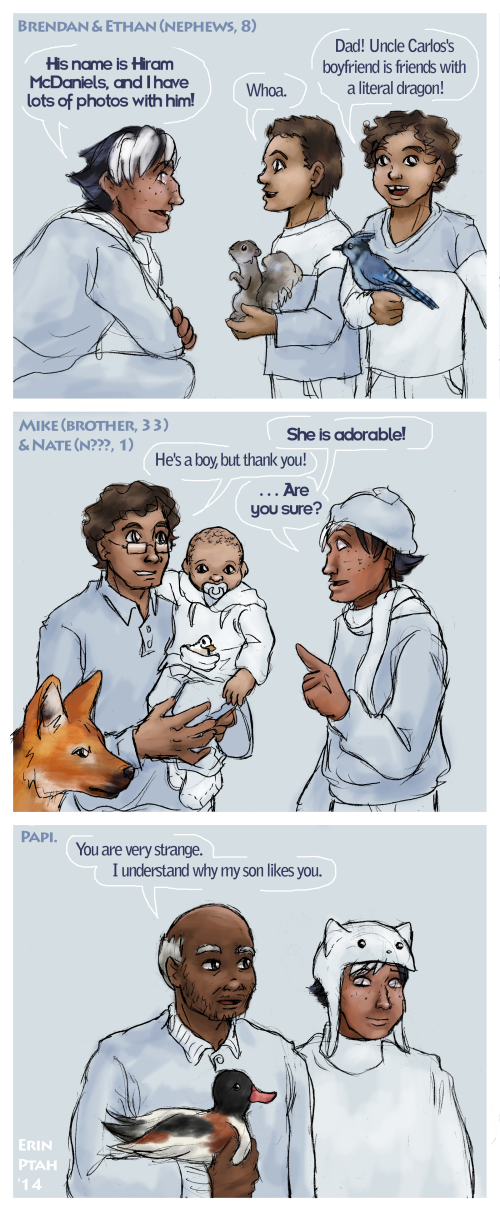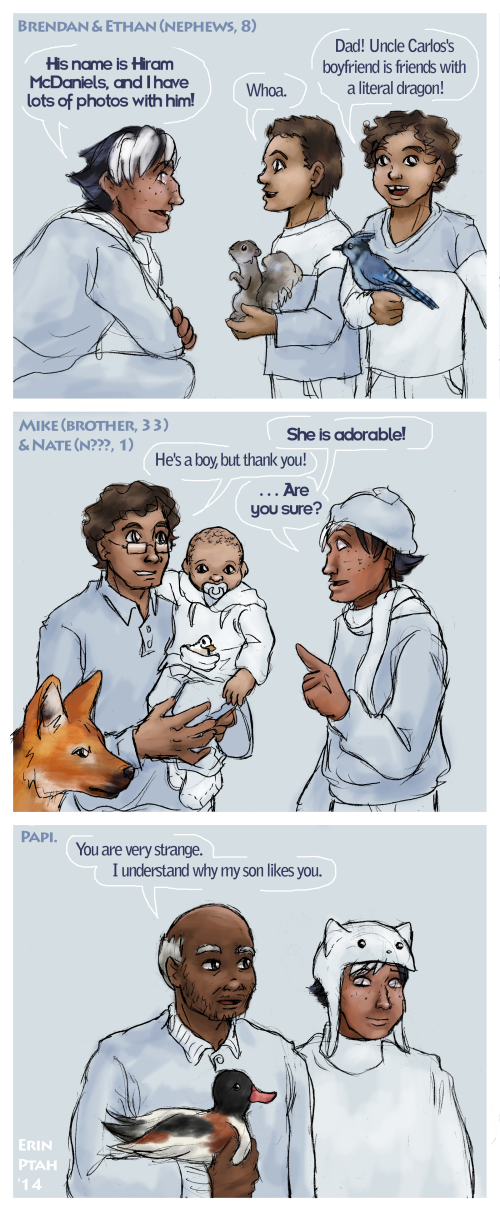 The last of Cecil meeting Carlos's family in
the His Dark Materials AU
. (Not doing the in-laws, just the blood relations.) Carlos's brother,
his
kids, and Papi.
Brendan & Ethan: nephews, 8.
Twins. Very into dragons these days. Cecil has no problem winning them over with a series of campaign selfies. Daemons: both unsettled.
Mike: brother, 33.
Supports his brother, and is cautiously accepting of the new boyfriend...now it's just a question of mediating things with his wife, who thinks same-sex relationships are unhealthy and dangerous. Daemon: maned wolf.
Nate: nephew?, 16mos.
Toddler. Will probably be more interesting when verbal. Daemon: unsettled.
Papi (Tierno).
Doesn't say much, but notices and understands plenty. Daemon: common shelduck.
Tumblr: Reblog from here, don't repost!

My favourite thing is that I'd be willing to buy that second-panel Cecil can, indeed, read gender from a glance. However, I'd also be willing to bet he's just messing with Mike because he likes being a jerk.

And Mike won't know for years.
Reply

For purposes of this AU, Cecil does indeed have 20/20 gendervision. It's a plot point much later...at this stage, it's just a source of confusion.
Reply

Aaahhh, I've only read the first fic so I haven't got to that plot point yet (or else I don't remember it XD)
Regardless, I wouldn't put it past Cecil to use his powers to mess with people. Y'know, just occasionally.

Reply