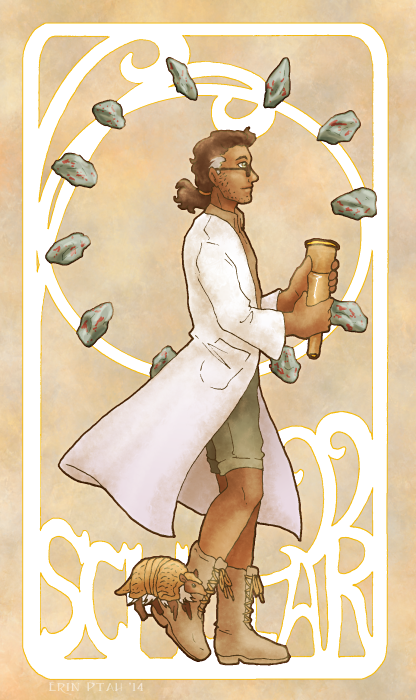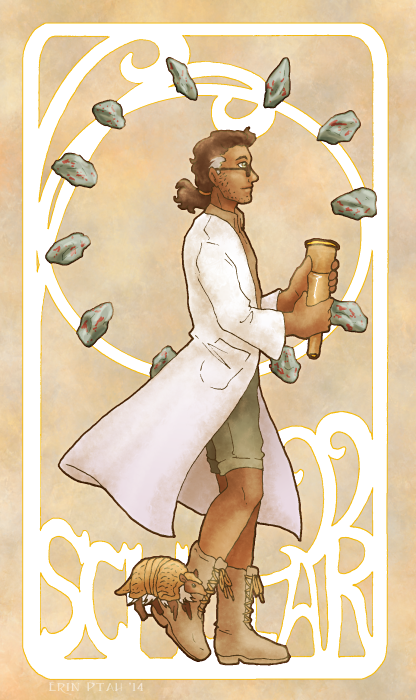 Art nouveau
daemon AU
Carlos. Equipped with an amber spyglass, highly professional clothing, and a working set of bloodstones.
(Working on a whole series of these. After the other main heroes -- that is, Cecil, Tamika, and Dana -- any nominations on who to do next?)
Tumblr: Reblog from here, don't repost!
As a purely aesthetic piece this works well, both in flow and color scheme. The wording an background do evoke a vaguely art Nouveau feel, but the artist could have added more detail and a more diverse color scheme; e.g. adding blue details and some darker shades so that the tan/yellow is not so overwhelming. There is a certain fluidity that the figure hints at, but could be exaggerated more. The walking stride works well, but the figure could be displaved in such a way that it is not directly in the center of the card. The bloodstones could be colored a darker red, like dried blood, rather than mere splatter, which would add a greater range of color and greater contrast to the piece as a whole.
Art Nouveau also utilizes a combination of thick outlines and smaller detail lines, a technique which could be used to great effect here to create visual interest.
The Artist thought this was FAIR
1 out of 1 deviants thought this was fair.