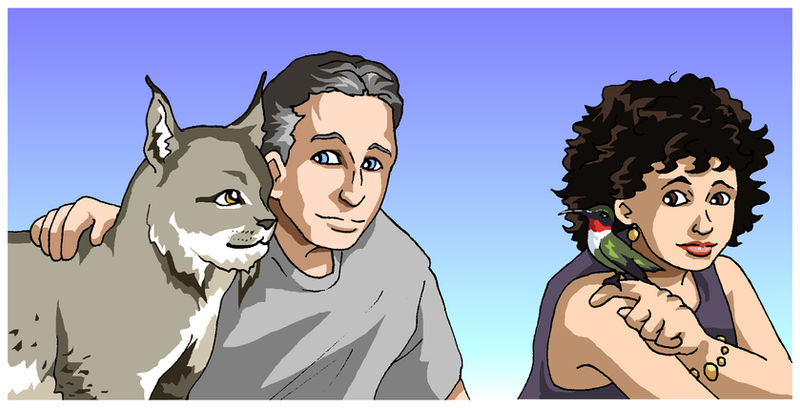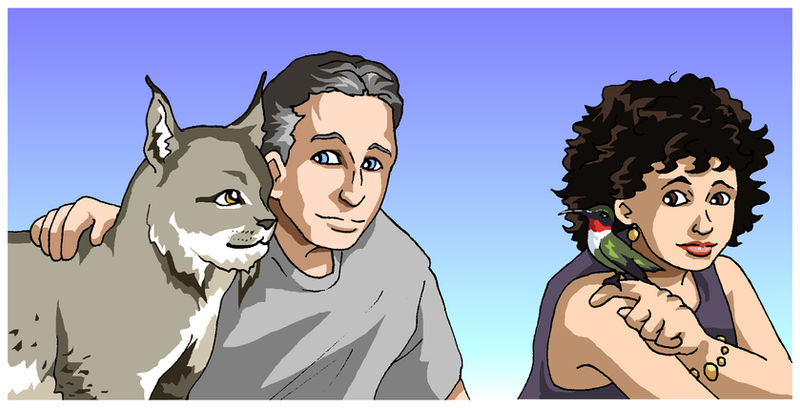 Illustrations for
the AU State of Grace
in which everyone has daemons,
His Dark Materials
style. Jon has Avivah, a Canada lynx; Charlene has Renoir, a ruby-throated hummingbird.
Every version of Charlene is different, but Avi would work for pretty much any HDM!Jon story, and I'll probably use her again.
Tumblr: Reblog from here, don't repost!

So why do people in this universe literally have to walk with their demons next to them?
Reply

A daemon (note the spelling) is basically a walking, talking manifestation of a person's soul. Getting too far apart from that is physically and emotionally painful.

In the His Dark Materials books, witches can travel long distances from their daemons, but it always freaks people out to see either human or daemon alone. The author compared it to how we would feel if we saw a person without a head.
Reply

HOLY CRAP IT'S TWO OF MY FAVORITE THINGS COMBINED. Fake news and HDM?! I may die of loving this idea too much.

The shading on this is lovely, btw.
Reply

*claps hands* hurray! I knew you couldn't resist illustrating this AU

They look so well matched (hee, Avi is gray of course), and I love how much personality the daemons have.
Reply

Once I started writing bios for the daemons, I realized it was inevitable XD

Avi's settling was indeed a sign of things to come, hair-wise. Jon's just glad it's not as bad as it was with Anderson and his silver fox.
Reply

Not as bad as it was with Anderson and his silver fox
You got me. I walked right into it and still did a full on spittake

Reply

As always, I'm in awe of the speed with which you draw! I've been avidly downloading high res photos of eurasian lynxes (they're bigger and grayer and have longer noses!) and kinkajous for the last half hour, but it'll take me ages to draw anything.
Vaguely related, does Tracey's daemon have a name, or is it being left unnamed for RPF purposes?
Reply

It helps when you care more about whipping something out than making it terribly detailed XD Can't wait to see your rendition!

Yeah, it's an RPF thing. I figure the names of the AU non-public figures' daemons aren't known to the general public, so fic writers have to either make something up or just gloss over the lack of name. AU!me went with the latter tactic.
Reply