Here's an artwork made for the
Aurora freestyle exhibition
(I seem to be making art only for them lately).
Of course, as some of you will have noticed, this one is a lose recreation of the world of "Ori and the Will of the Wisps", which is an amazing game with an inspiring and jawdroppingly beautiful art style. I recommend checking it out of you have any of the currently relevant gaming consoles.
A lot of time and effort went into capturing the essence and atmosphere of the original material in this semi-photorealistic artwork. I hope you like the result!
To give you an idea how it was made: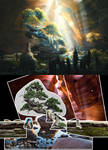 Thanks a lot to:
Tree Stock #69
and
Tree Stock #68
by
Noireuse
|
Branches 3
by
passagere
|
Firetree by YBsilon-Stock
by
YBsilon-Stock
|
Png Bush 2 By Moonglowlilly D5tk5ol
by
Moonglowlilly
All other stocks used come from unsplash.com
Image details
Image size
2704x1875px 5.25 MB