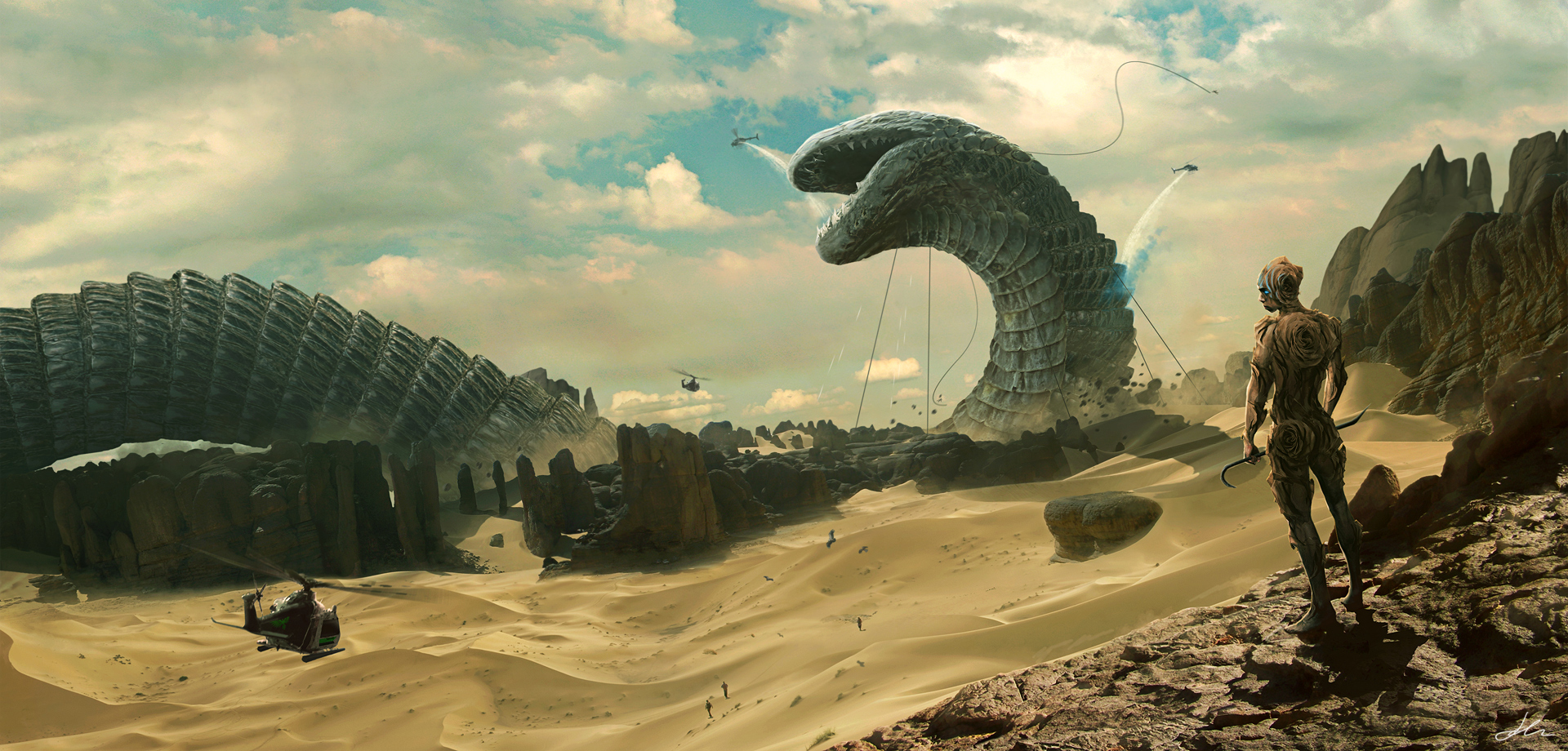 EDIT 10/14/17: WOW, I had always hoped for a DD on this, but didn't think I'd get it after all this time lol. Thanks so much to
cosmicbound
for suggesting and
TsaoShin
for featuring it!
Unfortunately I still haven't gotten around to fixing the 'thopters' and adjusting the worm design. Here's an alternate version that might please the die-hard Dune fans a bit more

----------------------------------------------------------------
My tribute to the inspiring scifi saga 'Dune' created by Frank Herbert. This is a fictional setting not depicting any specific scene from the books. The foreground shows one of my favorite and for me most inspiring characters of the series, the God Emperor Leto II.
Creating the worm turned out to be a really challenging exercise. I went through so many stages, completely overhauling the worm's design several times with new textures and poses. My first idea was to use a caterpillar as a reference, which turned out to be horrible. I even considered a seashell in between. Can you guess the reference animals of the final version? It's a mix of three if you count the teeth as well.

Stock credits:
model:
vishstudio
Grinmir-stock
|
FairieGoodMother
|
GloomWriter
|
darkrose42-stock
|
Parides
|
AJK-Original-Stock
|
naradjou14
|
demontroll
| cgtextures.com
Thanks a lot for stopping by!

© Erik Schumacher
This is no stock image, so don't use, copy or manipulate the original artwork without my written permission.
Visit my website:
www.xkire.de
Daily Deviation
Given 2017-10-14
This is a masterpiece, I love it. Thus, this is short. I am not the good one to write a critique about technique, because this is far too high level for me, but i can talk about colours : this gold-sand-yellow, with that summer-sky-blue, are definetly awesome. I can see clouds moving across the sky while Shaï-Hulud tries to escape...
The only things i could notice are on the vision of the scene. in my old memories of the books, several clues are strange in that scene. Arrakis is a desert : even if these clouds are really beautiful, i wonder if there could be so many on a "desertic" planet. I am not really fond of helicopters, i had pictured them as "mechanic birds" (maybe thanks to the Cryo game, huh).
Anyway, i really feel Shai-Hulud's power on this pic. Great
The Artist thought this was FAIR
73 out of 78 deviants thought this was fair.
This is the first deviation that I've wrote a critique on during my time here, so I'll try and make it the best I can - from a fellow artist's perspective that is.

In a previous critique for this piece, the member was puzzled about the artists use of clouds; whether you have watched the film directed by David Lynch or read the novels, you'll know that Paul Muah'Dib did in fact use his godlike powers to restore the habitat on Arrakis. However, if I remember correctly, Arrakis did eventually return to its desert habitat. To me, the clouds and cerulean colored sky do a good job of contrasting the harsh desert environment.

Another element which I felt really brings this piece home is the contrasting of technology (ornithopters) to that of previous inhabitants (destroyed ruins). Shai-Hulud has also been beautifully depicted in this piece, my only criticism of this is the way it was drawn. It could be that I'm only familiar with the sandworms depicted in the film, but I thought the scales Shai-Hulud should have been rounded out a little more. This is just my opinion and it doesn't really detract from what is going on in this image.

The God Emperor which you've depicted in the lower corner of this piece is really awesome too! I'm not certain if he is wearing some sort of desert suit or if this is just some other piece of armor, but it looks fantastic. The way you have modeled the rocky environment on which the God Emperor stands really blends nicely with the character as well as the surrounding environment.

Finally, perspective in this piece is on point. When examining the ornithopters and other inhabitants in the distance, it really shows just how large these sandworms can get - almost godlike in their own right.

Great piece overall! I've made this piece my laptop background until you create something just as great or better to replace it.
The Artist thought this was FAIR
49 out of 52 deviants thought this was fair.