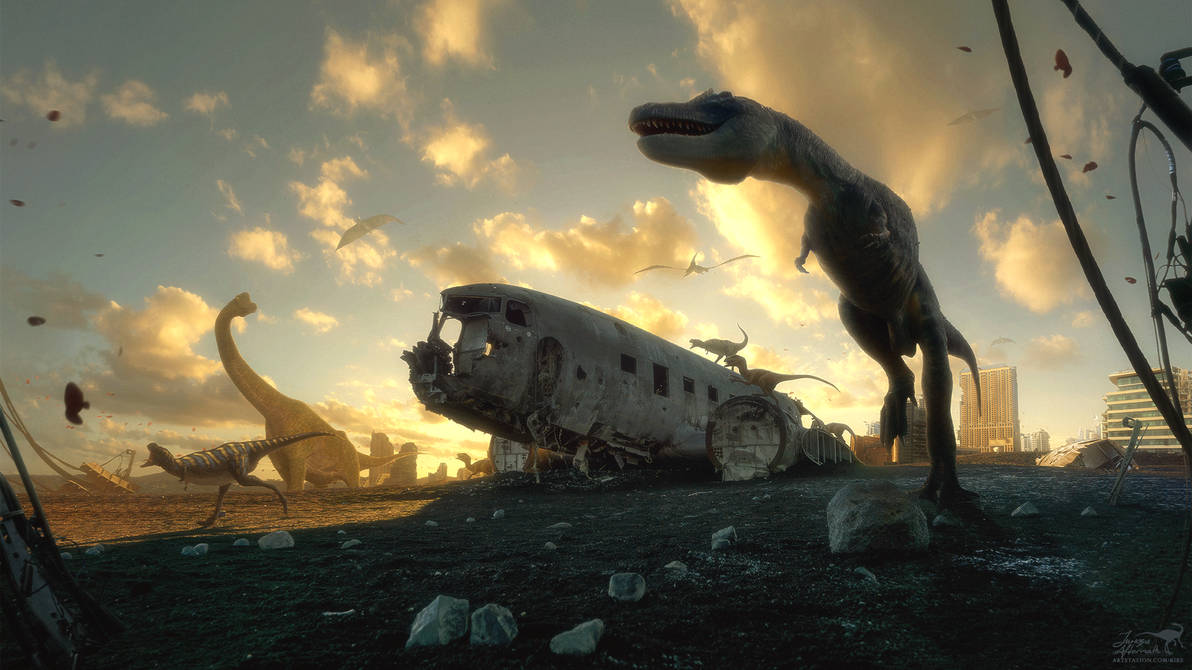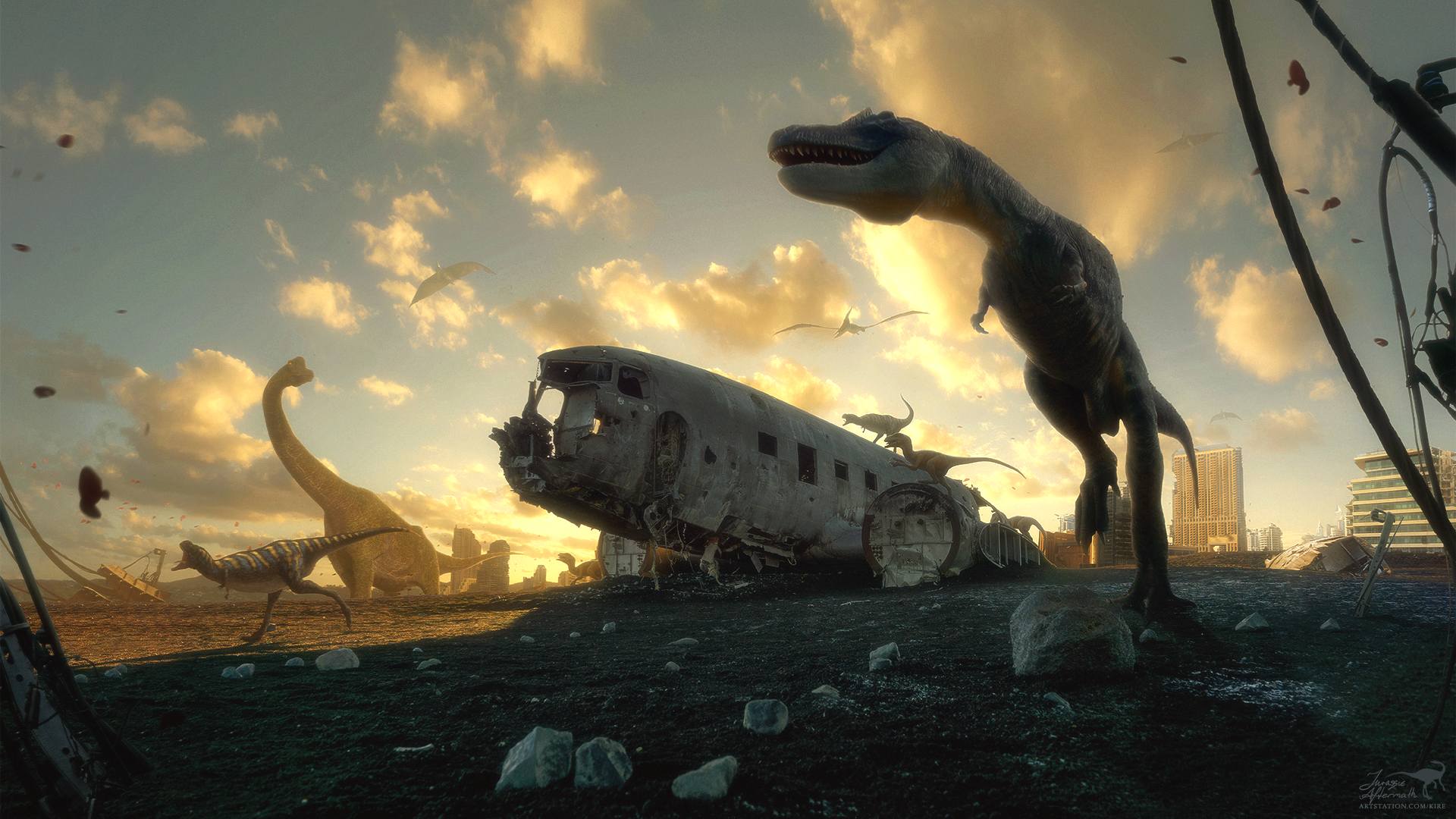 Jurassic Aftermath - in a time following "Jurassic Park" and "Jurassic World".
One of two works I created for the Aurora Exibition III: Orange,
www.projectaurora.art/exhibiti…
The idea for this image was born when I discussed with (I believe it was him)
JayGraphixx
about how in all the years on DA I never made a matte painting involving dinosaurs, although they generally fascinate me. I tried a more systematic approach to matching tones and levels (kudos to Reid Southen's video:
www.facebook.com/reid.southen/…
) and I'm happy how "realistic" it turned out because of it, even though I used a lot of 3D material and plastic figures in the process. I also managed to sneak in a few pictures from my recent winter vacation.

As always, thanks for stopping by & I hope you like it!
Do check out the other amazing pieces of the Aurora exhibition!

Thanks to:
dinosaur 24
by
jettstock
|
Dinosaur 2
by
qroot-stock
|
Aucasaurus Running 01
and
Brachiosaurus_01
by
2ndecho
|
Denver Botanical Dinosaur 112
by
Falln-Stock
|
Ruined Building png.
by
DonkeySneakers
|
UNRESTRICTED - Petal Rain 02
by
frozenstocks
| other stock purchased from photobash.com, mattepaint.com or my own.
Ok. Getting down to business on this one. SO MANY DINOSAURS <3. I can identify almost all of them, though I do notice some inaccuracies (to be fair there are inaccuracies of JP and JW, too). Your buddy brachiosaurus in the left farground doesn't look greatly like a brachiosaurus; looks more like a titanosaur, which InGen probably had.
Is that airplane a 737? If it is I think the dinosaurs on it are Deinonychus, but if it is smaller they could be Velociraptor or (not in the movies) Oviraptor, another dinosaur which InGen probably had. Might be Mamenchinasurus, Camarasaurus, Jobaria or Sauroposideon
Now to your focal point Mr. Big, Mean, Wannabe T. Rex. Now it could be T Rex, but I can't see how many fingers it has (there could be a divergent third finger, which appears in many earlier theropod dinosaurs); in fact the hand on the right (viewers right, dinosaurs left) looks to have three, but the other only has one. T Rex also does not have the skeletal structure to support a crest, even if it is held up by muscles (a la, Ornitolestes). I drew up a list of some dinosaurs it could be including, but not limited to: T. Rex, Giganotosaurus, Megalosaurus, Abelisaurus, Gorgosaurus, Rugops, Majungosaurus, Allosaurus, Carcharodontosaurus, Prospinosaurus, Baryonyx, Monolophosaurus, the real Dilophosaurus( real ones didn't spit acid or have a frill), Ceratosaurus, Dryptosaurus, Metraicanthosaurus, Albertosaurus, Acrocanthosaurus, Applaciosaurus, ... The list goes on and on and on and on.
The other dinosaurs I'm not so sure about. Stripey over on the left might be a Siamotyrannus or a smaller Tyrannosaur or Abelisaur. It does merge some characteristics of a carcharodontosaur, but it probably isn't one.
Finally, flying reptiles. Pterodons are a large and varied group. I'm going to assume InGen had thousands of species. I see Pterodon, Nychtosaurus, and Quetzalcoatlus.
If you look WAY back behind the wing and to the left of Trump-Tower-MGM building at the right I see an object that looks less like a rock and more like a Torosaurus (related to Triceratops) frill.
Now for my nitpickiness: I'm not sure what city this is. However, we know from JW that Isla Nublar and Isla Sorna are close to California. In fact, This is probably some poor SoCal city. If so, it is on the water. It'd be cool to have a Jurassic Aftermath II, but this time focus on the shore or something...
Anyway, I'm going to finish on a note on the coloration. The sunrise, though we can't see the sun, is a good stylistic choice, symbolic in signaling that a new time has come: the Second Age of Dinosaurs.
The Artist thought this was FAIR
16 out of 17 deviants thought this was fair.