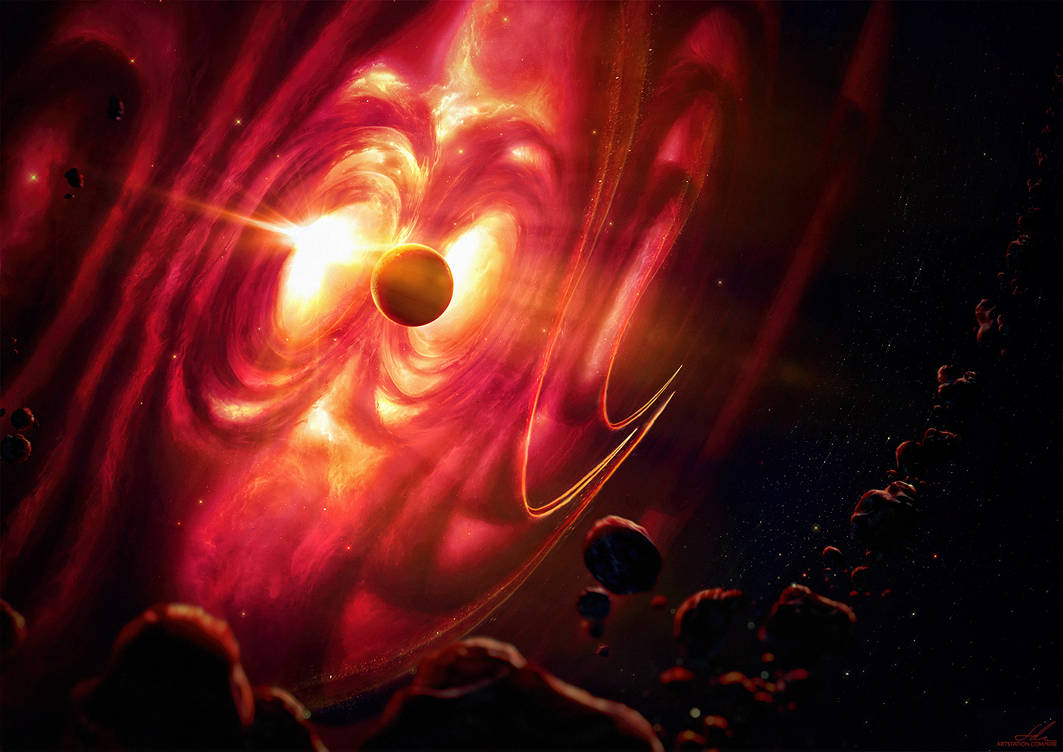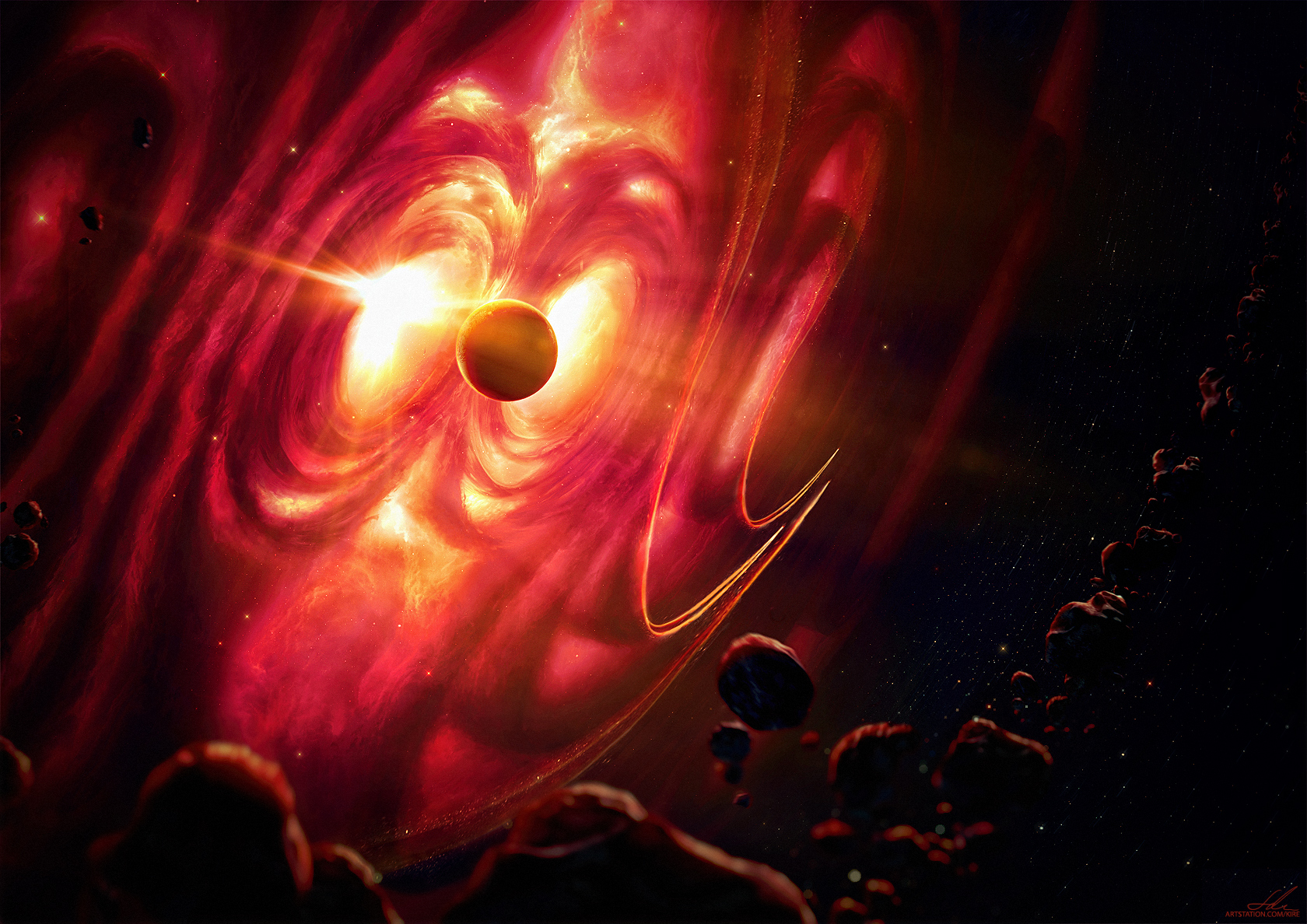 Watch
This is a semi-realistic concept taken from electromagnetism and applied to space art.

In this artwork the planet in the center of the nebula supposedly acts as an antenna of electromagnetic radiation. Because of the planet's proximity to the nebula the gas clouds will be shaped by the radiating electric fields, resulting in the idealized ripples shown in this picture. Such dipole antennas are also called "Hertzian Dipoles". You can see in this animation how these electric fields theoretically move over time:
www.didaktikonline.physik.uni-…
Note that the physics behind it are questionable as gravity is much stronger than electromagnetism on such scales. It's just for fun!
I spent an awfully long time to create and detail this strangely shaped nebula, so it somewhat felt like a chore to realize this concept. It's definitely much easier to draw a randomly shaped nebula because you can speed it up by copy+pasting already drawn shapes.

Thanks to
Dagohbert
for his asteroid resources. I overuse them, but they are just so good. The rest was drawn with some additional textures for details.
This work was originally made for
Space-Revived
's CHROMATIC contest, however, I decided to use a remixed version of this artwork instead, which I will upload later. Check out the contest here:

Space Art Contest: Chromatic!

Space-Revived

Presents... THE CHROMATIC CONTEST
At long last, the new Chromatic Contest arrives, open to all members of

Space-Revived

!
The theme is completely open to your imagination, with a twist: you must use only ONE OR TWO COLOURS in your space artwork. Your space art may represent anything you can imagine, but the most important thing is to champion your choice of colour.
Image:

SalmonickAtelier


Rules:
• You must be a member of

Space-Revived

to participate. However, everyone is welcome to join!
• Submit your work to our Chromatic folder.
• State in your description that the image was made for the Chromatic contest with a link to this journal.
• Two entries per deviant allowed, but only one can win.
• All entries must be created after October 14
As always, thanks for stopping by!
This is amazing also its great how you give it the detail/ description about its whole meaning. I hope this was real it wold be amazing. Youre is really awesome.
Yore artwork is always so realistic and at the same time its has a nonrealistic touch thats what makes them unique aswell as the places or objects that you take reference too makes youre artwork unique.

I love this section of the univrse and all that stuff and im not hte only oneof course.

Well this is the end of my critique I enjoy to do this keep up the great work.
The Artist thought this was FAIR
8 out of 8 deviants thought this was fair.
I love the colors. The beautiful spread from deep crimsons to star flair yellows is just stunning. The contrast between the right side with its cooler darker colors sets off the brighter left side of the image nicely.

As for the subject. I like how the cluster of rocks follows the same arching pattern as the dust clouds & the burning meteoric thingies.

It is definitely a highlight of my search for this last period. It is always a grand feeling to find a picture that sets the bar this high. Bravo and Oya. Keep on with the magnificent work.

-Admy
The Artist thought this was FAIR
2 out of 2 deviants thought this was fair.