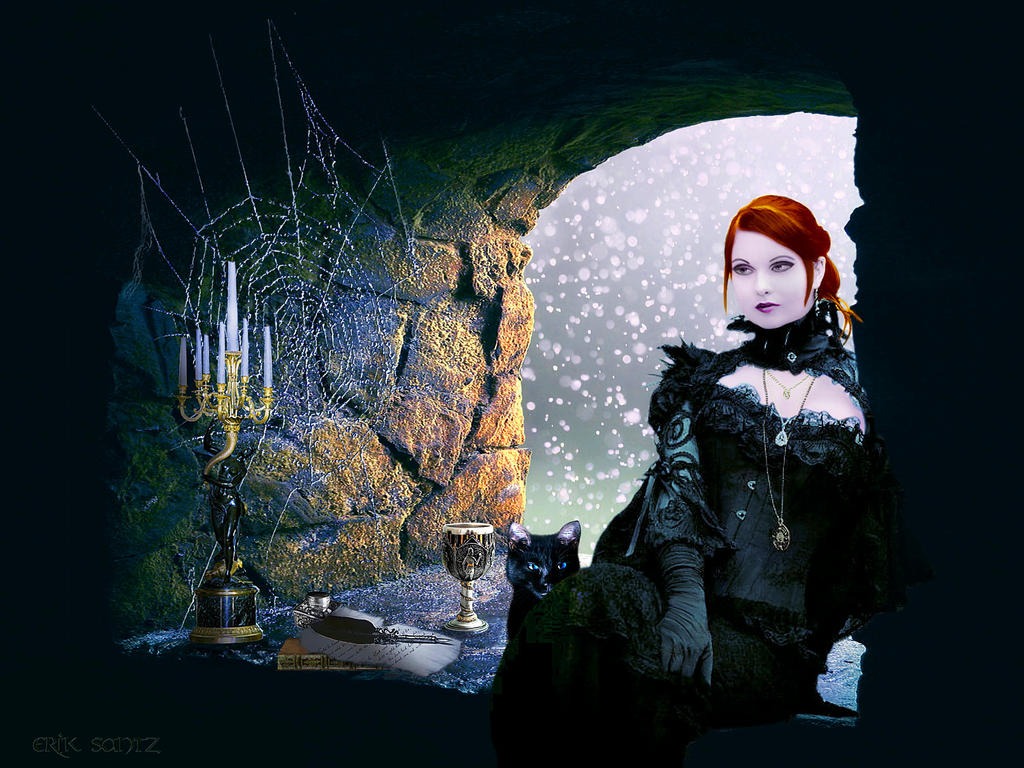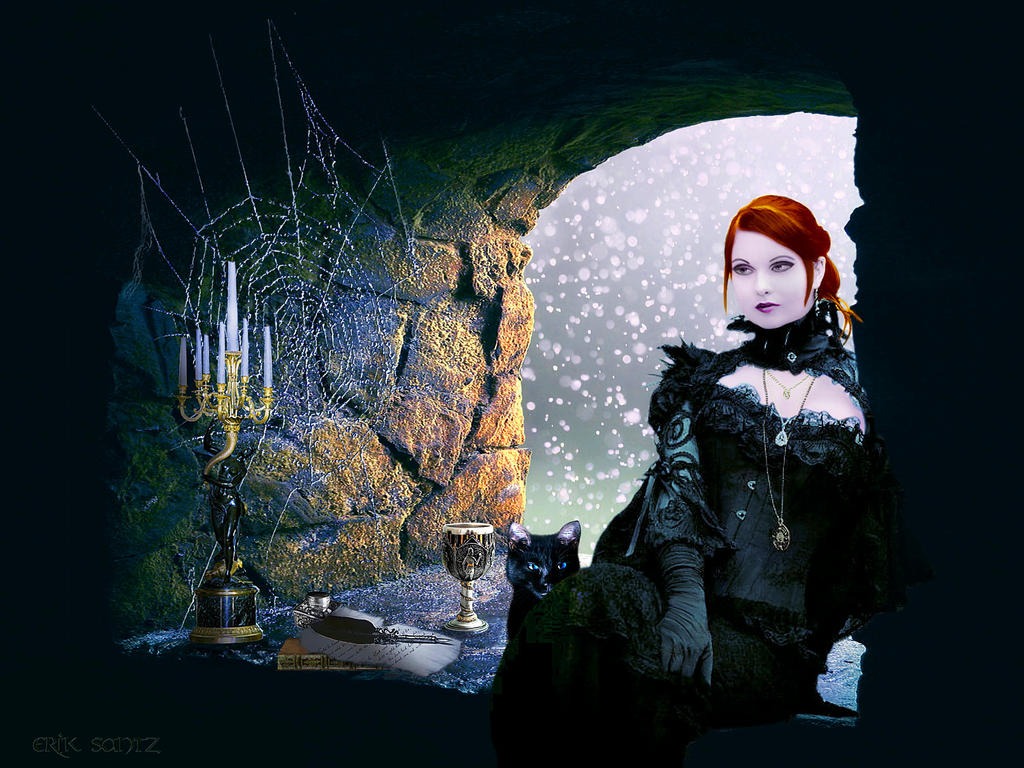 Watch
Photomanipulation
Credits
Book :
Stacks of books renders
Cup :
Stock objekt Becher
Candlestick :
Candle PNG
Female character : my own stocks
Cat, cobweb, parchment, feather, inkpot, falling snow : my own stocks
Arch, stones : Pixabay free images
Thank you all


Cette compo est très bien réalisée, on se demande ce qu'elle a pu écrire.
Reply

Je suis content que tu apprécies cette scène - et que tu t'interroges de cette façon

. Un grand merci de t'être attardé sur cette compo, et de l'avoir adoptée chez toi

Reply

Ton travail est vraiment superbe avec de la mélancolie : seule avec son chat en plein hiver à la lueur des bougies éteintes ! Heureusement que le clair de lune arrive à traverser les nuages (il y en a sinon il n'y aurait pas de neige. La peau de la belle est aussi blanche que cette neige ! Cette peau est mise en valeur avec le noir de sa robe et la robe du chat. Très beau travail sur les effets de la lumière sur les vieilles pierres de la fenêtre. Beaucoup de romantisme avec cette lettre en cours. On dirait que cela fait longtemps qu'elle attend au vu du chandelier emprisonné dans la toile d'araignée ce qui me fait penser aussi qu'elle est peut-être auss i prisonnière dans une tour de château. ;°)
Reply

Merci à toi, Jean-Yves ! Je voulais en effet une scène plutôt douce, mélangée à une notion de solitude, de froidure et silence. Il était important effectivement que le teint du personnage évoque les couleurs de l'hiver, une sorte de "pureté immaculée" suggérant l'idée du Temps, ou l'éternité, ou du froid tout simplement, associé à un certain nombres d'hypothèses quant à la situation du personnage, soit captive d'une tour, ou simple châtelaine, ou encore résidente un peu "étrange" d'un château perdu quelque part, ce genre de choses. Le titre évoque d'ailleurs les Montagnes des Carpates qui , comme tu le sais, traversent la Moldavie, Transylvannie et autres régions d'Europe de l'Est. Des lieux où le mythe Vampirique prend ses racines... Egalement, il s'agit peut-être d'un clair de lune ou simplement de la lumière du jour, en recherchant un minimum de cohérence vis à vis des flocons et les nuages indispensables... J'aime bien ce genre de thème, un peu romantique, sombre, et qui me fait voyager de façon "ambiguë" dans ces contrées-là .
Reply

Reply

Magnifique Erik, l'exercice sur les ombres et la lumière est plutôt bien fait, bravo! C'est une très belle scène

Reply

Merci à toi, mon ami ! Que tu le sentes de cette manière fait vraiment plaisir à entendre !

Reply

Nice

Really like the way it frames
itself with the arch opening.
Reply