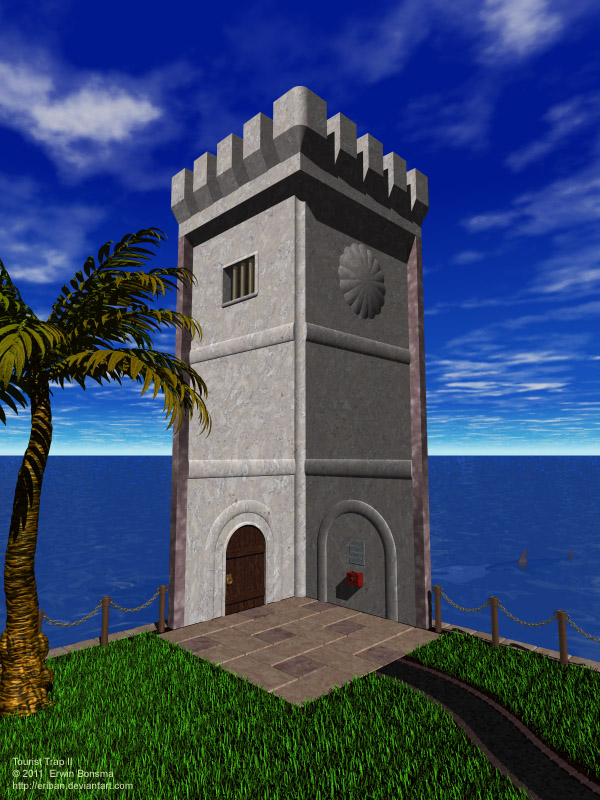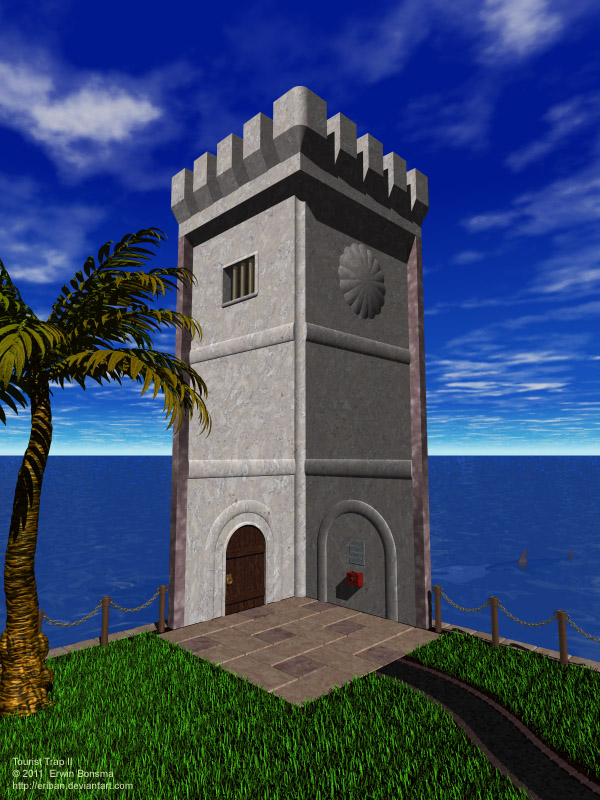 Watch
A modified version of my Tourist Trap image
[link]
Although it does not look too different, this new scene required a fair amount of remodeling. Can you spot the difference? I know which image I like best, but am curious to hear which you prefer.
Technical Details and Credits
This image has been rendered using the POVRay raytracer. No post-processing has taken place on the image to make the illusion work; this is the 3D scene as it is rendered by the raytracer.
The grass is made using macros by Gilles Tran. The palm tree is made using the tree macro by Tom Aust, modified by Gena Obukhov. The chain is made using a macro by the PM 2Ring, using catenary calculations by Zdislav Kovarik.
Book
This image has been included in the book "Exceptional Eye Tricks" by Brad Honeycutt published by Charlesbridge publishing
[link]
. This book contains many interesting illusions of different types and is worth checking out.

Reply

I can't even begin to imagine where that door might go. This is so confusing, it's great! I will check out the other version too.
Reply

Thanks! The shark is obviously hoping that the door will lead you to his stomach.

So, which version did you prefer?
Reply

ksjcjrmsjejfnvjffjdmfirslfjf lolawesome wut
Reply

That you use catenaries for the hanging chains shows some savvy. If I remember right, Galileo had though they were parabolas. Nice textures. (looking at the water...) Is that a shark?
Reply

To be honest, parabolas would probably work just as nicely. I expect the difference to be too subtle to be noticeable. However, if you have the option to match reality more closely (the catenary code was out there for the taking), why not? That's one of the things I like about 3D modelling. It triggers you to investigate the things you try to model more closely. For example, my Rock The Boat image forced me to look into the waves that ships leave in their wake, which was an interesting topic.
And yes, there's a shark lurking in the sea. It's patiently waiting for tourists who are keen for a view...

Reply