Argont and Goddess of youth and childhood are looking for a missing child. It should be somewhere nearby but who knows what they will find?
Study work. Hope you will enjoy it

About "Spiritus the Universe" project:
"Spiritus The Universe" - is the new sci-fi universe. The main events of it take place in fictional galaxies, narrating stories about militant civilizations and the most fascinating adventures of heroes.
"Spiritus" or "spirit" in Latin language is the name of one of the most diverse inhabitants of the universe - spirituses. They are space dragons who often act as the main characters of the universe.



>> If you like my works and want to get more quality dragon content, please support me on Patreon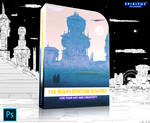 Image details
Image size
2560x1440px 1.21 MB