An Interview with Photographer Bruno Mercier

If you should chance upon the superlative photography of
Pixydream
while browsing deviantART, you will immediately recognize it as his own if you are even a bit familiar with his work, for this deviant is imbued with artistic individuality and a singular vision that cannot be mistaken for someone else's. What's even more remarkable is that, within his recognizable style, he manages to provide enough variety to keep us entertained again and again with his photography.
Offline
Pixydream
is Bruno Mercier. He resides in Normandy, France where he lives on the seaside, a place he describes as "a daily pleasure" for his eyes. He is not a native, however, to his current residence but was born 45 years ago in Versailles. At the age of 12 he already knew that he wanted to pursue the life of an artist, and good fortune was his. He was able to begin studying art with Jean Houitte, a great sculptor who was his parent's friend and who taught him all the basics of drawing and the elements of composition to, as Bruno says, "better communicate what you want to tell or show." Though he studied architecture in Paris, he never worked in the business. Still, that formal training is evident in his photographs. Bruno says that his own father was addicted to photography but that he himself preferred drawing. In fact, he became a professional illustrator both for magazines and publishing houses in the mid 1980's. In the early 1990's he took an interest in computer graphics and 3D art, working for several animated cartoons published on CD-Roms. He also designed websites. He later entered a major telecom group in France as a creation director, but, finally, in 2005, he decided to pursue an artistic career once again.
Versaille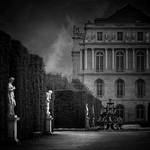 :thumb54270503: :thumb55602774:
Bruno Mercier's formal education in architecture is apparent in these photographs from the area of his birthplace.
The Interviewequivoque:
As an artist, did you begin as a photographer?
Pixydream:
Not at all! In fact my first encounter with photography took place in my childhood. My father was really addicted with photography, and he guided me in my first approaches and tentatives. But I preferred drawing, so, after my studies I wanted to be an illustrator or a comics book author, and that's why I started to work as a professional illustrator.
equivoque:
For how many years have you been doing photography, and how would you describe your evolution as a photographer?
Pixydream:
When I stopped my job in 2005, I wanted to come back to drawings and illustrations, but finally in 2006 I bought a DSLR. I found in photography, and especially in B&W, all I always wanted to tell. My photographs are my way to show and express some of my feelings and my personal perception of what surrounds me. And today photography has become my exclusive means of artistic expression. When I started I didn't really know what I would do with photography, but when I realized my first b&w photos, I did! It was a revelation... a new birth. I think I'm a lucky man because it's rare that luck comes to knock at one's door several times in a life. I subscribed to dA in September 2006 and began to show my work. The dA community really helped me a lot to go further in each new pic or series. And it's a fact that I have really learned a lot during this year, showing my work to others, reading critiques or nice comments. Little by little I improved the style, listening to what people said on my photographs, and finally I felt the direction I want to take. In fact I think it has come back to my own genesis as an illustrator. Indeed, when I started I drew in b&w in a kind of engraving style. My illustrations showed great seascapes with strong emphasis on the elements. Motion, light, darkness took a large place in those works; they were without doubt a bit too romantic, but I always had a great passion for the XIXth century drawers and engravers. My imagination fits well with the XIXth novelists, and I today a lot of this origin is in my work. I've always thought of photography as a narrative. As a photographer, you tell more than a reflection of reality. You share your own vision of the world.
Fences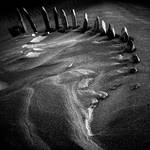 Littoral series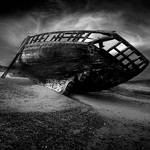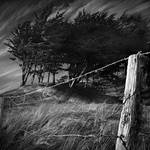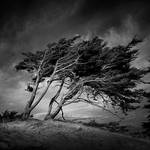 Bruno's love of the seaside and his origins as a black and white illustrator are evident in his work!
equivoque:
How important to your livelihood (income) is your photography work?
Pixydream:
Today I earn most of my living with photography, and I'm very astonished to see how fast it has come, even if I know I have to learn more and more!!! However, I'm not rich and I was earning much better when I was an employee. I still have to draw a bit to earn a better living.
equivoque:
Who are some of your favorite photographers?
Pixydream:
I like works of photographers like Sudek, Atget, Brassai, Sieff, Meriel, and Kenna...
equivoque:
Who are some of your favorite general artists?
Pixydream:
It's difficult to answer, I am not fundamentally a "fan". I love diversity and cultural differences. I'm very eclectic in my tastes. But I could say: Bernie Wrightson (American comics artist and one of my major influences, above all for his fantastic illustrations in b&w from Mary Shelley's "Frankenstein") and maybe Jean Cocteau to give you two names.</i>
equivoque:
Describe some of the important influences and inspirations that have helped shape your vision, whether they be from cinema, photography, general art, literature, people, etc.
Pixydream:
I have a great passion for engravers' work and literature; maybe it's because I'm basically and definitely an illustrator. We only become what we are. If I do love Modern Art, it's not an inspiration for me. In fact, I have not a great culture in photography. I only know the great photographers' work, but I'm afraid that's all. But, on the other hand, I love the art of comics books. I drew comics for many years, and I think it's a major art. I really learned a lot in this job. The way you have to compose a picture to tell a story, the scene cuts, the light work, importance of black, use of shadows, etc. When I look at some of my photos, I recognize this influence in the means I use to take and develop the photo. I'm also a fan of b&w movies, especially because photo and light are essential in this art. But I think comics and cinema are quite similar in approach. The influence of cinema in comics art is a reality since the seventies.
equivoque:
What does photography mean to you? What is its most important aspect, which makes you want to go out and shoot? What is center to your creative experience?
Pixydream:
My photographs are my way to show and express some of my feelings and my personal perception of what surrounds me. Photography, for me, is not about reproducing the world. I'm not really interested in making an accurate copy of what I see out there. In fact, I really prefer the power of suggestion over description. What you can see in my photographic work goes through my own filters. OK... all the elements in my photos exist, and everybody could easily see them, but my goal is to offer an artistic interpretation and above all an emotion. I just show the elements I see, like trees and fences, for example, and use those elements as catalysts for my own imagination and hopefully for the viewer's imagination. I'm generally attracted to places where stories can take place, where imagination can be fired. Furthermore, living in the Cotentin Peninsula (Normandy, France) provides me with opportunities to explore wonderful landscapes and seascapes. I think the aesthetic impression associated with beauty should not be reduced to mere decoration. That's always external and synonym of ornamentation, and my goal in my photographic work isn't to produce something decorative but just to share a poetic feeling in order to emphasize imagination, a door opened on the dream of the light. My shots are just about the stories the light tells in the wind...
Les Ravalet
:thumb73347009:
equivoque:
What subject matter do you prefer to photograph?
Pixydream:
Without doubt I would say light and motion. In all of my photographic work, there is a certain prevailing theme which has something to do with light, movement, and atmosphere. I do love playing with rhythms, light, and lines. I often place landscape in the foreground, inside light, and compose space from the running lines. A play of light and shade when light shines in darkness...
equivoque:
What are your favorite tools of your trade as a photographer?
Pixydream:
Tools aren't important. They are just a means, not a goal. I think all is important in photography, even good shoes... But to answer, I use digital technologies all along the process of making a pic. Digital technologies have forever changed photography, though there are useless debates about traditional versus digital techniques, and which is better. Computers, graphic softwares as Adobe Photoshop, Adobe Lightroom, for example, and Fine Art inkjet printing certainly offer more precise control over the way a final image appears in print. But I really don't think that digital is the only means to produce good photographs. It's just another way, and it's for the moment my personal choice, even if I still love analog photography. As I've said... Tools aren't important; what is important is what you want to tell.
equivoque:
You mentioned that dA has been important in your recent development as a photographer. Who are some of the deviants who have inspired you, either socially as friends or artistically?
Pixydream:
When I subscribed, it was to post some of my beginner's work but above all to comment on the pics of one of my best friends in life,

euristis

. He has, on dA, a deserved success. Then I met several great artists here, and some became real friends.
equivoque:
What activities that are not art-related take up your time?
Pixydream:
In fact, today, photography is my leisure and my work, so it takes most of my time, but I also love motorcycles. It's always a great pleasure to drive my bike with some of my friends.
It was my great pleasure to be the recipient of Bruno's answers to my questions! I learned many things about him that added to my understanding of his work. Though he is a French speaker, in English he is complex, eloquent, and poetic, as are his photographs. When I asked him to compare or contrast his work with how others might see it, he said honestly, "It's a difficult question. I don't really know how people see or feel my work. But I hope my photography could work as a kind of dreamcatcher..."
SELECTED SOLO-EXHIBITIONS
Galerie Le Lucernaire, Paris, France (2007 – March-April)
Festival Saveur et Plantes – Manoir du Tourp, Omonville la Rogue, France (2007-september)
International Motorbike Paris Show, Paris (2007-october)
Club-Croisières (Cherbourg Cruises), Cherbourg, France (2007)
La Potinière, Carteret, France (2007)
Château des Ravalet « Les Jardins de Lumière » Tourlaville (2008 – April)
COLLECTIVE-EXHIBITIONS
Salon « Illusion Printanières », Martinvast, France (2007)
Salon des Ravalet, Tourlaville (2007)
GALLERIES
55 MAX Gallery - London (GB) -
55Max
6 Lonsdale Road
London
NW6 6RD
Galerie PEP'ART - Cherbourg (Fr) -
PEP'ART
31, rue Tour Carrée
50100
Cherbourg-Octeville (France)
SELECTED AWARDS
PX3 Paris Photo
- Second prize, Nature category, Paris, apr 2007
SELECTED MAGAZINE FEATURES
KAMERA &BILD
- Article online about my work and my portfolio,SE jan 2008
BULB Magazine
- Photo featured & presentation. Croatia, jan 2008
File Magazine
- feature. USA, March, June, Oct 2007
PHOT'ART International Magazine
- Portfolio & bio. Fr, Sept 2007
Snap Magazine
- Portfolio & bio. UK, july 2007
PHOTO ART Magazine
- Portfolio & bio. Tch, Jun 2007
DP World Magazine
- Portfolio & bio. China, May 2007
Kroma Magazine
- Portfolio & bio. Spain, Mayt 2007
Declic Photo Magazine
- presentation, features. Fr, May 2007
PHOTO Magazine
- Cover, Portfolio & interview Ro, March 2007
Reflex Numerique
- Presentation & features. Fr, March 2007
SELECTED PRESS
Presse de la Manche
La Manche Libre
Ouest France
Le Courrier du Loiret
AGENCIES
Naturimages (Fr) - Arcangel ltd (UK)
DISTRIBUTION
- Editions Braun (Fr) - IndigoArt ltd (UK)