Deviation Actions
Daily Deviation
August 7, 2011
Type 2 by ~
Equiliari
Today ends the countdown to DeviantArt's Birthday. Today we celebrate 11 years of a community which fosters and nurtures the artist in all of us. To celebrate that forward looking approach I give you the Eleventh First Timer DD in a row. "Visions of a future world in which civilization advances beyond its own world out into the Universe beyond. Wonderfully done, you can almost imagine you are there."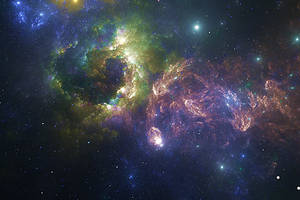 8K Wallpapers 7680 x 4320 dpi
8K - 7680x4320 dpi wallpapers of all styles I make that come on a monthly basis.
---

Description
Type 2
The Kardashev scale is a method of measuring an advanced civilization's level of technological advancement. The scale is only theoretical and in terms of an actual civilization highly speculative; however, it puts energy consumption of an entire civilization in a cosmic perspective. It was first proposed in 1964 by the Soviet Russian astronomer Nikolai Kardashev.
From:
[link]
A type 2 civilization has created large machines that extract and store solar energy.
The machines themselves are no larger than a planet about the size of 5 Earths, however they are able to directly extract energy from suns, and use this energy to create new microsuns by... well its a friggin type 2 civilization! We can't grasp how the hell they do it so its pretty much "magic" to us!

Ahem... Regardless... the civilization is by their own definition peaceful, they gather lone suns, and make sure they are not innhabited by sol class lifeforms.
--------------------------------------------------------
I like the exsistence of the scale (or a scale in general to define civilization tecchnological levels), however I disagree with certain points in it. While the scale explains the ammount of energy harnessed, it says nothing about energy efficiency or how this energy is used. Regardless, I decided to call this image Type 2, because it encompasses the very core of a type 2 civilization: Harnessing the energy of an entire sun.
Aaanyways.
Image Details:Original Size:
5120 x 3200
Time Spent:
6 Hours
Use as own wallpaper if you like, ask for permission if you want to use it for something else, and all that jazz.
Image size
1920x1200px 3.35 MB