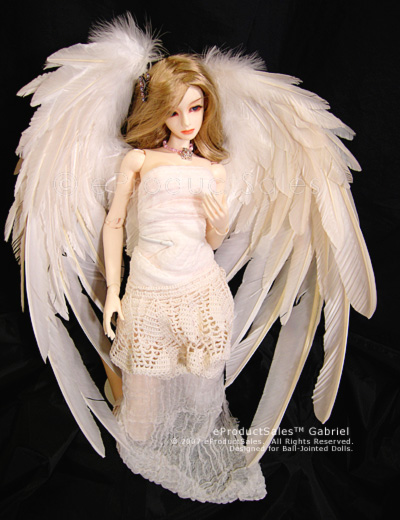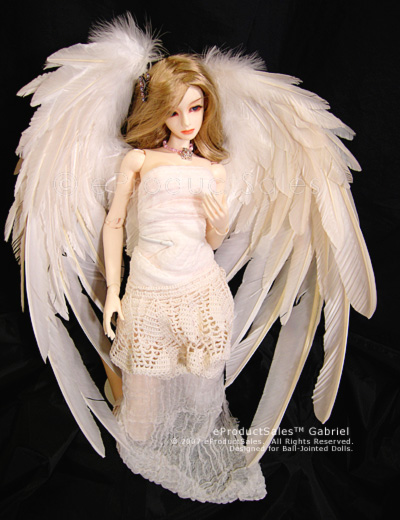 ▌ eProductSales™ Gabriel
▌ White
▌ Available at
eProductSales.com
This is a photo of the Gabriel on a BJD--the doll is a 70cm Doll, and the Wings, necklace, and outfit is made by us!
The Gabriel Wings is one of our larger BJD Wings--They were a BLAST to make. The Wings tower over Ball-Jointed Dolls with its long curling talons, making your doll look ever bit Angelic. These Wings are specially designed for larger dolls and can be worn by 70cm dolls.
The model is more of an SD13 size scale, these Wings can fit other sizes--depending on how big you want the Wings in proportion to the doll.


Featured

[link]

Our Wings are available on our website, we are in the process of updating it. If you are interested in ordering or have any questions about our Wings, please feel free to send a note through DeviantArt or you can check out our front page for contact information, and we would be happy to help you. Thanks!

----------------------------------------
Copyright © 1999-2009 by eProductSales™
All rights reserved by artist. Buyer is not purchasing the rights to the wearable art design. Any and all publishing and reproduction rights are reserved solely by the artist. This design is not to be re-distributed, copied, imitated, or misappropriated in any way.

I will hopefully be getting my first BJD November 2013, and theses would be amazing on him!

I'm hopefully going to save up a bit more money ($200 probably) so i can buy a pair of wings like this from you!
Wonderful job by the way!
Reply

That is terrific! BJD's are wonderful dolls, and hope you enjoy your upcomming doll. We would love to work with you on a set of Wings, just let us know when you're ready!

Thanks for your kind words about our work, we enjoy making these Wings.

Reply

Reply

Hi Fanitsafantasy,
Sorry for the late Reply, this has been a crazy Summer to Fall transition for us. Thank you so much for inviting us to enter the "Archangels" contest and sorry we missed--lots of fabulous talent and beautiful Archangels. We'll be keeping an eye out for future Contests.
Thanks again,
eProductSales Wings
Reply

You should make some this style, but human size!
Reply

We are working on posting some, as well as many other New Designs!


Thank you very much for the comment!


Reply

Wow! Those are gorgeous wings! You did a fantastic job on them!
Reply

Thank you sooo much--so glad you like them!

Reply

Thanks so much for your kind words--We're soo glad you like them!!

Reply

Wonderful-I shall someday return to get those wings...-swears-
Reply

Reply